Do you need an electric bike that can handle any terrain you encounter when riding outdoors? Look no further than the Himiway Rhino, an e-bike built for better handling of trails and rough roads. It is a sturdy option, with other impressive parts that make it the ultimate choice for adventurers and outdoor enthusiasts. Whether you're looking for a daily commuter it weekend adventurer, this e-bike has the power and performance to deliver. Its price offering belies its incredible features, which makes it unique among others.
The Himiway Rhino has a battery system capable of providing a longer range than most other e-bikes in the country, and a powerful motor. It is equipped with fat tires to ensure better and more balanced all-terrain commuting. With these and other features, you can enjoy extreme long-distance rides and take on challenging terrain. This article explores the impressive features and capabilities of this incredible two-wheeler.
Features of Himiway Rhino Electric Bike
| | |
| --- | --- |
| Battery Range | 100 miles |
| Motor | 1000W brushless geared hub motor / 1000W Bafang mid-drive motor |
| Gear | Shimano 9-speed gear shift system |
| Tires | 26″ x 4.5″ KendaxHimiway fat tires |
| Brakes | 180mm hydraulic disc brakes |
| Payload Capacity | 330 lbs |
Performance and Power of Himiway Rhino Electric Bike
The Himiway Rhino electric bike is a high-quality e-bike with features that set it apart from others in terms of performance and power. These make it perfect for all types of off-road adventures. Below is essential information about its power and performance:
Motor Power and Torque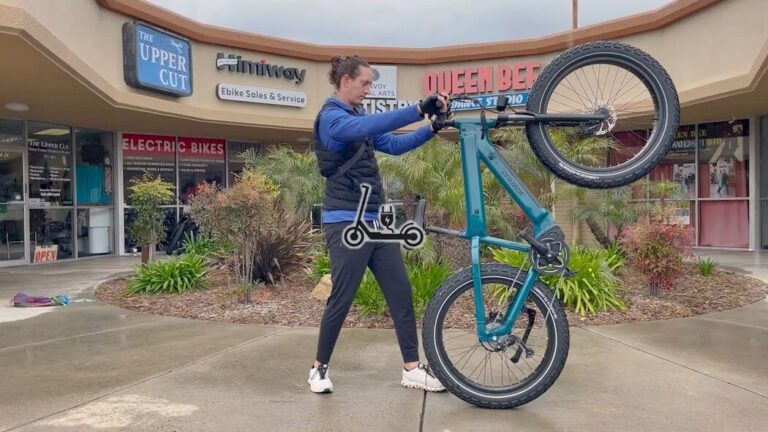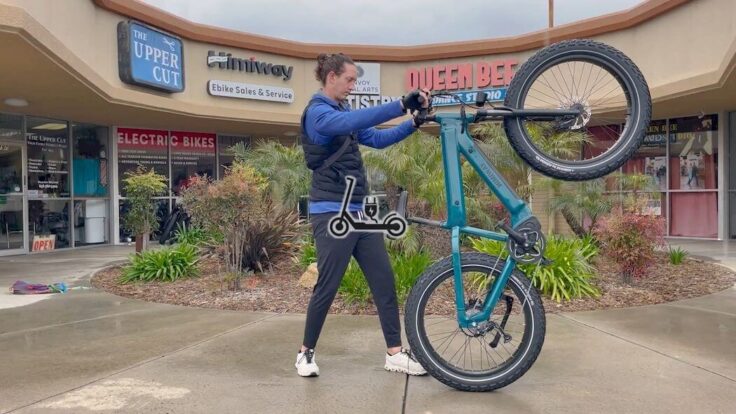 The Himiway Rhino is equipped with a powerful 1000W brushless geared hub motor that provides adequate power for all off-road adventures. This can help when you need an extra push to ride up a steep hill or to navigate rugged grounds. The motor is capable of delivering up to 80Nm of torque, which makes it easier to tackle any kind of challenging terrain.
Battery Life and Charging Time
The Himiway Rhino uses 48V 15Ah Samsung lithium-ion dual batteries, which last longer than the common single battery options. These provide a total capacity of 1,440 Wh, much more than most e-bikes offer. The best part is both can be charged at the same time for more efficiency. Using the two chargers included, they can attain 100% within 5 hours.
Maximum Speed and Range
Himiway Rhino is perfect for lovers of adrenaline and long-distance riders. The extended range it offers is one of the best parts of using this e-bike. Its high-capacity battery can provide a range of up to 100+ miles on a single full charge. This is much more than any other e-bike in the country can offer. The top speed of the Himiway Rhino is 28 mph using the pedal-assist feature, which is the legal limit for e-bikes in many states.
Performance on Different Terrains
This e-bike is designed to provide smooth and pleasant commutes across different terrains. It uses a set of puncture-resistant fat tires that are perfect for navigating with better traction and grip on all surfaces. To complement this, the high-capacity motor provides enough power for more convenient riding. This is further accentuated by its high-quality suspension system which ensures smoother travel on rugged terrain.
Design and Build of Himiway Rhino Electric Bike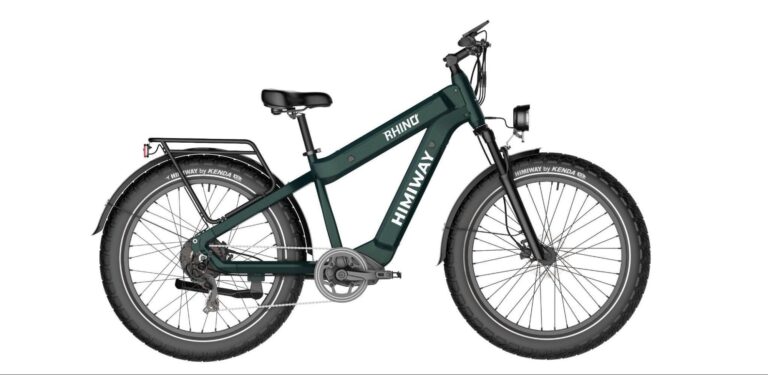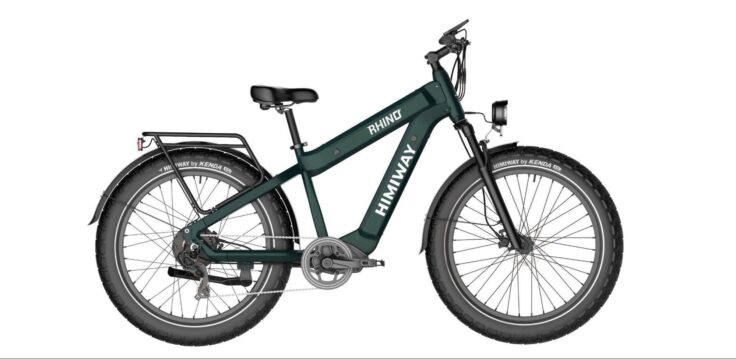 The Himiway Rhino is a powerful e-bike designed to provide outdoor enthusiasts with a unique experience. This is due to some of the following:
Frame Design and Material
The Himiway Rhino is built sturdily to provide riders with better balance and stability outdoors. Its frame was constructed using upgraded 6061 aluminum, which makes it as strong as steel but much lighter. This ensures longevity, allowing you to use it comfortably across rocky grounds without its components getting destroyed by all the jarring. The e-bike has an imposing appearance which is enhanced by its fat tires and uses a step-over design. Its second battery is inserted into a spot on the top tube.
Suspension System and Tires
With the components already in place to enhance long-range riding, it provides even more features to ensure you can enjoy improved comfort. The Himiway Rhino uses a front suspension fork with lockout and adjustment. This provides shock absorption for enhanced comfort on rugged surfaces while allowing you to adjust it to your preferred comfort level. The suspension system complements its 26″ x 4″ fat tires, which are designed to provide extra traction on rugged, uneven surfaces. Their enhanced stability improves coordination and balance when riding.
Brakes and Safety Features
The Himiway Rhino is designed to provide premium levels of safety and comfort. Instead of the mechanical disc brakes more commonly used in e-bike manufacture, it uses hydraulic disc brakes. These are much more responsive and designed to provide smoother braking on different terrains. Their awesome stoppage power can help you stay safer in difficult traffic situations and trails with tight turns and corners. They also require less maintenance and last longer.
Handlebar and Seating Comfort
Due to its long-range features, the Himiway Rhino ensures you can enjoy a comfortable riding experience while going the distance. The handlebars use an ergonomic design to allow a firm grip which reduces hand fatigue on long-distance trips. You can adjust these to suit your specific height and body requirements.
The seat is designed to further enhance the comfort you enjoy on the e-bike. This is a padded saddle that complements the suspension system in absorbing shocks and vibrations from uneven terrain. You can also adjust the seat to your specific dimensions. The seat and handlebars make the Himiway Rhino perfect for those who want to enjoy riding outdoors without sacrificing comfort.
Pedal Assist and Throttle Mode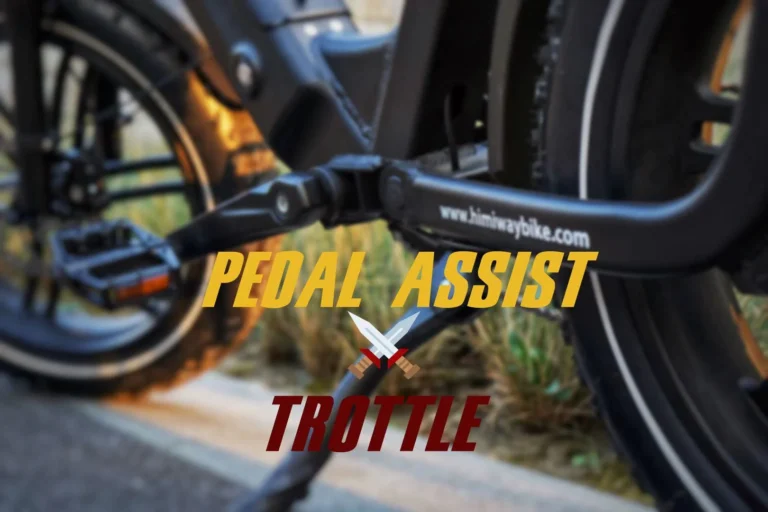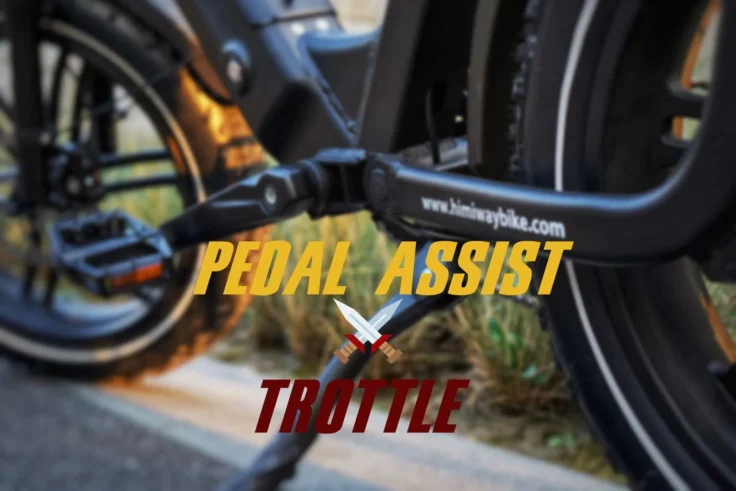 As a versatile electric bike, the Himiway Rhino combines the best of both worlds with the pedal-assist and throttle options. These are powered by the motor to help you enjoy more convenience while riding. The pedal-assist system provides five different levels of electric assistance to make pedaling easier. This way, you can cover more miles with less effort.
The throttle mode is more effortless. With this, you can proceed at top speed without the need to pedal. This is perfect for those who intend to cruise along without having to apply the physical effort required.
Cost and Value for Money
While the Himiway Rhino has numerous exceptional features, its price offering is probably the most intriguing. Electric bikes of its class do not possess components of such capacity and are sold within the range of $5,000 to $10,000. However, the Himiway Rhino offers more value for money at only $2,999. For its level of quality and convenience, this amount is a steal.
Conclusion
The Himiway Rhino is an off-road electric bike designed to provide cyclists and enthusiasts with a premium outdoor experience. Unlike regular e-bikes, it uses a dual battery option to provide electric power during your trips. This unique innovation is intended to help you enjoy a range of up to 100 miles on a single charge, which is enough for most long-distance trips. Its wide tires are perfect for navigating different terrains, with enough torque generated by its powerful motor to ride uphill with more ease and acceleration.
These features make the Himiway Rhino perfect for exploring all locations, adding up to an excellent all-terrain beast for those who love spending time outdoors. Check himiwaybike.com. And learn more about Himiway's New Line-ups.