If you are looking for the best motorcycle helmet Bluetooth speakers then you are in the right place!
The good news is you can now easily purchase a motorcycle helmet Bluetooth speaker to not only listen to awesome music but also make wireless phone calls and carry on a nice conversation with other riders via intercom.
Best Choice
Good Choice
Don't Miss
Also Consider
Sena SMH10-10 Motorcycle Bluetooth Headset / Intercom (Single) , Black
UClear Digital Pulse Wired Drop-in High Definition Helmet Speakers
JZAQ Motorcycle Helmet Bluetooth Headset,Outdoor Headset,Waterproof Motorcycle Sports...
Sena SMH5D-02 Low-Profile Motorcycle and Scooter Bluetooth Headset / Intercom for Full-Face Helmets...
Best Choice
Sena SMH10-10 Motorcycle Bluetooth Headset / Intercom (Single) , Black
Good Choice
UClear Digital Pulse Wired Drop-in High Definition Helmet Speakers
Don't Miss
JZAQ Motorcycle Helmet Bluetooth Headset,Outdoor Headset,Waterproof Motorcycle Sports...
Also Consider
Sena SMH5D-02 Low-Profile Motorcycle and Scooter Bluetooth Headset / Intercom for Full-Face Helmets...
To make it easier to listen to music while you ride, these motorcycle helmet speakers feature dedicated technology that you just can't find in standard headphones. For example, Motorcycle helmet speakers now come with volume boost and noise reduction technology. It also provides simple controls that you can use even with thick riding gloves.
Its most impressive feature is hands-free operation and access to GPS software. Through voice instructions, the speakers deliver the necessary information of the GPS program directly to your ear. So helmet speaker not only gives you good music but also serve safety features too. If you want to buy one of them, then check our recommended helmet speaker review – it will help you to take a good buying decision.
Our recommendation for the Best Motorcycle Helmet Bluetooth Speakers of 2023 is Sena SMH10-10 Motorcycle Bluetooth Headset And Intercom
List of Top Motorcycle Helmet Bluetooth Speakers For Music
We have chosen the best helmet speakers according to the best sound quality, the best battery life and the most desired features for the price.
1. Sena SMH10-10 Motorcycle Bluetooth Headset And Intercom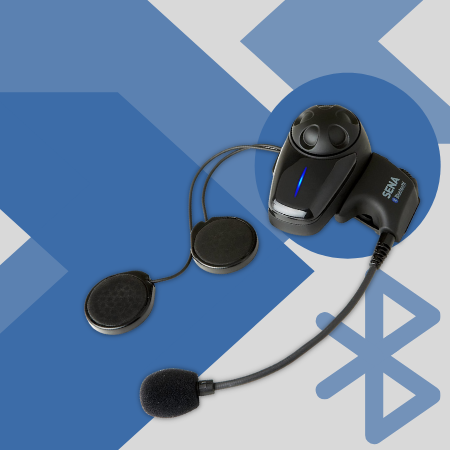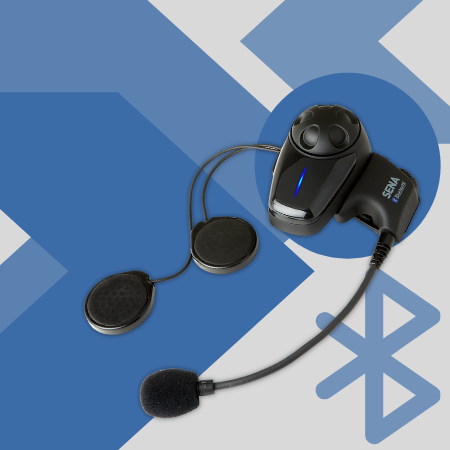 The Sena SMH10-10 motorcycle Bluetooth headset is designed to share long-range music and intercom capabilities of up to 900 meters (980 yards). The Sena SMH10-10 works with Bluetooth 3.0 so you can listen or share your music with other passengers, make or receive phone calls with advanced speed-dialing features or participate in a 4-way intercom conversation with other passengers on the street or track.
This device makes use of the universal intercommunication protocol so that you can participate in intercom conversations even if your friend is using a different type or brand of device.
What I like the most about Sena SMH10-10 is the advanced noise control technology that drastically reduces ambient and background noise for incoming and outgoing audio signals. It really works when you're crossing the street, but I heard a lot of wind noise when I travel more than 60 mph.
The Sena SMH10-10 motorcycle Bluetooth headset also comes with a rechargeable lithium-ion battery that is capable of providing up to 12 hours of talk time and 10 days of standby time on a single full charge. I also love the user interface courtesy of the brilliant jog dial. This feature makes it easy to change the device settings with just one hand.
Pros
Good battery life
Voice prompt control
Good sound quality
Jog dial interface makes it easy to use
2-year warranty
Cons
The range is not as advertised
Clear calls but there is more wind noise at speed
2. UCLEAR Digital Pulse Wired Drop-In High Definition Helmet Speakers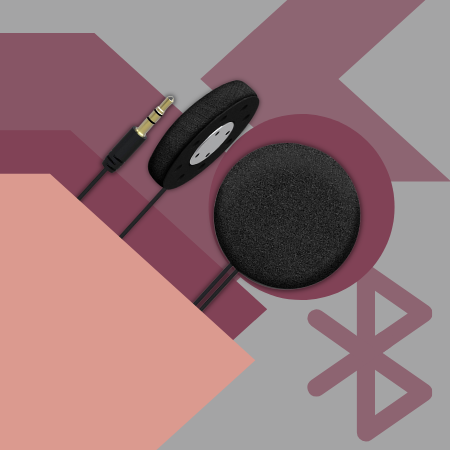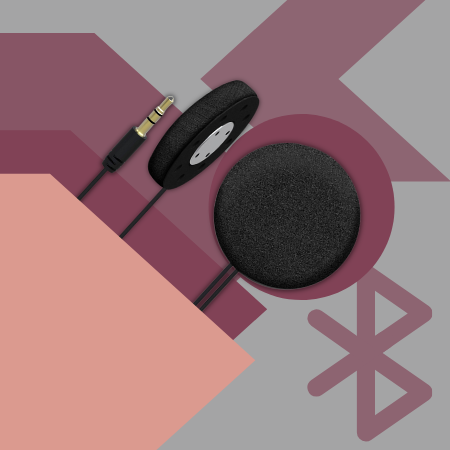 The helmet speakers with UCLEAR Pulse Digital cable are compatible with Apple and Android devices. You can easily update your motorcycling audio experience with this hull speaker courtesy of hi-fi audio and HD quality sound.
The best thing about wired helmet speakers is that you simply connect the 3.5mm audio jack to any smartphone, helmet communication device or audio player to enjoy studio-quality sound. With sharp treble and extreme bass reproduction in a compact package, it's hard to make a mistake with the UCLEAR digital pulse.
This high-definition motorcycle helmet speaker can be easily transferred from one helmet to the next, without the need to use special tools. If you have more than 1 helmet, this is a good feature. This product works on all types of motorcycle helmets, including snowmobile brain buckets.
The UCLEAR Digital Pulse Helmet speaker may not have the convenience of a Bluetooth wireless speaker, but you do not need to think about running out of battery or charging the battery.
Pros
Good sound quality
Excellent bass response
Easy to install on any type of helmet
No batteries to think about
Cons
Distorted sound at high volumes
Volume levels are a bit on the low side
3. Sena SMH10R Low Profile Motorcycle Bluetooth Headset And Intercom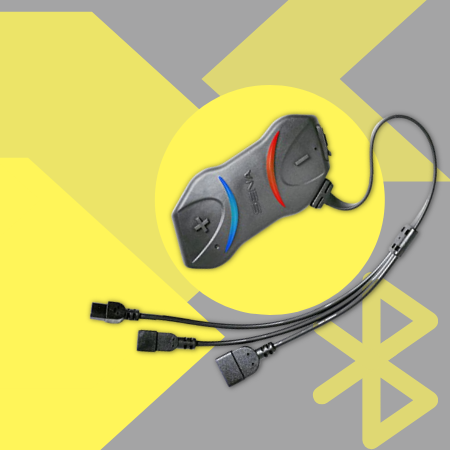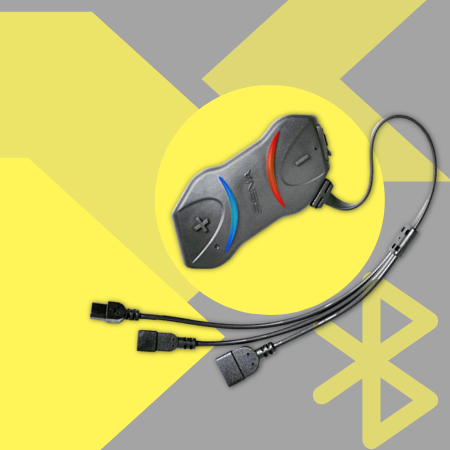 The Sena SMH10R low profile motorcycle Bluetooth headset has a 4-way conference intercom feature that allows you to allow intercom participants to join cellular conference calls. This motorcycle helmet speaker is also incredibly easy to use thanks to the Bluetooth remote control, which must be conveniently located on the handlebar of your bike.
With the Sena SMH10R low profile Bluetooth speaker, you can make hands-free calls on your smartphone or Bluetooth-enabled phone, listen to professional-quality music or voice instructions on your GPS, and start intercom conversations with a passenger or other passengers.
Powered by the latest Bluetooth v3.0 with advanced digital processing technology, the Sena SMH10R will provide superior sound quality for incoming and outgoing audio signals. What this simply means is that you will enjoy clear and clear audio playback whether you are listening to your favorite playlist or making calls.
he Sena SMH10R also has individually adjustable volume profiles. With this function, you can set different volume levels for music, voice calls and intercom. The device will save each volume level, so you will not need to adjust the volume incessantly when switching between devices and functions.
The built-in lithium polymer battery takes only 3 hours to fully charge, and provides up to 10 hours of talk time and 9 hours of standby time on a single full charge.
Pros
Fantastic battery life
Low profile design
Flexible boom mic comes with the kit
Cons
Mediocre sound quality
The wires and cables feels frail
Noticeable wind noise especially in intercom
4. Tork X-Pro Motorcycle Helmet Speakers (With Volume Control)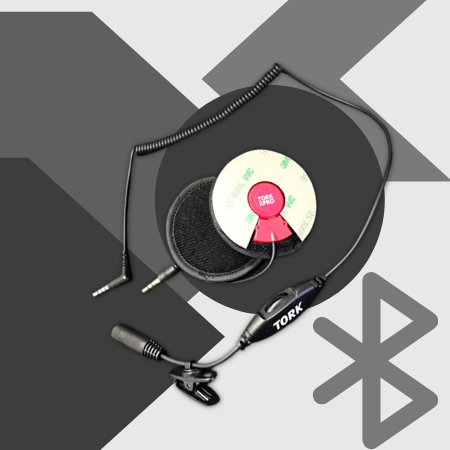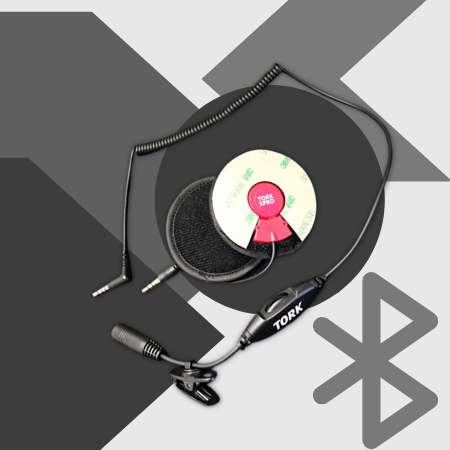 The problem with most motorcycle helmet speakers is the quality of the sound. Others may have a more powerful volume, but the sound quality is a bit sparse. The Tork X-Pro motorcycle helmet speaker solves all that and more. You can enjoy high-fidelity audio playback with a faithful bass response on the Tork X-Pro.
This is perhaps one of the most popular helmet speakers on the market, and is known in the motorcycling circle to provide excellent sound quality at a friendly price.
What I like most about Tork X-Pro is that it is thin, flat and comfortable to wear. Assembled by hand and tested in North America, this particular model comes with a volume control knob so you can adjust the volume while traveling.
The full stereo speakers of the Tork X-Pro were designed to produce excellent sound quality with great bass response and large volume. If you're tired of your old helmet motorcycle speakers and are looking for a serious sound upgrade, check out the Tork X-Pro.
Pros
Easy to install
Slim design
Good sound quality
Compatible with most devices using a 3.5mm jack
Cons
Weak volume
Noticeable distortion at high volumes
5. Sena SMH5-01 Low-Profile Motorcycle And Scooter Bluetooth Headset With Intercom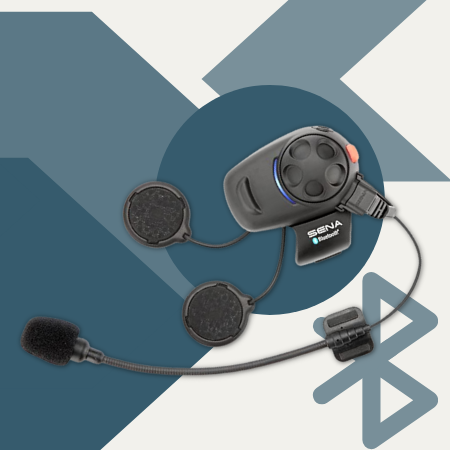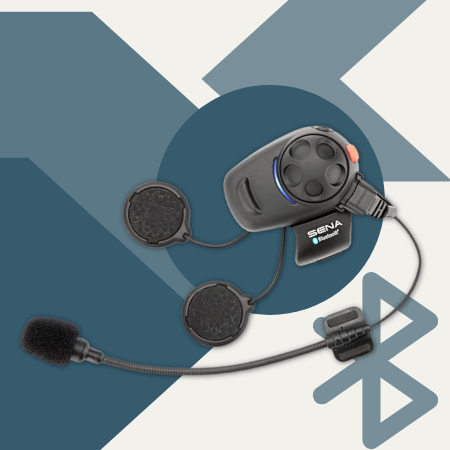 The Sena SMH5 low profile Bluetooth motorcycle speaker features a bi-directional intercom so you can share your music or have a readable conversation with your passenger or other passengers at a distance of up to 400 meters (430 yards). This best motorcycle helmet speakers is also equipped with Sena's patented Jog dial button that makes it easy and intuitive to use, even while on the move and with one hand.
The Sena SMH5-01 uses Bluetooth v3.0 technology with advanced noise control to reproduce fantastic audio quality and minimize ambient background noise. This means that you can enjoy clarity without the need to shout or raise your voice. The Sena SMH5-01 can be easily paired with other Bluetooth devices compatible with HSP / HFP (headset profile/hands-free profile) and A2DP (advanced audio distribution profile).
This wireless speaker for motorcycle helmet also comes with a voice alert feature that allows you to control GPS, mobile phone calls and adjust the volume without removing your hands from the handlebar. As with all wireless helmet speakers, battery life is crucial. The Sena SMH5-01 is capable of providing up to 8 hours of talk time before needing a recharge.
Pros
Flexible boom microphone
Slim profile fits most motorcycle helmets
Sufficient volume
Intuitive jog dial knob
Good battery life
Cons
Distorted sound at high volumes
Uninspiring bass response
Best Bluetooth Speakers For Motorcycle Helmet Buying Guide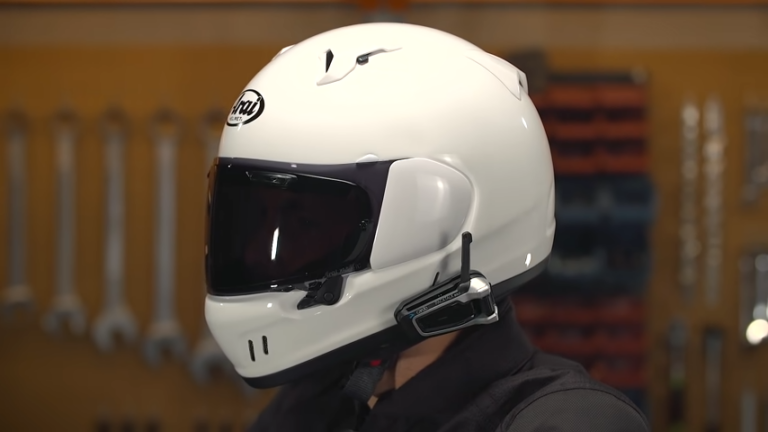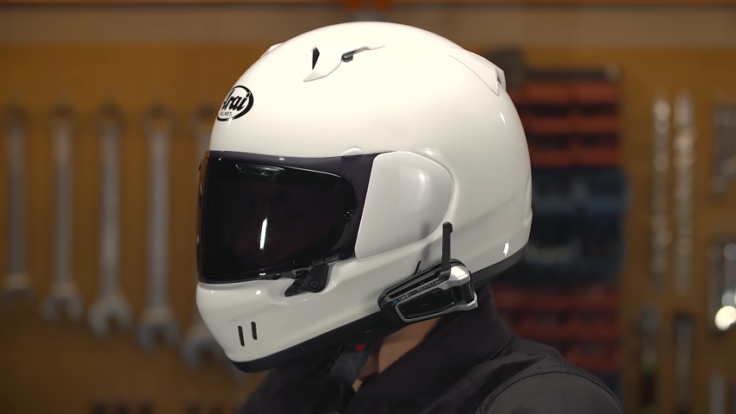 Going wireless has many advantages. No need to deal with messy and tangled cables, and you do not need to constantly plug and unplug the connector to multiple devices. With a wireless Bluetooth helmet speaker, you can easily switch between devices and listen to music while taking a call, all without removing both hands from the handlebar.
Everything sounds attractive and then you realize that there are many motorcycle helmet speakers on the market, and they differ in terms of features, sound quality and price. But before buying one, these are the things you should look for in a good quality motorcycle helmet speaker:
1. The capacity of multiple devices
Thanks to modern Bluetooth technology, today's modern helmet speakers can switch between multiple devices. Look for a helmet that supports the Bluetooth wireless motorcycle helmet, the satellite radio, and the GPS device, so you do not need to change the speakers when you decide to change the device.
2. Ergonomics and durability
You must choose a speaker that is easy to use, as you will use them while riding your bicycle. Remember, you are buying helmet speakers so you can concentrate on riding your motorcycle instead of fiddling with the controls or wires of your speaker.
The motorcycle helmet speakers are also exposed to wind, rain, sun, sand, sweat, and salt, so it is better to choose a device that can resist the harmful elements of Mother Nature.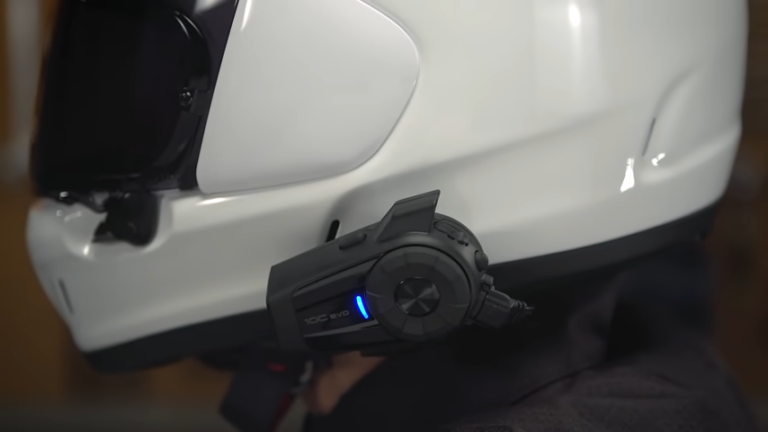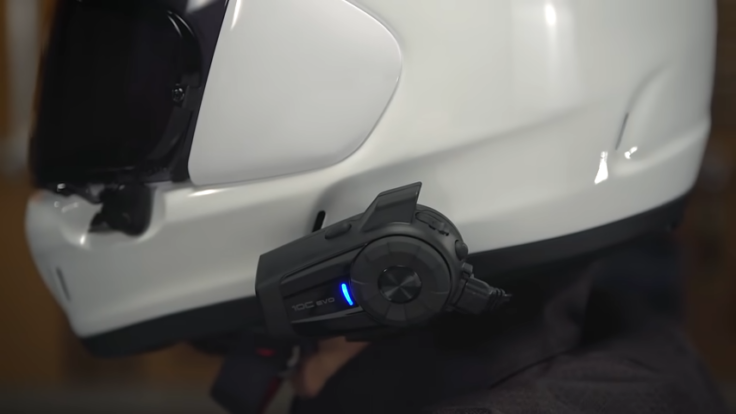 3. Sound quality
This is where the best ones differ from the rest of the package. The first class sound quality should be the main thing you are looking for when choosing a motorcycle helmet speaker. Nobody wants to hear a flat melody that is usually the result of the use of mediocre speakers.
And if you are going to make a call while driving at 65 mph, clear, undistorted sound reproduction is a must if you want to clearly discern the person from the other line.
4. Battery life
If you are planning a Bluetooth speaker, it is worth having a motorcycle helmet speaker with a long battery life. There are some devices that simply consume too much juice, so you should pay attention to the estimated battery life of each device. Wireless devices, in particular, have a tendency to accumulate a full charge in less than a day, but it really depends on how often you use the device.
5. High volume with easy-to-use volume controls
You need a motorcycle speaker with high volume capabilities, as you will be talking or listening to music while traveling next to trucks, cars with noisy exhaust and other motorcycles on the road. It is useless if you can not hear your melodies or the person on the other line, and it would be a waste if you can not operate the volume controls with one hand/finger.
Final Verdict
If I want a wireless speaker for a motorcycle helmet, the Sena SMH10-10 Bluetooth headset with intercom will be my number 1 choice. I just liked the way this headset seamlessly integrates music playback features with voice calls and intercoms, while providing good sound quality on all platforms.