Helmets are one of the most important riding gear. It becomes even more crucial when a rider is participating in organized motorsports. Racechoice.com Racing helmets are meant for protecting the rider from any severe injury. It can be tempting for a racer to de-prioritize their safety over adding horsepower or investment in enhancing grip. But, at the end of the day safety gear are the most important thing because they keep the rider safe in the race of life.
We are here to help you out if the availability of myriads of options for racing helmets is confusing you. We understand that choosing the right auto-racing helmet is not child's play. So, let us dive into the nitty-gritty of choosing the right one.
The Fitting Size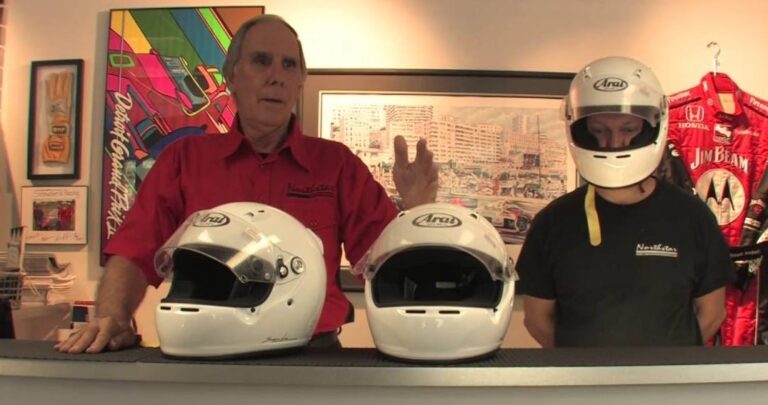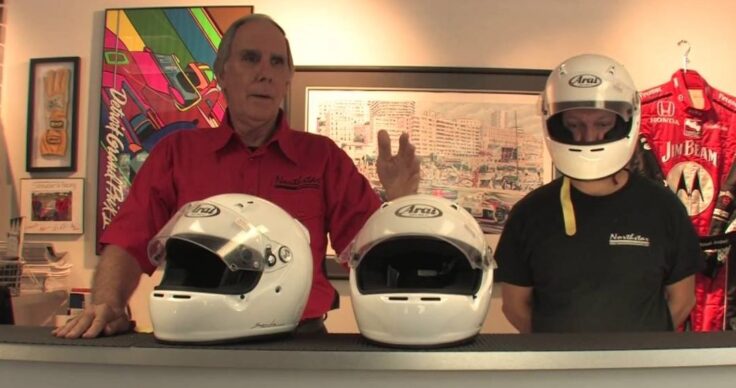 One of the most important things that need to be taken care of while choosing a racing helmet is its size. Most often riders wear at least a size bigger than what they actually should. This is problematic. When it is bigger in size, it sits low on the head thus restricting the forward vision of the rider. A racing helmet on the tighter side is considered better. As racers need to ride for short bursts a tighter helmet won't cause much discomfort.
A good-fitted racing helmet has the following properties.
Puts firm and even pressure all around the head.
There's no uncomfortable pressure point.
There's no gap in pressure.
Comfortable but firm pressure on cheeks.
Specific Properties
In addition to the size of the helmet, there are other specific properties that need to be considered while choosing auto racing helmets.
Shell Material
You must check what material has been used to create the shells of the helmet. Usually, good shells are made with a combination of fibers and resins to create the required stiffness. Fibers are lighter than plastic and are also helpful in managing the distribution of impact forces during an accident.
The Aerodynamics
It is important to make sure that the shell shape allows the rider's head to slice cleanly through the air while moving at a high speed. Added spoilers at the rear of the helmet help reduce buffeting to the minimum. So, it is an important feature that needs to be checked.
Strap Fastener
Though all fasteners of racing helmets go through the same safety approval process D-rings are preferred by most professional racers. This type of strap fastener provides more sense of safety as compared to the quick-release types.
Visor Changing Method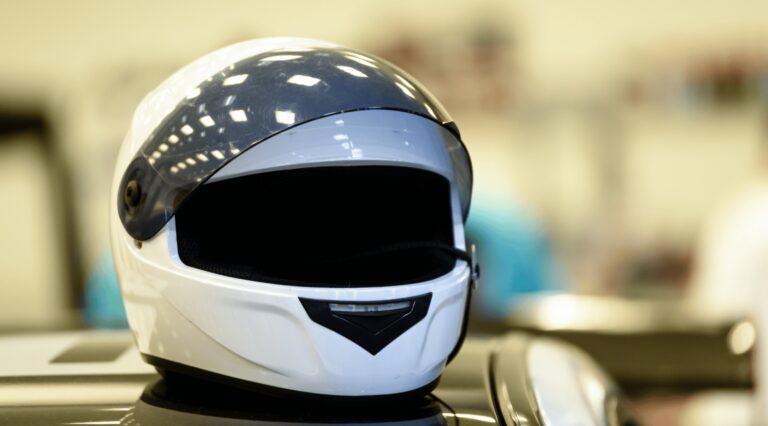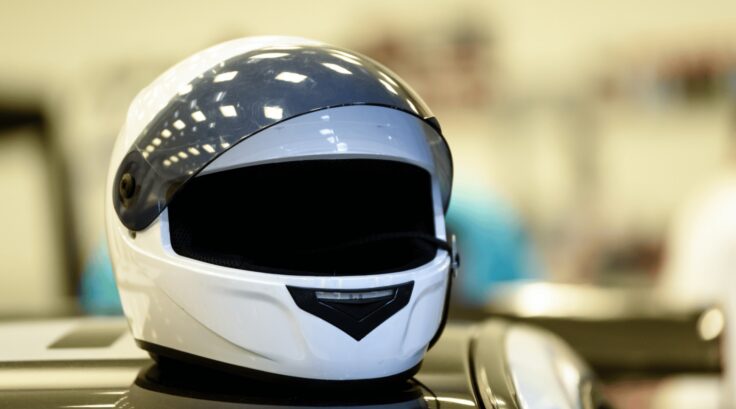 A visor is important for protecting a rider's eyes from sun glare. But, a racing helmet with an in-built visor makes it complex and unnecessarily heavy. So, it is important for a racer to have a racing helmet that has an easy visor-changing method so that a rider can easily swap the visor of their choice before a race.
Interior Lining
Another important thing to look for in a helmet is the material of its inner lining. Racing is an energy-consuming task and the racers are sure to sweat a lot. So, the inner foam of the helmet needs to have a cover of sweat-wicking material that dries the sweat quickly and saves the rider from discomfort.
The Price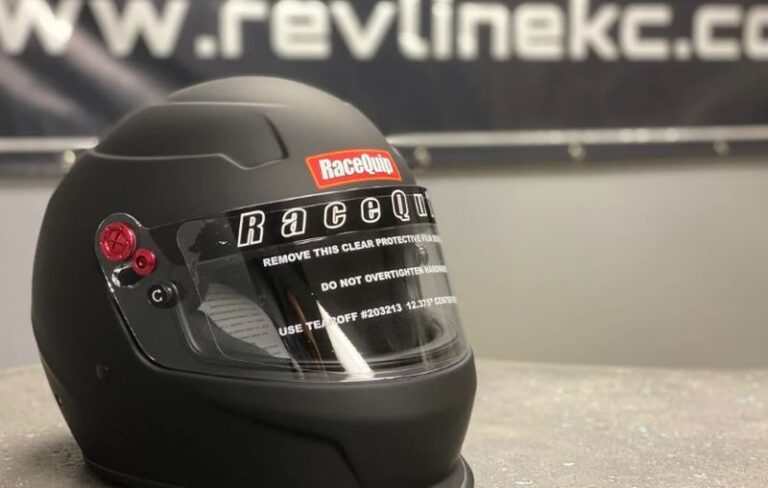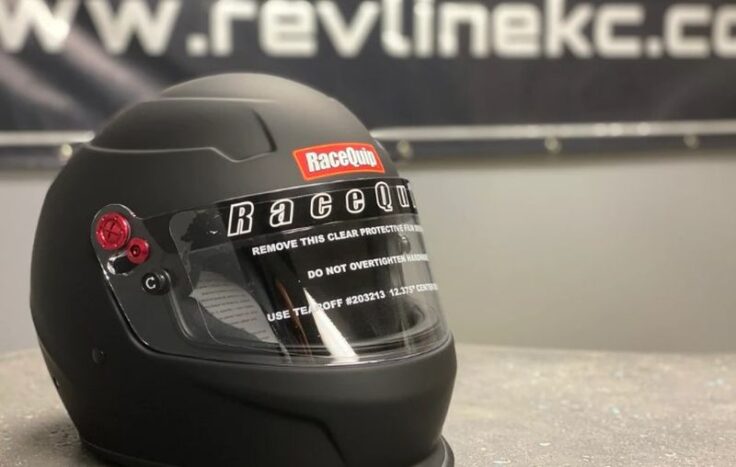 When talking about racing helmets or other safety gear, price is the last thing we take into consideration. And, it is quite sensible to say that one should never compromise on safety for saving a few hundred bucks. So, always make sure to check for all the features and properties of safety gear like a helmet. But, there's no harm in picking the racing helmet with all the safety features but lesser cost than the competitors.
Products like RaceQuip helmets are designed with the right designs and features using premium materials while catering to the needs of budget-conscious grass root level racers. They put the racers in a win-win situation by being budget-friendly while maintaining premium quality.
Certification and Stickers
An important thing about racing helmets is that it is not enough to check only for quality and price; you need to consider certification and other rules. Races are ruled and guided by their rule books as well as government regulations. Some countries require you to have a certain sticker on your helmet, the others will require your helmet to pass some safety standards.
So, make sure to know the rules of the race you are participating in as well as the country guidelines for certification. Some of the common certifications for helmets include –
SFI – The SFI certification is one of the standard certifications for racing helmets given after checking a long list of performance requisitions. It is accepted in various USA-based motorsport circuits.
FIA – The FIA-certified helmets are designed and tested for strength. The certification is mostly accepted in Europe.
Snell – Another widely accepted certification for a racing helmet is Snell. It is provided on the basis of ease of use, comfort, compatibility with vehicle restraints, chemical and fire resistance, etc.
DOT – The requirements for all motorcycle helmets in the US are defined by the US Department of Transportation. It is important to note that the DOT neither manufactures nor certifies helmets. It only verifies that the helmets made in the US adhere to the established requirements
 Tips for Maintenance:
1. Helmet hygiene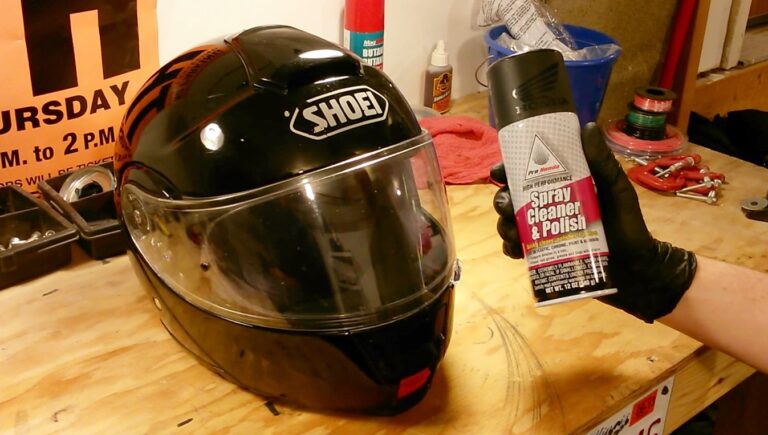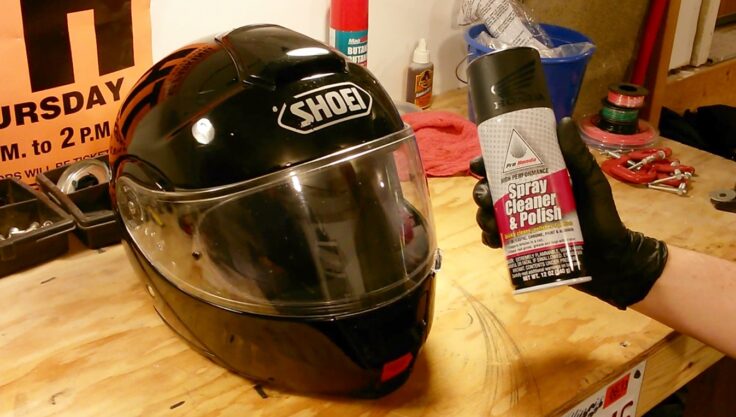 You should routinely clean both the inside and exterior of your helmet. The interior foam must be cleaned with mild dish soap and warm water, while the outside shell must be cleaned with a towel. This will assist in cleaning the helmet of grease and debris.
2. Allow the helmet to dry
No matter the style of helmet you select, using it for a long time will cause it to sweat and smell bad. It is therefore always advisable to allow the helmet to dry before storing it in a confined area like a cabinet.
3. Always wear your helmet properly
It is essential to carry your helmet correctly when visiting crowded areas. Do not, for instance, hang it from the side mirror of your bicycle. In the event that it is dropped onto a road, the outer shell may be harmed. Additionally, avoid walking on the road while swinging your helmet because it can collide with a wall.
Conclusion: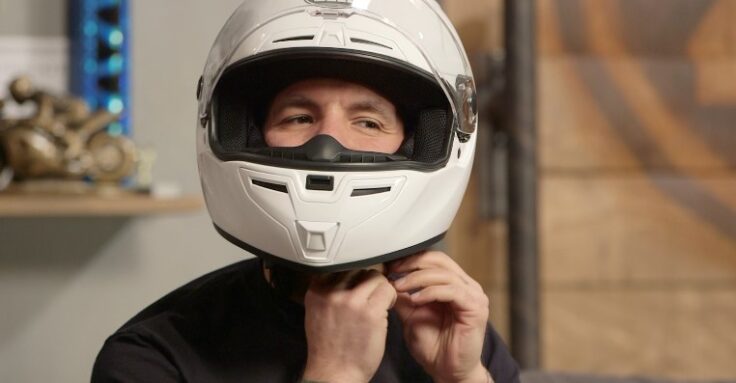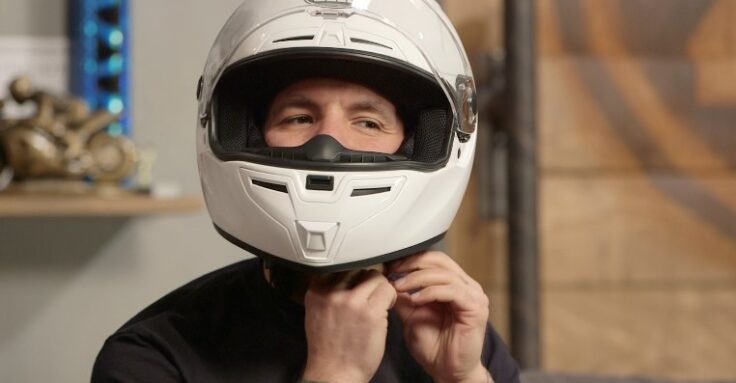 It's just as crucial to obtain the proper helmet and take good care of it as it is to get the ideal bike for the right price. Therefore, start implementing these suggestions right away, and don't forget to secure adequate motorcycle insurance for your bike. For additional benefits, you can choose to purchase a helmet add-on cover in addition to your two-wheeler insurance. It can help you protect your life, which is quite valuable. ​