Motorcycle manufacturer Aprilia has been around for decades. When you think about their bikes, it is easy to envision small capacity sports bikes and exotic European mopeds alike. However, they have so much more to offer to their trusty customers, from lightweight and agile 49cc racers to liter-class superbikes. Aprilia probably has a motorcycle you want. However, which of them are the best ever made? Read along for a list of 10 best Aprilia motorcycles ever created.
10. Pegaso 600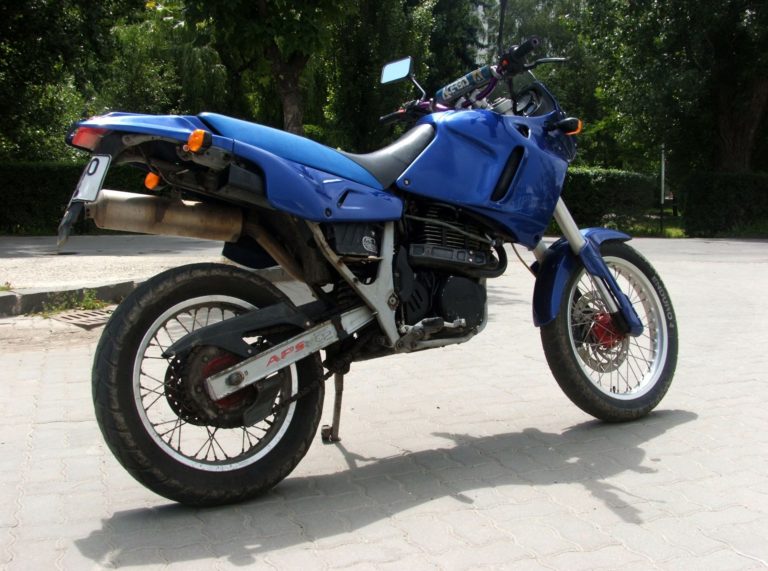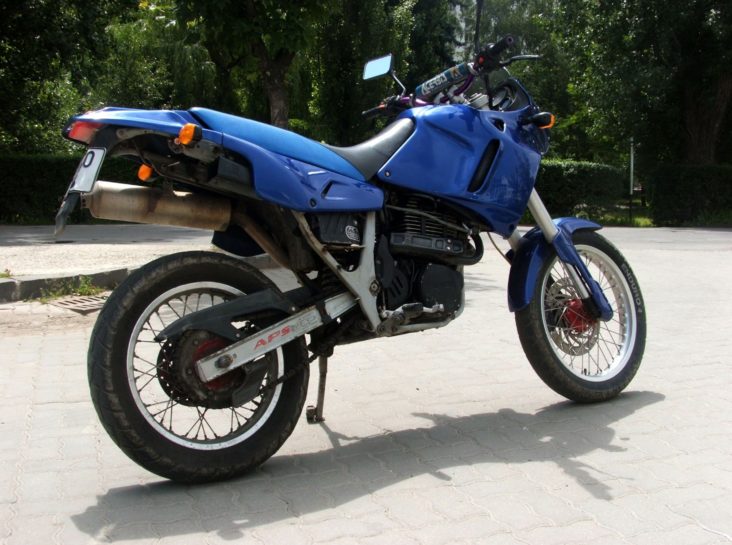 During the start of the 1990s, Ivano Beggio took Aprilia onto a new front with an enduro mid-sized engine road bike. Despite Aprilia being an off-road motorcycle manufacturer, he envisioned his new Pegaso model as an off-roader, but only in appearance, with the ideal environment for it remaining the streets. The first Pegaso came in 1990, with a powerful 600cc single-cylinder Rotax engine with an average output of 36 pound-feet of torque, and impressive 46 horsepower. This made it a contender among middleweight enduro bikes, like the Suzuki DR650, Kawasaki's KLX650, and Honda NX650 Dominator. Since this was the first foray of Aprilia into the segment, the Pegaso 600 was a moderate success. It did not do great globally, but it was a popular machine back home. Thanks to the sales in Italy, the Pegaso remained in the line-up for around two decades. Its formula changed here and there to keep the bike mainstream. Pegaso might be odd for some, but it is one of the greatest Aprilia motorcycles ever because it helped the company go in the right direction.
9. Moto 6.5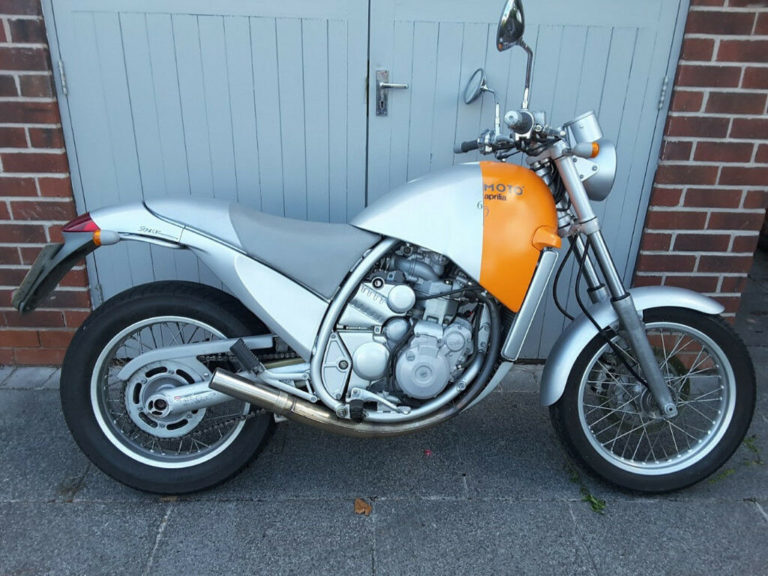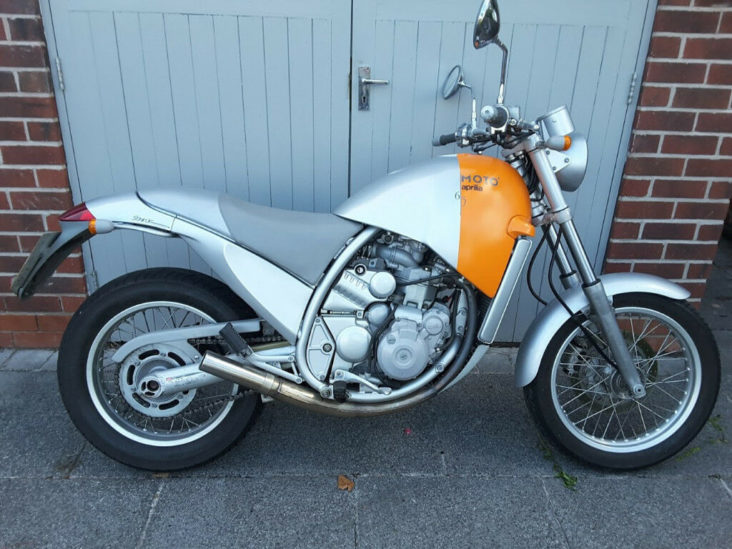 Aprilia Moto 6.5 is a very strange bike. A famous French industrial designer Philippe Starck is the man behind it. His creation became a motorcycling icon, for both good and bad reasons. The designer never created another one after it. The controversial looks are what fans love about this Aprilia. It is not the prettiest Aprilia, but these daring aesthetics make it more than recognizable, which is rare, especially today. However, the mechanics were not that great. An uninspiring liquid-cooled 649cc single engine with 43 horsepower and 38 pound-feet of torque is what it had. A decent Marzocchi suspension, some beautiful spoked wheels, and other cool parts made it great for around town and not much else. It is certainly one of the coolest Aprilia bikes ever made.
8. TX311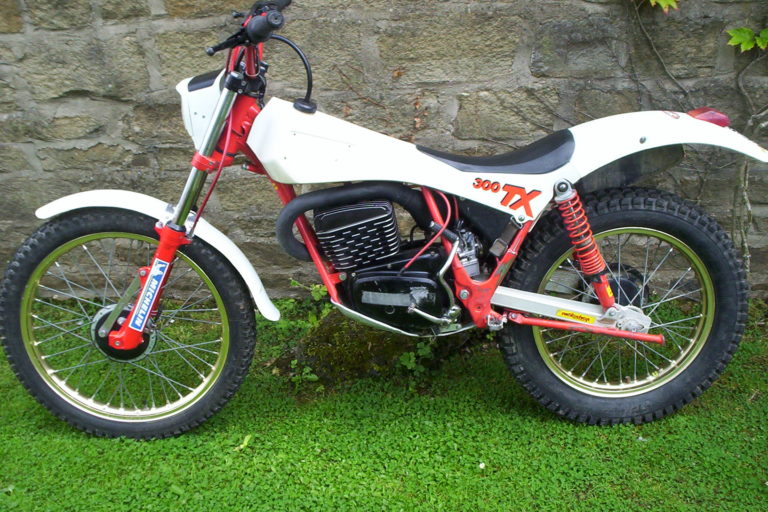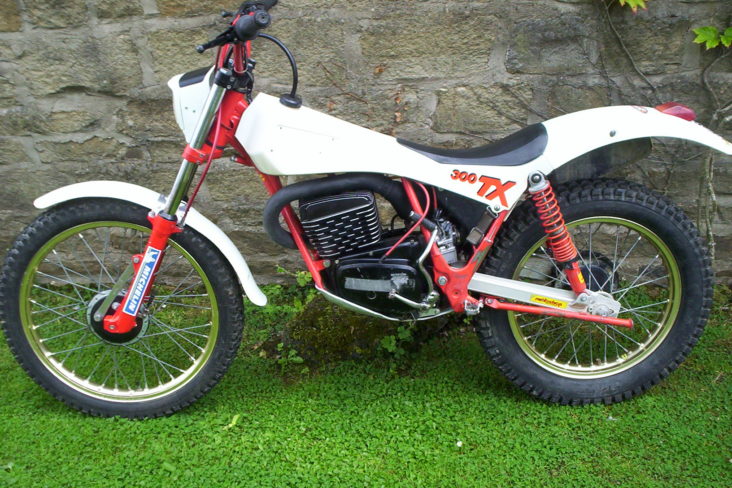 The TX311 was a trials motorcycle at first, back in 1985. It was available in 2 sizes, the accessible 125 legal for younger riders in Italy, and the aggressive 276.6cc version for veteran riders. The TX311 had a 276.6cc single cylinder two-stroke engine with 17 horsepower at 6,400 rpm. It could reach speeds of over 75 mph. It was a fully street-legal bike with lightweight and nimble handling great for crowded city streets. It was also fun for off-road driving. With six gears and a great clutch, it was an ideal weapon for those who wanted a dual nature motorcycle. Although it looks stripped and naked, this Aprilia model is equipped with interesting features. A floating disc at the front and a drum arrangement at the back do the braking, while the suspension features high-tech Aprilia hydraulics, with an adjustable rear monoshock during the drive. This no-nonsense trials bike is tough, rough and ready to handle its own on various roads. It was also ahead of its time.
7. Mana 850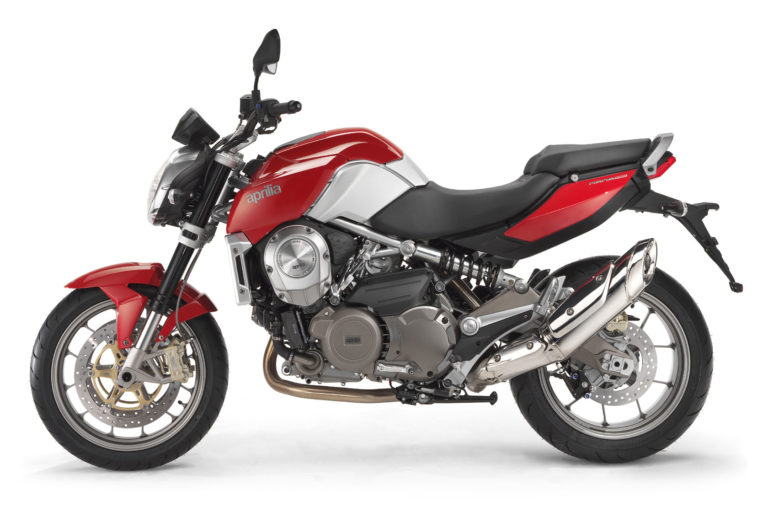 The Mana 850 model is an impressive bike. First of all, it is one of the few automatic transmission motorcycles. With its continuously variable transmission, it allows easy shifting without a clutch. It is also one of the most innovative models Aprilia has ever made, and an innovative idea with bikes in general. This is not so popular around the world, meaning this bike is a little bit ahead of its time. The automatic transmission is not all it brings to the table. The bike is powered by an 839.3cc 90-degree V-twin engine, producing 76 horses at 7,250 rpm, and 54 pound-feet of torque at 5,000 rpm. It is able to reach 118 mph. There are three riding modes to choose from, Sport, Touring, and Rain. This bike offers a nice package for those looking for thrills and clutchless riding. It is certainly not for everyone, but it is one of the most innovative things Aprilia has ever developed. There is an even more powerful GT option as well.
6. RS125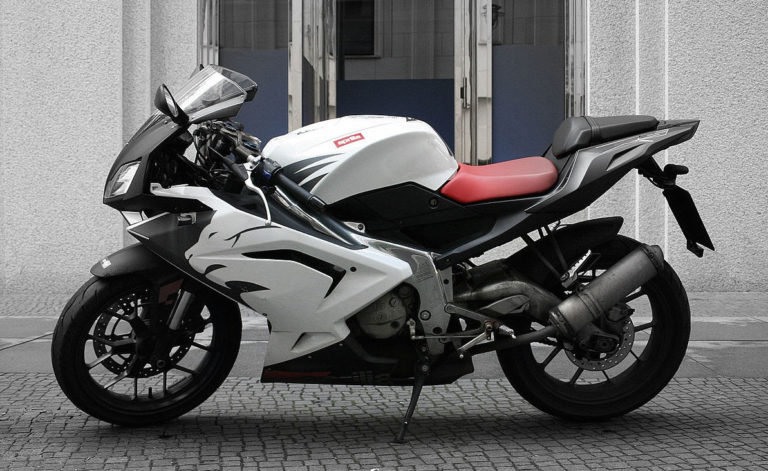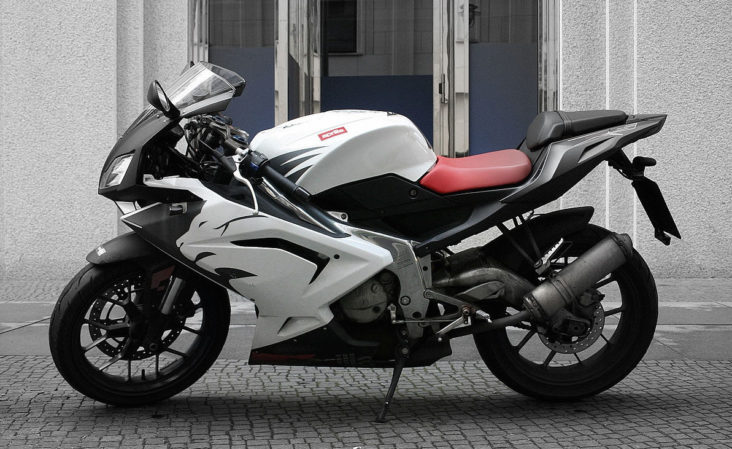 The RS125 is one of the most successful motorcycles of all time by this Italian manufacturer. The reasons for this are its incredible handling, superb acceleration, great looks, and fierce nature. The RS125 really is a full package, the most you can get on a 125cc bike. This bike is the focus of obsession for many teenagers and tracks racers, as it has won many professional competitions. You should not really consider any other 125 options. Four different forms came throughout the twenty-year lifespan if the model, between 1992 and 2012. At its core, it always sported a liquid-cooled single-cylinder, two-stroke 124.8cc Rotax engine, which had a Nikasil coated aluminum cylinder block. The most advanced version, in un-restricted form could produce 28 horsepower and 14 lb-ft of torque, which are awesome numbers for a 125. Unfortunately, the legend was taken off the list in 2012 in favor of a less appealing RS4 125. However, if you want an RS125, there are a ton of them still out there.
5. RSV1000 Mille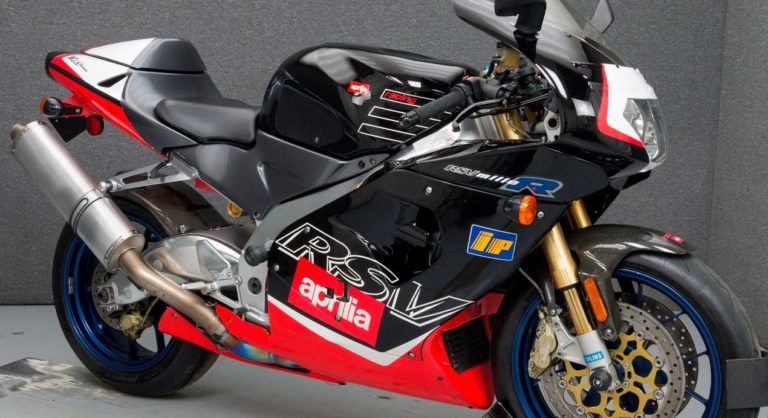 Everyone knows that Aprilia is one of the best small-capacity sports bikes manufacturers. However, when riders master the smaller bikes, they usually move to something stronger. That is what Aprilia thought when they finally introduced the RSV1000 Mille. Towards the end of the 90s, big sports bikes became serious. Many of the manufacturers continued with their four-cylinder 750s, but the Italians went with 1000cc v-twins. The RSV1000 Mille became the biggest motorcycle ever by the brand, with a 998cc v-twin Rotax engine capable of 110 horsepower, 68 lb-ft of torque and 169 mph. It was very impressive and much cheaper than a similar Ducati. On the track, the Mille was amazing, but it has never won a championship, despite various podiums and victories. It was retired from racing in 2003 and overhauled and released as the RSV1000R the following year. Unfortunately, it could not go toe to toe against others in the class. Today, the old Milles are excellent alternative track race machines and are pretty cheap. This bike paved the way for another motorcycle higher on the list.
4. RS250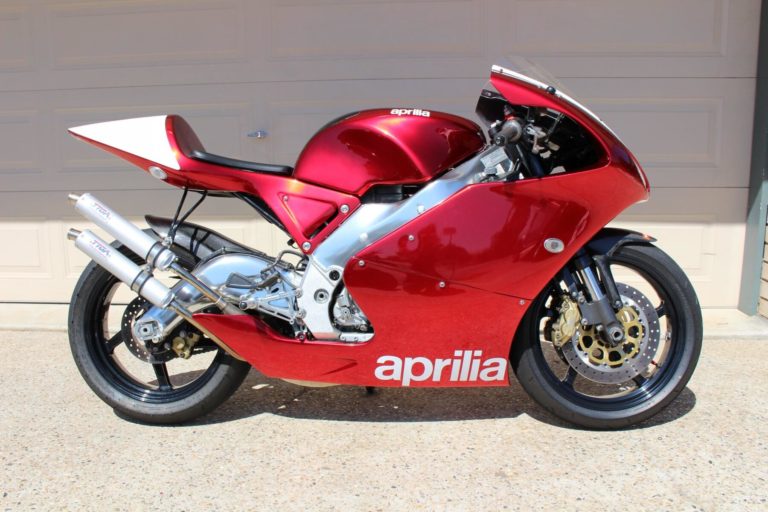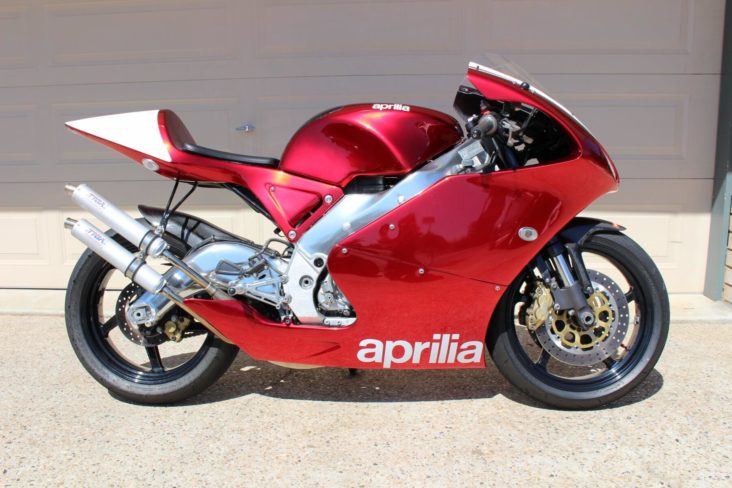 To satisfy their fans who wanted something more powerful than the legendary RS125, Aprilia released the RS250, which is a small, lightweight racer designed to mimic the Aprilia RSW250 Grand Prix racer as much as it can. For those who wanted something close to the technology Max Biaggi, Loris Capirossi, and Valentino Rossi rode on the tracks, the RS250 was the closest you could get. In addition, the RS250 and RS125 are very different machines. The stronger RS250 has a completely different engine, an Aprilia tweaked Suzuki RGV250 two-stroke, v-twin engine. The bike also has new ECU, in-house designed expansion champers, new barrels, and a different air-box. The second edition between 1998 and 2002, had a modern Showa suspension, digital instrumentation, and a new set of wheels. Overall, the bike was capable of delivering 63.3 horsepower at 10,400 rpm, and a peak torque of 29.5 lb-ft at 10,750 rpm. These numbers mean that the RS250 was among the best 250s on the market.
3. Tuono V4 1100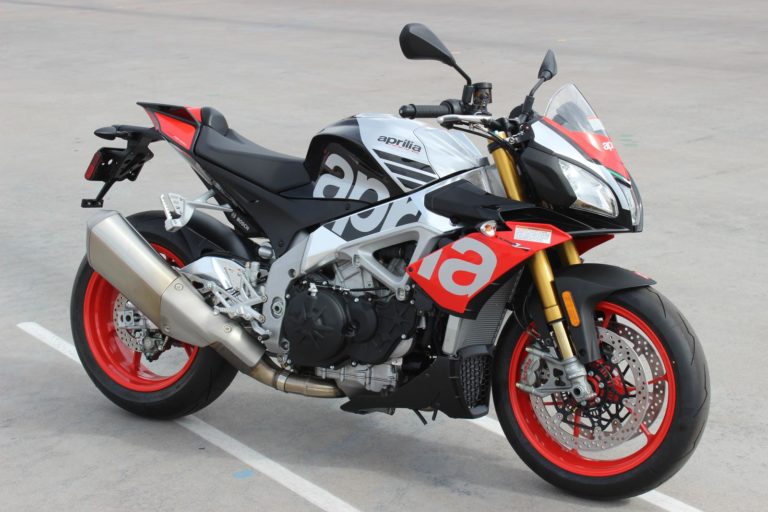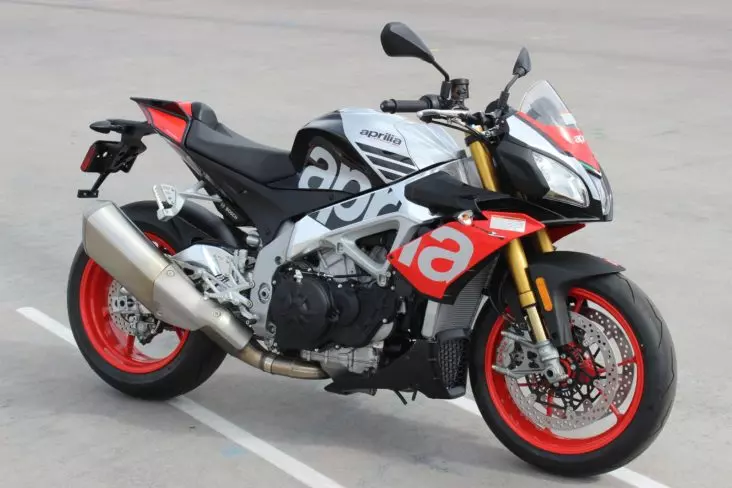 The Tuono has been around in multiple editions since 2002, but here we will talk about the most recent incarnation, the Tuono V4 1100. This is not an average bike in any sense of the word. The modern Tuono V4 1100 model is one of the best motorcycles this famous Italian brand has ever made. It borrows technology from the legendary RSV4 superbike, meaning high-performance specifications and an incredibly practical and versatile naked bike of the Streetfighter line. It handles the corners well, while also being great for your daily drives around town. The brand's top naked bike has an intimidating 1077cc V4 engine with 178 horsepower and 89 lb-ft of peak torque, which go into a race-derived aluminum delta box chassis. The bike also has a ton of modern riding aids, and more electronics than average riders know what to do with. These include cornering ABS, up and down quick shifter, cruise control, pit lane speed limiter, wheelie control, launch control, etc. Advanced, fast, and fun to ride, the motorcycle produces a lot of manageable power, retaining that famous Italian character. The best part? It is affordable when you think about what you get for your money. The base model RR is $14,999, while the more advanced Factory is $17,499.
2. Dorsoduro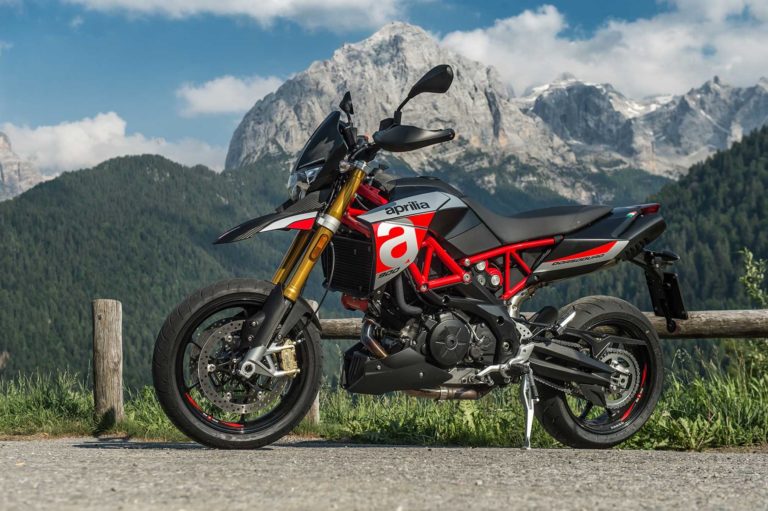 The Dorsoduro by Aprilia is one of the stranger motorcycles they have made so far. It is not as supermoto as it seems, and it definitely is not the hooligan you would expect from such a bike. And this is a good thing. This bike will not put you on the top of the podium, nor will it wheelie with ease when you are showing off. However, it is incredibly easy to rid, which is the most important thing for many. The newest Dorsoduro has a new 896cc V-twin engine, with 83 horsepower at 8,990 rpm and 56.4 lb-ft of torque at 6,000 rpm. What is more, it is equipped with the new ECU from Marelli, the same one present on the Aprilia Tuono V4 and RSV4 duo. It manages the ride by wire system, controls three engine maps, three traction control stages, and the factory ABS. The new ECU is what really makes riding this bike a dream. Although the bike might not be completely sure of what it wants to be, it does a lot of it pretty well. It is definitely underrated among the Aprilia lineup.
1. RSV4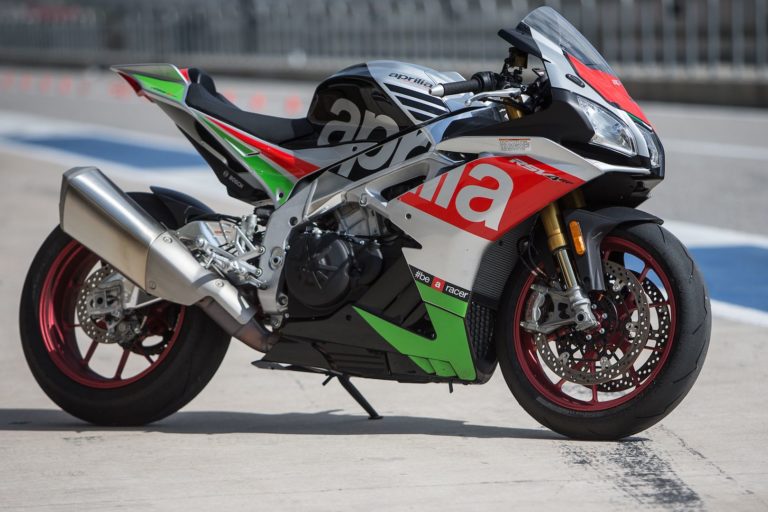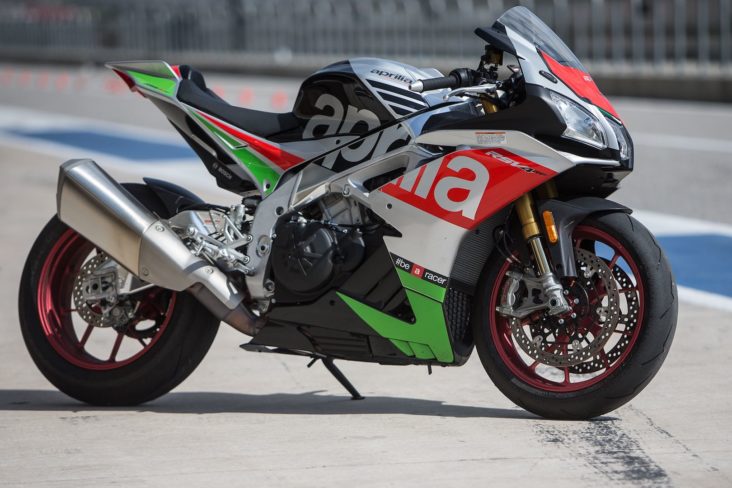 The first place is the obvious and expected choice, the stunning and legendary Aprilia RSV4. This is easily one of the best motorcycles ever made, not just by the Italian brand. It first appeared in 2009 and quickly caught attention thanks to it being the first ever production four-cylinder sports bike by Aprilia. The most modern version produces an impressive 201 horsepower and 85 lb-ft of torque, with the top speeds going above 180 mph. And this is just the base model. The top-range RSV4 FW is completely ridiculous, and a frighteningly powerful beast. It sports new cylinder heads and forged pistons, a flashed ECU, full Akrapovic race exhaust system, a lightweight lithium battery, special aerodynamic bodywork with carbon fiber parts, and the MotoGP aerodynamic winglets. Aprilia guarantees that these new parts increase the bike's power output to more than 215 horsepower. There is an even stronger model, the Aprilia RSV4 R FW-GP, which will produce more than 250 horsepower! What more do you want from the best bike Aprilia has ever made?