The dirt bike boots are an important part of motocross and off-road gear. During dirt bike riding, boots not only offer protection for your feet but also prevent ankle and lower leg injuries. Just like dirt bike gloves, goggles, and helmets, they offer protection, comfort, safety, and stability when you are in the mad, backwoods, or want to ride out on the trail.
Without these bike boots, you will not be prepared for the intense and difficult challenge of dirt biking. They have a comfortable and durable design that ensures high performance on a track.
Best Choice
Good Choice
Don't Miss
Also Consider
O'Neal Unisex-Adult Rider Boot BLK 13 (Black
Gaerne Balance Pro-Tech Boots (9) (Brown)
O'Neal 0332-112 Element Men's Boots BLACK 12
Alpinestars 3402-0375 Toucan Gore-Tex Men's Weatherproof Motorcycle Touring Boots (Black, US Size 7)
The padding is well cushioned and safe with the buckles and straps, which are interchangeable if damaged happens during riding. Also, they come in different sizes, which makes them perfect for talented adults or teenagers who need the best gear.
The different colors are crucial because it makes them match the existing gear. In the same case, there is an impact-resistant design that offers practicality when riding. Typically, to get enjoyment and safety, it is important to find the right dirt bike boots that will give you enough room when you wear them for the will make you prepared for the changes you may encounter along the way.
When looking for perfect trail riding boots, you should consider how much protection the boots provide, the quality of the boots' soles, the level of support given, and the overall durability of the boots. Sidi, Alpinestars, and Gaerne are some of the best dirt bike boot brands, but we'll review some of these and some other dirt bike boots as well.
Our recommendation for the best dirt bike boot is Alpinestars White Men's Tech 7 Size 9 Dirt Bike Boots.
Comparison Table
Top Dirt Bike Boots Reviews of 2022
7. O'Neal Men's Black New Logo Size 13 Dirt Bike Boots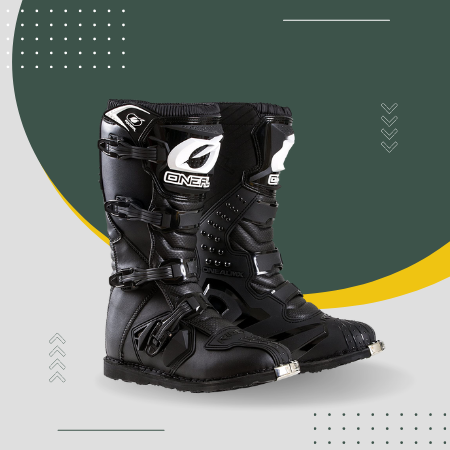 O'Neal has come up with these bike boots models that have outstanding features to offer fantastic protection and comfort. As an illustration, they come with an injection-molded plastic plate, which protects you from any impact.
In all honesty, they have a metal shank insert that reinforces their shape and offers additional support. On the other hand, it is easy to operate, which makes them fit the beginner who has never used them.
Similarly, there is the presence of cushioned insole, generous heel support, and air mesh interior that offer extra comfort. In a like manner, this model has a synthetic leather heat shield, which prevents the heat that can damage it. Thanks to the metal toe guard that protects the inner sole from delaminating.
Above all, they come with the moderate grip sole, which is best to trail, track, and the ATV riders.
Main features
Has an injection-molded plastic plate
Metal shank insert
It is easy to operate
Generous heel support
Has the metal toe guard
Moderate grip sole
6. Gaerne Brown Balance Pro-Tech Dirt Bike Size 9 Boots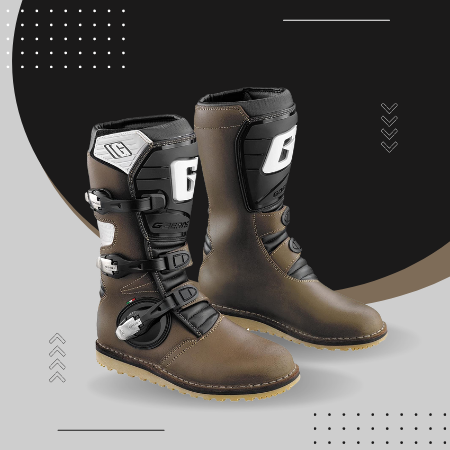 The Gaerne manufacturer is known by many dirt bike enthusiasts due to their established design for their brand when compared to others. In particular, they have high-quality leather construction that is durable and lasts longer when compared to rigid plastic material.
In the same fashion, it comes with a gum rubber sole that offers comfort and durability at once. Equally important, they have the injection-molded shin guard and the three replaceable aluminum buckles.
Furthermore, there are customization and adjustment options that make them comfortable and quite stylish when you put on. Comparatively, this brand has a heat guard, which is very protective of the leg, offering an enjoyable cool ride.
In the same case, it comes with a grip that keeps the boots attached to the feet every time you wear them. Typically, the higher quality of these bike boots is durable and makes them accomplish their purpose for a longer period.
Main features
Has high-quality leather construction
Comes with the gum rubber
Injection-molded shin guard
Has customization and adjustments options
Has the heat guard
Three aluminum buckles
Comes with the grip
5. SidiBrown Adventure 2 Size 44 Dirt Bike Gore-Tex Boots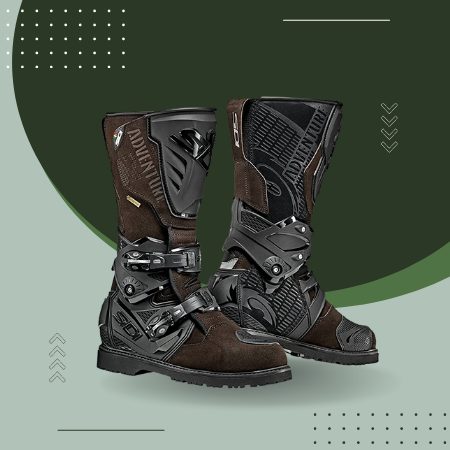 If you want comfort to your bike boots, then this product from Sidi because they offer enjoyment when riding and make you will feel less tired or fatigued. Notably, they come with the full-grain microfiber construction that makes them durable and long-lasting.
In the first place, there is the removable arch support pad, and the nylon inner sole, which forms the feet feel comfortable and relaxed. The inside lining offers comfort to the feet, making you have a long riding period.
Additionally, this model has the cam-lock buckle system and the loop and hook closure that secure the upper flat and the elastic expansion panel. Thanks to the replaceable buckles, which give you an easy time when you want to change them or put them on.
Equally, they come with instep panels that improve performance and also enhance protection. What is more, there is the anti-abrasion Cambrelle located at the foot area to offer comfort and the Teflon mesh located at the upper part, which prevents them from absorbing sweat and water.
Main features
Has full-grain microfiber construction
The removable arch support pad
Has the nylon inner sole
Cam-lock buckle system
Loop and hook closure
Comes with the instep panels
Has the replaceable buckles
Has anti-abrasion Cambrelle
4. Fly Racing 2022 Black MaverikDirt Bike Size 10 Boots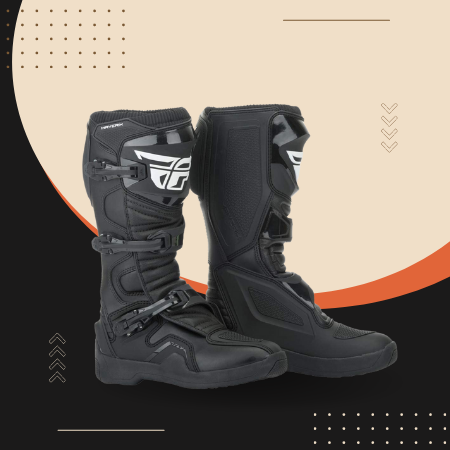 This Flu Racing bike boots model has come with all required features which are fit for the new rider and those who want to explore the latest brands. For one thing, they come with a 3D plastic molded shift panel that offers additional texture and grooves.
They have an articulated ankle, which gives support to the ankles and helps to reduce the stiffness to the boot. Thanks to the grip that keeps the bike boots attached to your feet at all times when riding the dirt bike.
Subsequently, there is the metal toe guard that protects the toe area and the flex panels located all around, which increases the flexibility. In the same fashion, they come with stitched soles that make them last for long. The heat guard offers protection to your legs, for it runs on top of the leg, giving you a cool ride.
Main features
Has the 3D plastic molded shift panel
Has the articulated ankle
Comes with the grip
Metal toe guard
Comes with the stitched soles
Have stitched soles
Has the heat guard
3. O'Neal BLACK 0332-112 Element Size 12Dirt Bike Men's Boots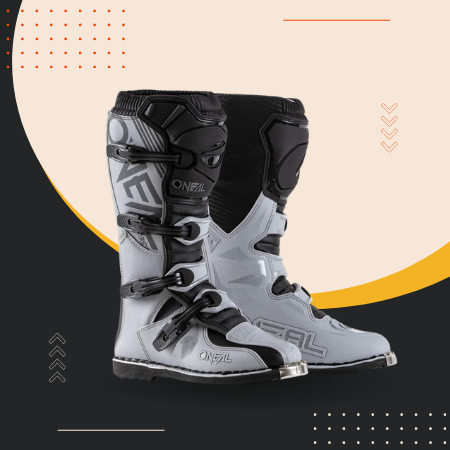 O'Neal has produced this bike boots brand, which offers the best service when it comes to quality, protection, and comfort every time of your ride. In detail, they come with a metal shank insert that reinforces the boot's shape and offers additional support.
More importantly, there is the metal toe guard, which protects the sole from delamination. There is the presence of an injection-molded plastic plate that offers protection against any impact, which may happen when riding.
Besides, it has synthetic leather heat shields that play a significant role in preventing the heat from damaging the boots. To ensure there is extra comfort, they come with generous heel support, cushioned insole, and interior air mesh.
In the same way, they have a moderate grip sole, which offers comfort to the feet, making it the best to track, ATV, and trail riders. Indeed, there is the rear pull tab that gives extra leverage together with the replacement buckles and straps.
Main features
Has the metal shank insert
Metal toe guard
Injection-molded plastic plate
Interior air mesh
Synthetic leather heat shields
Has the generous heel support
Moderate grip sole
Rear pull tab
2. Alpinestars White Men's Tech 7 Size 9 Dirt Bike Boots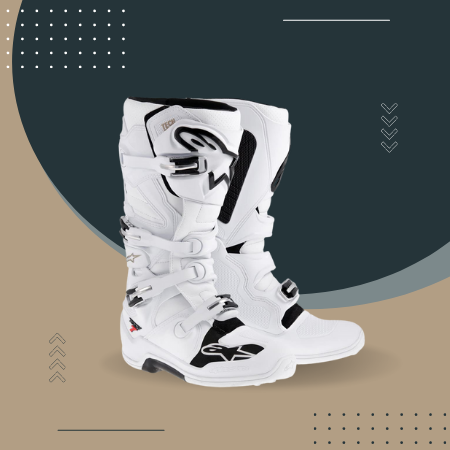 This product from Alpinestars has incorporated innovative technology and materials to form a new design for anatomically profiled and lighter performers. For instance, they come with the dual compound sole, which is effortlessly integrated into a base structure to offer superior durability.
Thanks to the inner lining that gives you comfort and support when you are riding. Equally important, they have an innovative buckle system, which offers a precise and secure closure.
Moreover, there are the straps that make the boots stay closed, giving you fewer chances of being caught by something and protecting them from falling off. In the same way, they come with a heat guard that keeps the legs fresh and the switched sole, which makes the boots last longer.
The wider entry aperture offers convenience and allows a broad-ranging calf to fit very well. Also, they have the Achilles accordion flex zone construction, which offers superior comfort, support, and control.
Main features
Has the dual compound sole
Comes with the inner lining
Innovative buckle system
Has the straps
Has the heat guard
Wide entry aperture
Achilles accordion flex zone construction
1. Alpinestars Black 3402-0378 Size 10 Toucan Dirt Bike Gore-Tex Boots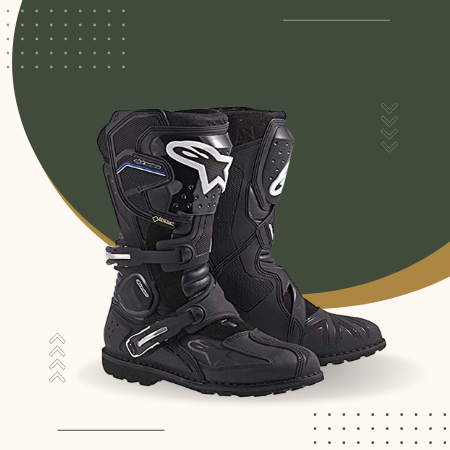 The utmost elegance of this model has made many dirt bike enthusiasts and those who want to change the brand go for it. To clarify, they come with leather material and a 100% waterproof Gore-Tex membrane that makes them durable and long-lasting.
Thanks to the integrated steel shank sole that help to improve durability and comfort when wearing them. In a like manner, there is the innovative lateral ankle system that forms the flexible link between the lower foot and upper boot area, adding extra support and control.
More so, they have reinforced polymer sculpturing that offers a firm grip and protects the bike against impact and heat. In all honesty, they come with the TPU protection layer, which covers the toe box and the internal heel counter, offering rigidity and support in the impact areas.
The ergonomic buckle system enhances protection in case there is any occurrence of an accident or crash. Thanks to the medial side structure, which offers complete flexibility and fit.
Main features
Has the leather material
100% waterproof Gore-Tex membrane
Innovative lateral ankle system
Integrated steel shank sole
Has the TPU protection layer
The ergonomic buckle system
Medial side structure
Factors to consider when buying the best dirt bike boots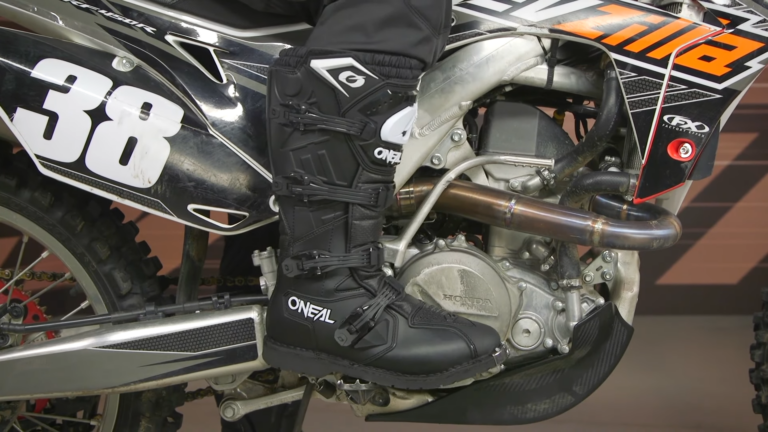 Comfort
When buying dirt bike boots, you need to get the one that fits your feet very well. This will make you feel comfortable when you are wearing them. If you do not have the right gear, you will feel uncomfortable when you wear them.
Comfortable boots make your ride enjoyable, and you will have a better ride. The important part of the boot's comfort is ankle flexion. You will feel the brake lever and the gear shifter when controlling the bike. If you have stiff boots, it will be difficult when you want to click the shift movement. Essentially, the comfort of the dirt bike boots is very crucial when buying the right model.
Price
The high-quality dirt bike boots are normally not cheap, and if you have some experience, you will know that. People who do not mind spending much money when buying a high-quality model, mind the service and enjoyment they will get. But you also need to be very careful not to rely on high prices, especially if you are the beginners and the boots you are buying you are sure if they are the right quality.
Size
When buying the best dirt bike boots, you need to consider the size. The little difference in the size of the foot will make you feel uncomfortable. You need to choose one that perfectly fits your calves.
Besides, it is important to check if the boots cover the feet well, including the bottom part of the trouser, the socks, and the legs. The size of the boots can easily be determined by adding one size or one size and a half to the normal size. Typically, you will need to choose a slightly larger size because it will fit perfectly.
Protection
Protection is a major factor because it will increase comfort and enhance your experience when riding or racing. The best boots will make your riding safer, easier, and faster. Dirty bike boots have been reinforced with various features to make them fit for racing or riding in different weather conditions.
For example, there those made of aluminum alloy, which has a reputation for durability and surface protection. The Aluminum alloy is waterproof, which makes your boots dry out immediately. On the other hand, plastic material makes them stronger and resistant to all kinds of shocks.
Conclusion
If you already have the right dirt bike boots, it will be easier to engage yourself and your kids in sports. Our reviewed high top 7 best dirt bike boots will guarantee you the best results. They come with an adjustable buckle system that will ensure a better fit and simplify the way of finding the perfect fit.
The dual-density foam of these boots offers comfort, protection, and safety of calves and feet. Also, they come in different sizes, which makes them perfect for talented adults or teens. Besides, these trail riding boots have excellent protection to the whole feet, and when you fall, you will at least be sure of your safety.
Sale
Bestseller No. 1
O'Neal 0325-111 Men's New Logo Dirt Bike Rider Boot (Black, Size 11)
Injection molded plastic plates protect against impacts
Metal shank insert Reinforces the shape of the boot and adds support. Fit tip-if you typically wear a half size, order the next size up as boots are...
Easy to operate, snap-lock adjustable four buckle closure system
Air mesh interior, generous heel support and cushioned Insole for extra comfort
Synthetic leather heat shield to prevent heat damage
Sale
Bestseller No. 2
Fly Racing Adult Maverik Boot (Black, 9)
BOOT SIZES ARE IN MEN'S. OFF-ROAD BOOT PROTECTION: Articulated rear ankle provides you subtle flexibility for easy break in, yet remains supportive
PROTECTIVE RIDING GEAR: These CE approved boots are equipped with a variety of features that keep the rider's feet protected and safe, including inner...
QUALITY CONSTRUCTION: These motocross boots feature an elastic gaiter, adjustable quick-lock buckles, and 3D molded plastic shin and shift protection....
MODERN MOLDED SOLE: Featuring an Innovative one piece plastic injected "fish tail" midsole, as well as a molded rubber outsole that is durable,...
RIDING GEAR DONE RIGHT: Inspired by racing, driven by adventure, and crafted for performance, FLY Racing delivers quality boots for men, women, and...
Bestseller No. 3
O'Neal Men's Dirt Bike Boots (Gray, 9)
Metal shank insert reinforces the shape of the boot and adds support
Easy to operate, Snap-Lock adjustable four buckle closure system
Metal toe guard to protect the sole against delaminating
Synthetic leather heat shield to prevent heat damage
Air mesh interior, generous heel support and cushioned insole for extra comfort
Sale
Bestseller No. 4
Alpinestars mens Multi TECH 3 Boots Blue White Red Size 10 , Multi, US
Upper construction is made from lightweight microfiber material for flexibility, durability and abrasion resistance
Light microfiber front and rear bellow inserts offer improved comfort and flexibility in key area
Toe box is constructed from synthetic material for abrasion performance
Extended PU synthetic gaiter helps seal out excessive water and dirt entry
Contoured TPU calf protector plate, TPU higher medial protector, TPU outer lateral ankle and TPU heel counter offer support and resistance to impacts
Sale
Bestseller No. 5
O'Neal 0332-211 Element Men's Boots WHITE 11
Metal shank insert reinforces the shape of the boot and adds support
Easy to operate, Snap-Lock adjustable four buckle closure system
Metal toe guard to protect the sole against delaminating
Synthetic leather heat shield to prevent heat damage
Air mesh interior, generous heel support and cushioned insole for extra comfort
Sale
Bestseller No. 6
Fly Racing Maverick MX Youth and Mini Boots (Mini Black, Y13)
Inner ankle protection made of durable and flexible plastic, Articulated rear ankle gives the subtle flexibility to bend your foot down, yet still...
3D molded plastic shift protection panel saves your boot from premature wear. Don't miss a shift with the added grooves and texture to aid in...
Metal toe guard gives that finished look and protects the front of the sole from delaminating
Elastic gaiter provides a comfortable rim around your calf while sealing the opening from debris
Adjustable quick lock buckles with a solid locked in feel and an open design keeps dirt from clogging the function
Sale
Bestseller No. 7
Sale
Bestseller No. 8
Sale
Bestseller No. 9
O'Neal 0332-102 Unisex-Child Element Dirtbike Boots (Black, 2)
Metal shank insert reinforces the shape of the boot and adds support
Easy to operate, Snap-Lock adjustable three buckle closure system
Metal toe guard to protect the sole against delaminating
Synthetic leather heat shield to prevent heat damage
Air mesh interior, generous heel support and cushioned insole for extra comfort
Bestseller No. 10