While many people ride their bikes without music, enjoying only in the sound of their engines, there are ones who prefer music and finds driving their motorcycles while listening to music more entertaining. Music can increase the experience of driving on the open road. For example, imagine that feeling when you are riding some Harley Davidson with the sound of Metallica or some other heavy metal band. Also, you will attract the people around you with your appearance.
However, if you want to install the sound system in your bike, you have to know which types and brands are more suitable and capable of providing you with the best sound quality. The essential parts of the sound system for your bike are speakers, protection, radio, and amplifier.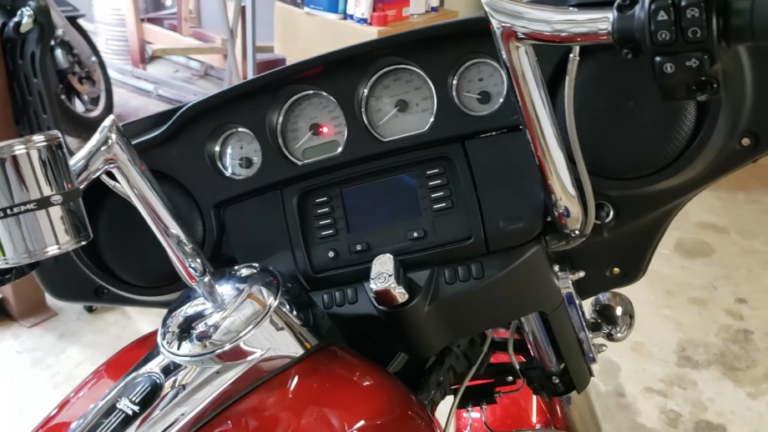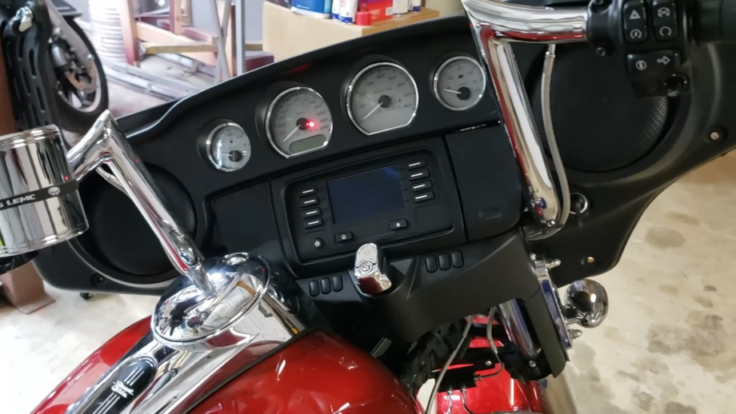 There are also additional parts that could provide you with USB and Bluetooth connectivity. Moreover, the most important part of every sound system is a decent amplifier, and here are some of the best ones that you can buy in 2023.
Top Picks
1. Kenwood Compact Amplifier with 4 Channels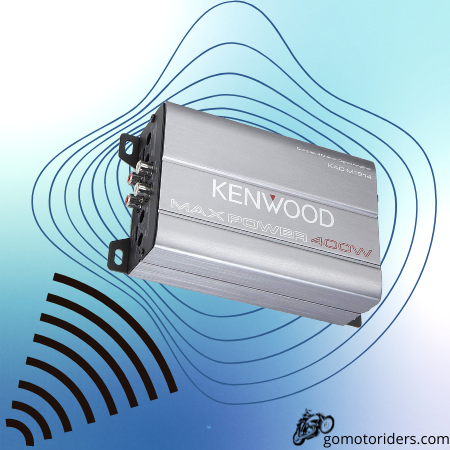 This amplifier can provide you with the maximum power of 400 watts for your sound system. The power rating of RMS is 4 ohms, and there are four channels for the connection of speakers that should be 45 watts in potential. Also, the material of the case is aluminum, which improves its quality and durability.
The dimensions of the Kenwood Amplifier are 5.5 x 3.5 inches, and 1.3 inches in height. The weight is around 500 grams, which is lightweight, and won`t affect the stability of your motorcycle. You can find this amplifier on the market for less than 150 dollars.
2. Rockford Fosgate Rail Amplifier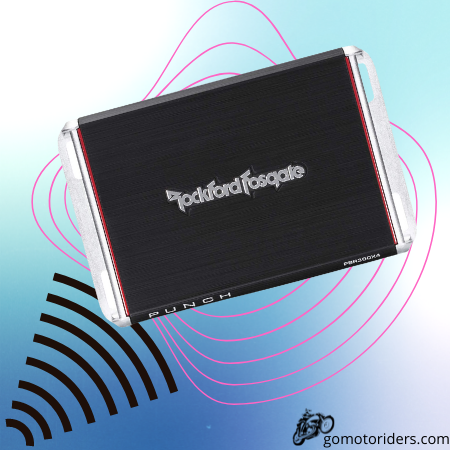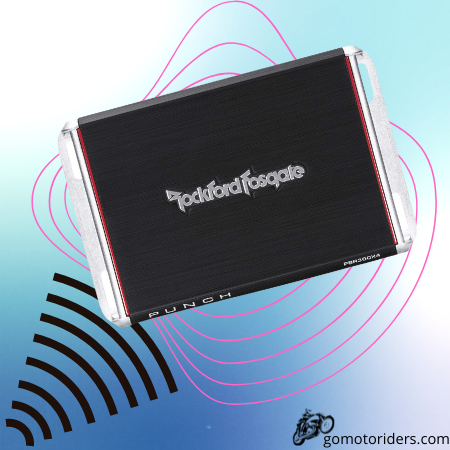 Rockford Fosgate is a popular brand when it comes to various gear for motorcycles, and they are also manufacturing high-quality speakers and other equipment that would provide bikers with the great experience of listening to music while driving. There are several versions of their amplifiers, and we recommend the version with 4 channels and input of 300 watts.
This amplifier is highly compact and efficient specially designed to fit perfectly in a bike, quad, or golf cart. Besides being able to provide the user with amazing stereo sound, it also has a quite simple installation process. You can connect four speakers with 75 watts on it. The price is around 200 dollars.
3. Kenwood Class D Amplifier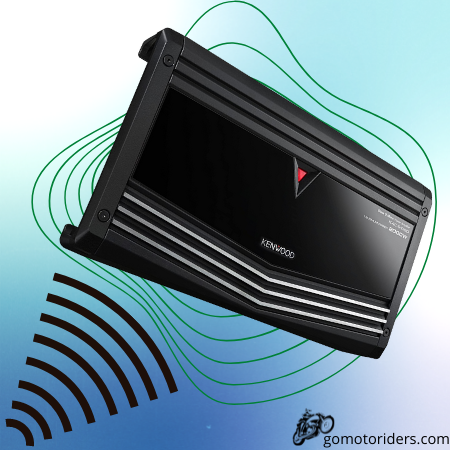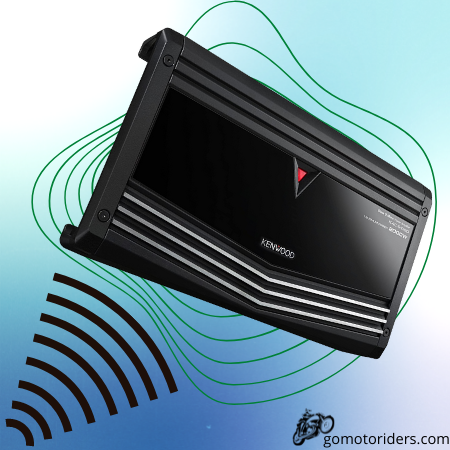 Kenwood, as a brand, represents one of the most popular manufacturers of sound equipment for vehicles. Their automotive compact model with the input of 400 watts and 180 watts for speakers is part of their amazing sound system which provides the owner of a bike to enjoy high-quality music.
The weight is a little more than 1 kilogram and it is small in size, and would easily fit. Additionally, you can connect your CD, Bluetooth, USB and other connectors on it and gain full experience. The price of this product is around 150 dollars.
4. Kicker Power Sport Amplifier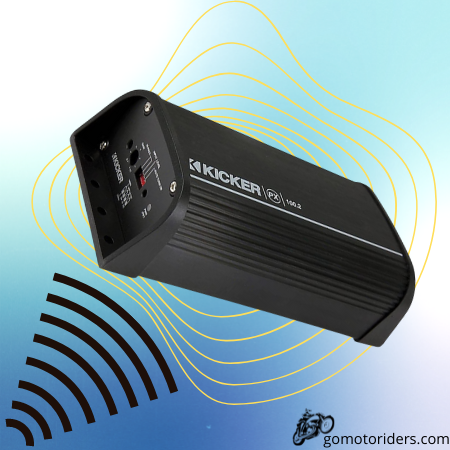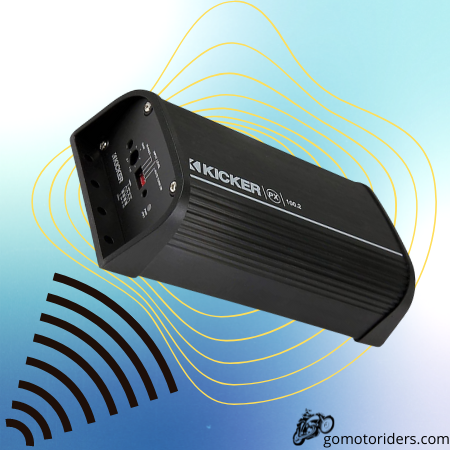 This amplifier is very easy to install, which is the main reason for its popularity among many owners of bikes. Also, it's one of the smallest in the category of amplifiers that could provide you with a decent quality of music. The dimensions are 10 x 5 inches, while the weight is only 450 grams.
The power of this device is 100 watts, which is enough to provide enough energy to speakers. You could also add a Bluetooth connection, which is popular for many drivers since you can connect your smartphone and listen to your playlist. You can buy it for around 100 dollars.
5. Candy Micro 2 Amplifier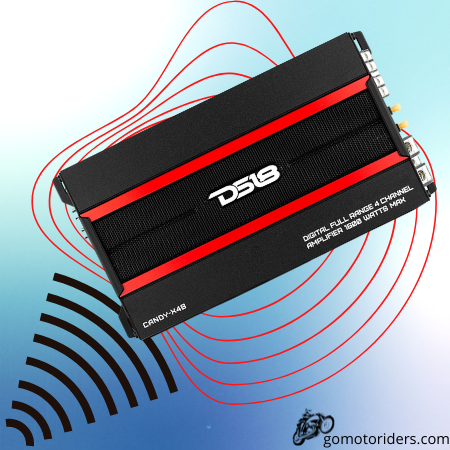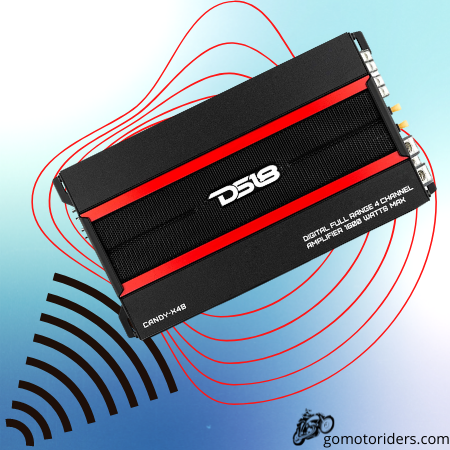 This small amplifier with dimensions of only 3.2 x 4.9 inches and 1.5 inches thick is capable of providing 800 watts of power, which is truly amazing. The response of frequencies is between 19 and 39 kHz. Micro 2 is an excellent choice for bikes with less space for a sound system.
The power of RMS is 2 x 80 watts with 2 Ohms, and 160 watts for 4 ohms. The power bridge has a limit of 2 x 65 watts. There is also a Micro 4, a more powerful version with 1600 watts. Candy is also very affordable, with a price of 85 dollars.
6. Cerwin Vega B52 Bomber Amplifier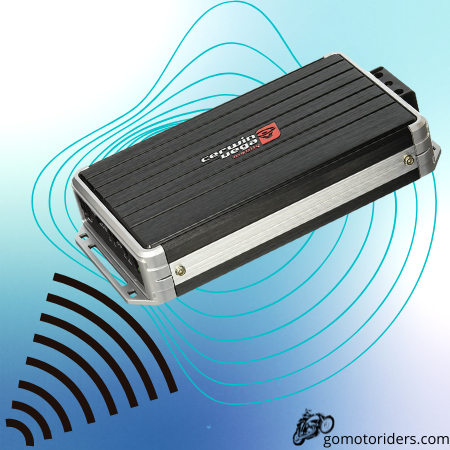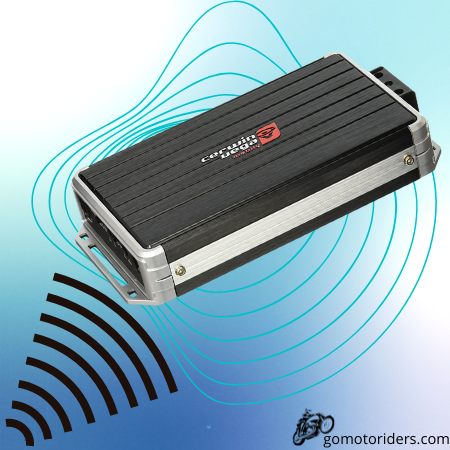 This amplifier from Cerwin Vega is another one from class D, with 2 channels, and a power of 1000 watts. With the weight of slightly over 1 kilogram, it won`t affect the stability of your bike, his small dimensions are excellent for a simple installment process.
This amplifier can survive under extreme conditions with the help of thermal protection and has a connection for various devices like CD, USB, and Bluetooth. There are two channels with 500 watts. The price of this product is 120 dollars.
7. Velex Marine 4 A/B Amplifier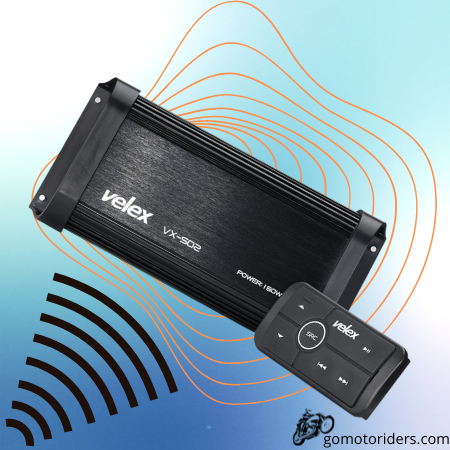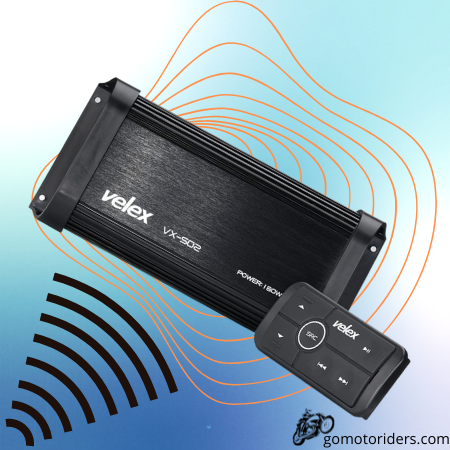 The biggest benefit of installing this amplifier in your bike is that it is completely water-resistant with high-quality stainless steel as the main material. The full output strength for the speakers is 4 x 25 watts with 4 Ohms for reduction and control.
This amplifier has a Bluetooth connection, and the sound that it is providing is amazing. Also, you can easily connect it on various types of motorcycles like UTVs, Harleys, but also small boats, tractors, golf carts, and many more. Moreover, this high-quality amplifier has a cheap price of only 85 dollars.
8. Gravity Waterproof Amplifier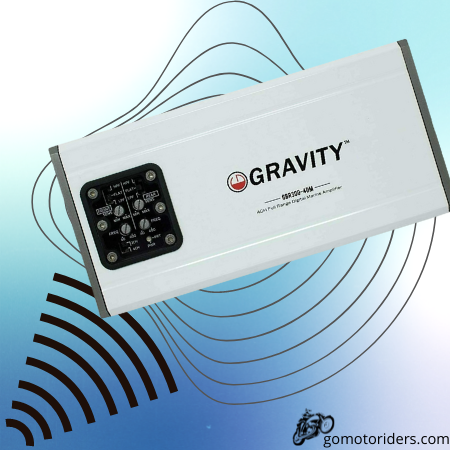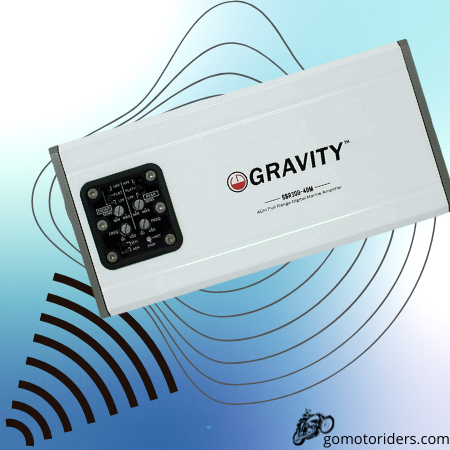 According to many users of this amplifier, it can provide you with full experience of high-quality music, even while you are driving faster, and it can survive long trips and extreme conditions with ease. The input power of this system is 600 watts, with four channels, and it has a compact size.
Gravity also has an additional system for adjusting and customizing the sound, and you could also install it in other vehicles like cars, golf carts, boats, and many more. The manufacturer is also providing you with one year of warranty for this product, while the cost of it is 175 dollars.