For many people, music is an unavoidable part of driving, which often has a calming effect on people and helps them when they go on a long road. However, while car drivers have basic music equipment already installed in their vehicles, it is a little more complicated for motorcycles.
Nevertheless, with technological improvements, bikers are also able to set up some decent stereo in their ride too. There are many benefits from having the audio system in your bike, and some of the most important are that you will just have an improved experience while riding your bike, along with better style and a higher price when you want to sell it.
Top Picks
When you are looking to buy some good stereo for your motorcycle, you should look for completely waterproof ones, with the flexibility that can support Bluetooth apart from regular radio FM, and CDs. In this article, we are going to present to you some of the best fairing speakers for motorcycles that you can find on the market today.
1. Harley Speaker Bundle Kicker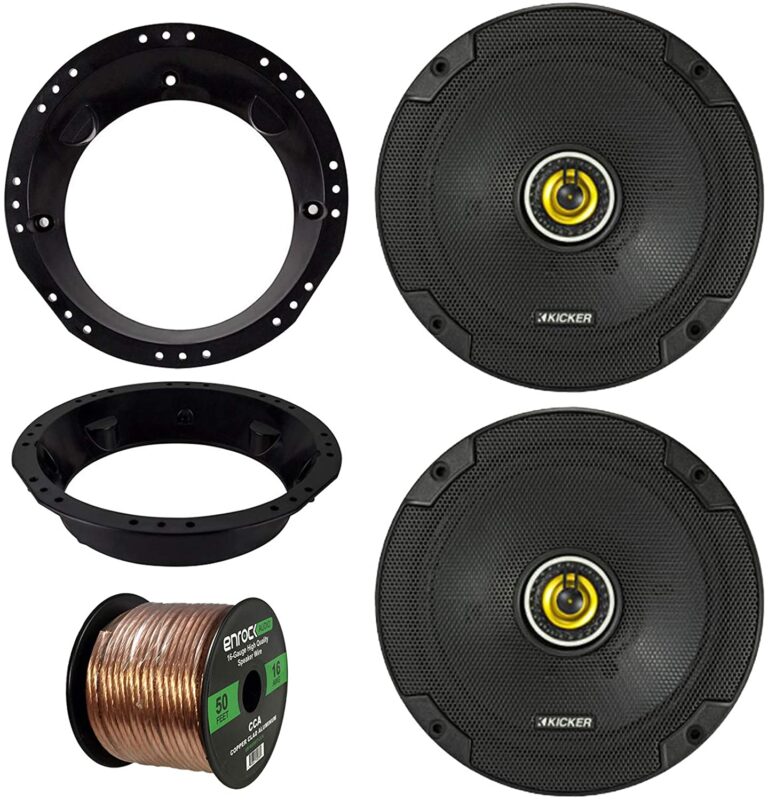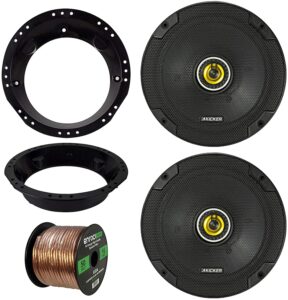 The coaxial speaker in this package has 2600 watts of power, which is surprisingly powerful. The brand is Kicker, and they are providing the drivers of Harley Davidson with this 6.4inches speakers. This type of speaker should fit perfectly on every Harley Davidson produced between 1998 and 2013.
The Kicker stereo has a special design that is made to last long and be durable enough to withstand long rides on the open road and higher speeds. The material used for speakers is polyester foam, which is a great solution since it is lightweight and won`t affect the balance of your bike. Also, another benefit from buying these is that you could easily install them all by yourself, and it won`t take you more than one hour for installation.
2. Hoppe Quadzilla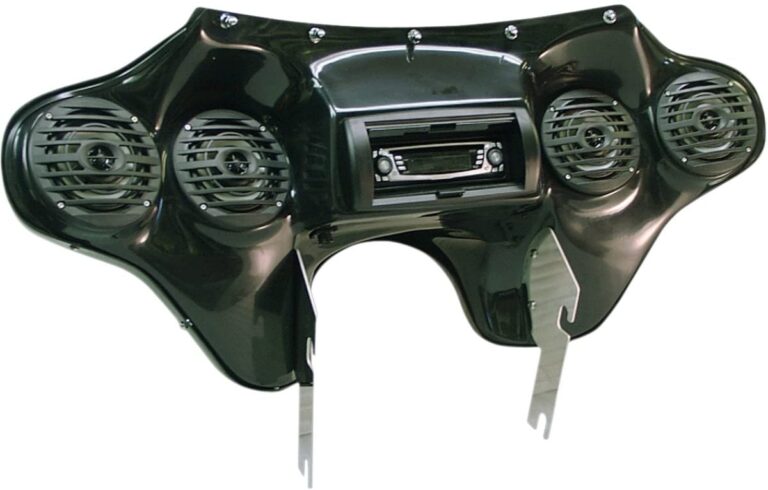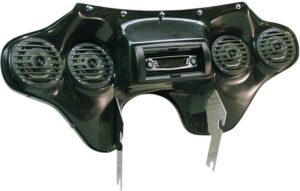 The Hoppe Quadzilla represents the fairing stereo speakers made of fiberglass, and they are very attractive and would improve the style of your motorcycle. Also, you can paint the fairing speakers in the color of your bike, or any color you prefer and create a unique bike that would praise for attention.
The package with these speakers has everything that you need to easily connect with your ride. The size of a speaker is 5 inches, with additional radio that also supports USB connection. Moreover, it has a decent equalizer, and you will get an extra windshield for your set-up.
3. US Stock Saddlebag Speakers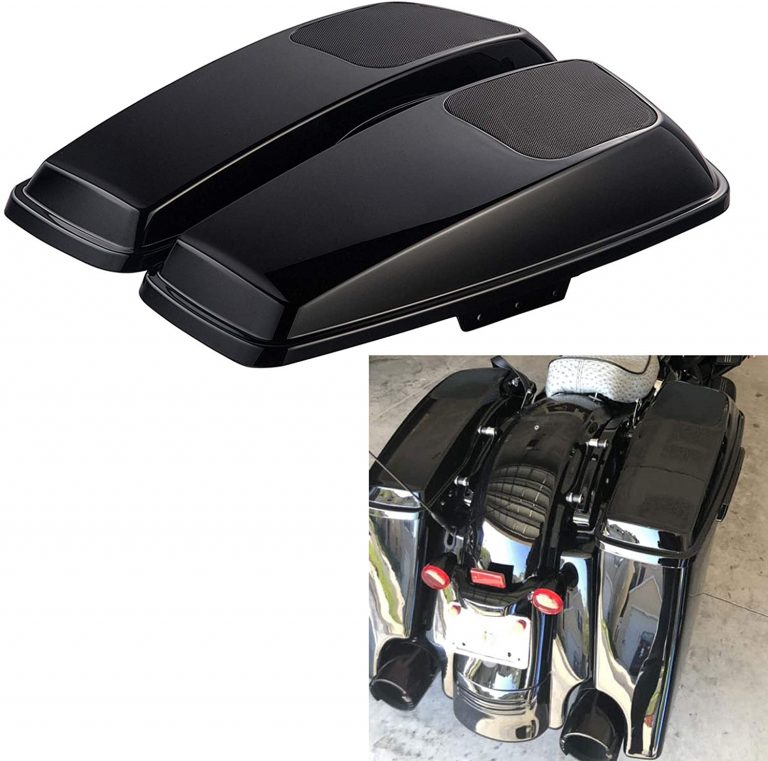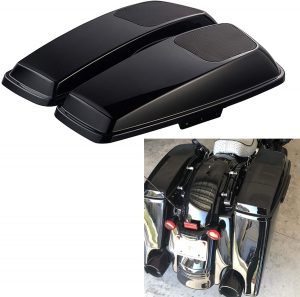 This type of stereo system is specially made for some of the newest models of Harley Davidson which were produced between 2014 and 2019. The speaker's lids size is 6 x 9 inches, and you will get additional mesh grills, housing, tethers, and rubber seals. The most important are lids since their purpose is to keep your speakers in one place, but it also has an attractive design that fits perfectly in Harley.
The material used for Black Saddlebag is high-quality plastic, which provides these with lighter weight and improved durability. The installation of the fairing system is usually very easy, and the same case is with these too.
4. Rockford Fosgate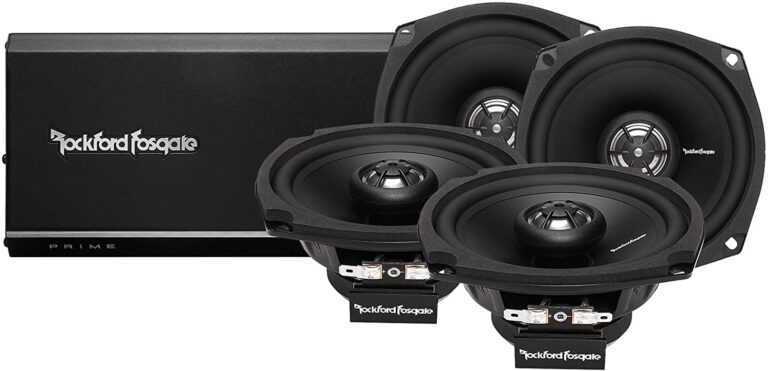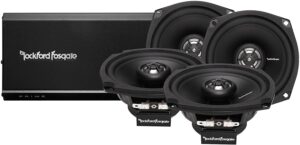 This sound system represents another excellent solution for drivers of Harley Davidson bikes. The size of a speaker is 6.5 inches, while they could be installed in the fairing and the Tour-Pak location. The installation process is simple and fast since they made them be easily connected in the mounting hardware of the bike.
When it comes to the quality of the speakers, there are two of them with the power of 75 watts. The sound is clear, and you can enjoy the clarity of music even if you are driving faster than 100 kilometers per hour.
There is also an improved version of Rockford Fosgate speaker, the Street Glide with similar speakers with the same size of 6.5 inches. They are also simple for set-up. However, they are specially designed for the Harley Davidson Street Glide which was in production between 2006 and 2013.
When it comes to the quality and design of these speakers, they are completely water-resistant, and could also withstand other weather conditions like snow or strong wind. The biggest advantage is that they could also work without any problems even if you are driving on some rough roads since they are properly isolated to survive vibrations. The power is the same just as the regular Rockford Fosgate, two speakers with 75 watts.
5. Hogtunes Stereo System Fairlings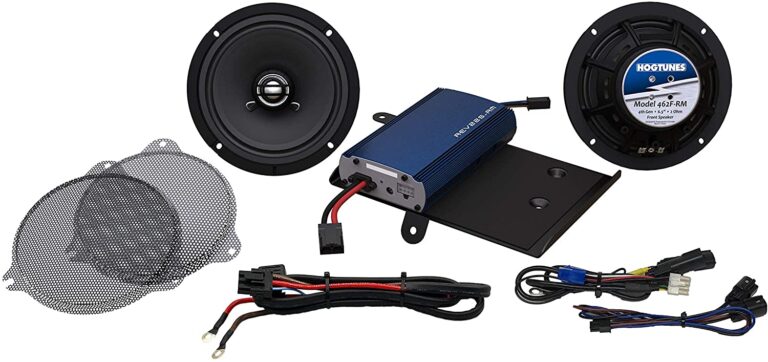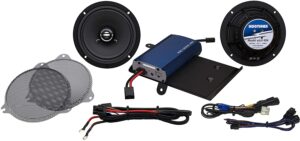 In this set, there is a high-quality and compact wide speaker with a size of 4.24 inches, along with a USB port, radio system, and a small display where you can choose your favorite music in some list or a radio station. The power of the speakers is 50 watts.
As it is expected, these also have a simplified way for installation, where you can set it up by yourself in less than an hour. On the other side, Hogtunes Speaker comes with plastic protection, which helps in avoiding water, dust, and any other dirt.
6. Boss Stereo System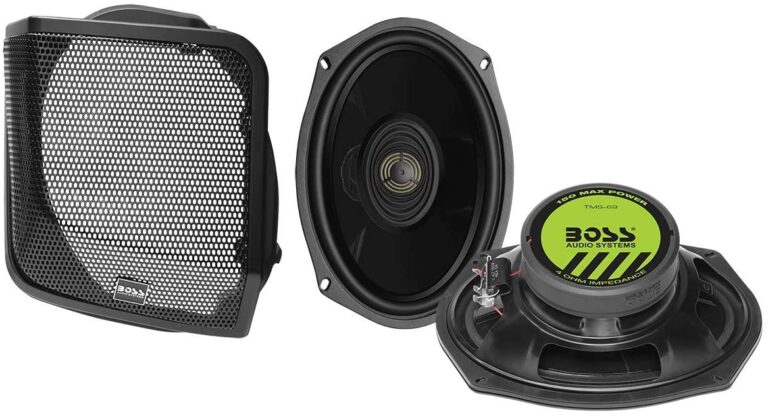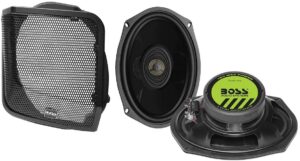 The German producer of the high-quality sound system also has ones for motorcycles on offer. There are several models that represent a system with many abilities and there are many advantages to choosing one of these since you can have full control over your music, with an advanced amplifier, equalizer, and Bluetooth connection.
Also, what makes Boss failings unique, is that you can install them on most of the motorcycles, and not just one exact model, which is great since you can always resell your bike, get a new one, and reinstall the same system again. You can connect your smartphone and choose your favorite music. The sound system is waterproof and can survive cold weather, snow, and strong wind.
Nonetheless, another benefit is that you will make your motorcycle more attractive, with speakers on the handlebars, which is especially striking if you choose a version with four speakers. Moreover, the Boss company provides the owners of this system with three years of warranty.