Our Pick
Good Choice
Also Consider
White Industries ENO Freewheel Sealed Cartridge Freewheel 16t
Shimano MX 16 Tooth Single Speed Freewheel (16T X 3/32-Inch)
SENQI Bike Freewheel Sprocket Gear Single Speed 12T 14T 16T and 3 Speed
Our Pick
White Industries ENO Freewheel Sealed Cartridge Freewheel 16t
Good Choice
Shimano MX 16 Tooth Single Speed Freewheel (16T X 3/32-Inch)
Also Consider
SENQI Bike Freewheel Sprocket Gear Single Speed 12T 14T 16T and 3 Speed
Single-speed bicycles are the best option to move around your city or town. They are lightweight with few parts and no gearing system. Riding a single-speed bike with a freewheel gives you the ease of pedaling. You do not have to pedal all the time with simple and single gear. Freewheel spins when you are not pedaling and just cruising around. It works directly on the rear wheel of your bicycle, locking the wheel when you pedal in a forwarding direction.
Riding with a new single-speed freewheel will give you a comfortable and smooth feel. However, getting a perfect freewheel for your single-speed bike needs a lot of research as the manufacturers offer you so many options, and finding an ideal fit can be time-consuming. So here is a review about the best freewheel for your single-speed bicycle to provide you with a smooth and quality ride.
 Single Speed Freewheel Top Picks
1. Shimano Single-Speed Freewheel
Shimano single-speed freewheel is one of the best freewheels the manufacturer offer for a smoother and quieter ride. It is made with rigid material that ensures its longevity and can be used for hard riding. The rugged steel sprocket has a chromium plating that protects the freewheel from corrosion and provides it with hardness, so the freewheel survives the most challenging circumstances without wear and tear.
It gives a rider better riding performance with its 16 teeth. It fits perfectly with the chain of 3 / 32 inches and 1 / 8 inches. It is made with high-quality steel sprockets that provide you with the best riding experience. Shimano freewheel is affordable in price, so it makes it easy for you to upgrade your bike.
It is best suited for BMX bikes, and all the bikers have recommended Shimano single-speed freewheel for long-lasting excellent performance. It also allows you to enjoy high-quality riding with no noise when you move around the town. I found this freewheel easy to install. The installation is easy and quick. All the instructions are given in the manual. Once you install this freewheel on a single-speed bike, you can ride your bike smoothly.
Pros
Chrome-moly steel sprocket
Compatible with 1 /8'' and 3 /32'' chain
Easy to install
Upgrading your multi-geared bike to a single-speed bike is very easy with Shimano single-speed freewheel. It is made with chromium-plated high-quality steel that ensures its long-lasting performance without any damage. If you are looking for a budget-friendly and durable freewheel, Shimano single-speed freewheel is your go-to option.
2. Diamond Single Speed Bicycle Freewheel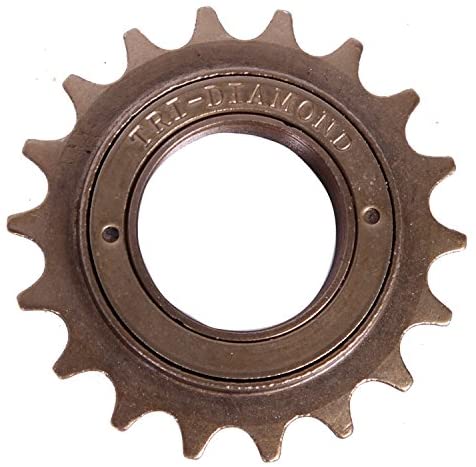 Diamond single-speed freewheel is a cheap replacement for your bike. It comes in 13 to 28 teeth. The smallest range is 13T, whereas the most extensive range is 28T. It gives you the freedom to choose the perfect size for your bike. It is made with high-quality hard steel that gives your bike high speed and strength.
The high-quality material protects your freewheel from rust and corrosion, making it durable for extended use. Diamond Single-speed freewheel is made with the cold forging technique, which is a unique method of increasing the strength and power of the freewheel. In addition, it gives hardness to the steel and ensures its extended life span, which can withstand the most challenging situations during bike riding.
It also saves your money and time because you do not have to install the freewheel, again and again, by providing you a fast ride and high-quality experience. It comes with a notch pattern that is uniquely designed for easy removal. Additionally, it gives you an excellent frame clearance.
It is compatible with 1 / 2 inch and 1 / 8-inch single-speed bike chain. I found it less costly with an efficient performance. It takes no time to install. It is quick to install without any extra tools. You need to screw the cap onto the jar, and you are good to go.
Pros
Compatible with 1 / 2'' and 1 / 8 '' chain
Cold forged strength
Stainless hard steel
Diamond single-speed freewheel is a top choice for a person who wants a quality ride at affordable prices. You can upgrade your bike with this freewheel that fits perfectly for the bike's chain that is 1 / 2 inches and ⅛ inches. In terms of durability, its hard material makes this freewheel durable and capable of going through complex and challenging situations.
3. Senqi Bike Freewheel Sprocket Gear Single Speed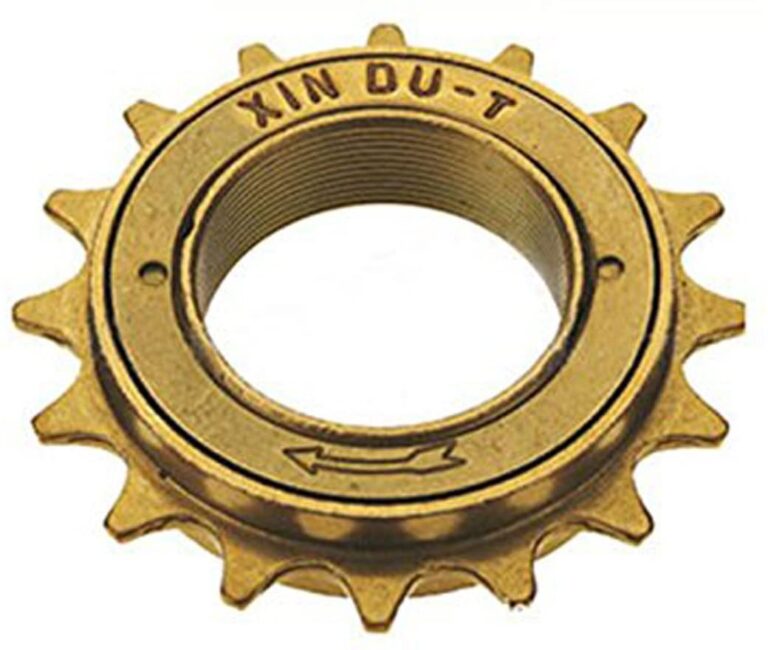 Senqi single-speed bike freewheel has an internal diameter of 22mm and 33 mm. The diameter of the outer teeth is 61mm. Additionally, it comes with a threaded depth of 10.5mm and a total thickness of 22mm. This freewheel is designed uniquely through a cold forge technique that transforms the metal and makes it hard by applying different forces until it gets the desired shape and toughness.
It is also designed with CNC machining to get a perfectly shaped single-speed freewheel. It comes with a three-pawl engagement which is the clicking of the rear-wheel while freewheeling. It allows your wheel to move freely without pedaling. Moreover, it gives you a firm grip with 12-degree engagement.
It features a removable notch pattern that provides you with better frame clearance. Furthermore, the manufacturer of this freewheel offers you a lifetime warranty. Therefore, you can buy it confidently without being stressed about the defects. As far as its pricing is concerned, Shenqi's single-speed freewheel is not costly and offers you a better riding experience. This freewheel is made with high-quality steel, ensuring its durability without compromising on its performance.
Pros
Cold Forged CNC machining
Three-pawl engagement
Lifetime warranty
Shenqi single-speed freewheel comes in three different sizes that are 12T, 14T and, 16T. It gives you the freedom to choose a size that fits perfectly for your bike. The high-quality built freewheel offers a biker better performance and safety. You will never regret buying Shenqi freewheel if you want to upgrade your bike and its riding performance.
4. Zukka Single-Speed Bike Freewheel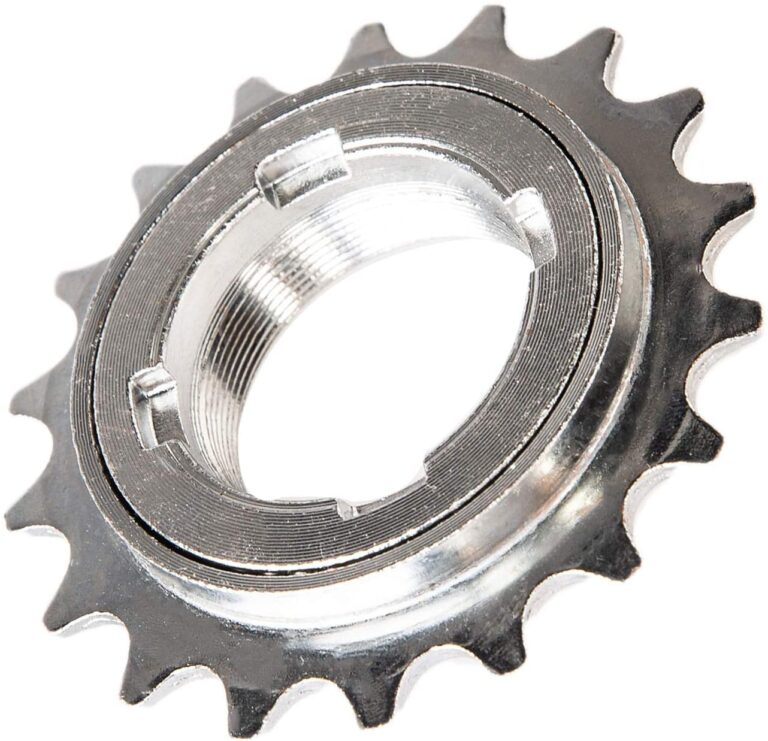 Zukka is a famous manufacturer brand that designs bicycles and their accessories. Their mission is to provide riders with a fast and better riding experience to enjoy their ride with cruising. Therefore, this freewheel is better suited for a tricycle, single-speed city bike, and beach cruiser cycles. Additionally, the Zukka freewheel is made with premium quality iron material that ensures its durability and extended life.
It comes with 18 teeth and is compatible with 1 /2 inches and 1 / 8 inches chains. The high-quality construction protects the freewheel from rust and corrosion, proving strength and longevity. It has internal threading that is precisely made to ensure the close connection between the bike's hub and its rotation. Moreover, it provides a safe and comfortable ride.
I found its installation very quick and easy with a simple freewheel tool. You can install and remove Zukka's single-speed freewheel effortlessly without breaking it. In my experience, this freewheel is compact and lightweight and enhances the look of your bike. Its weight is approximately 5.7 ounces. It provides stability and better performance to your single-speed bike.
Pros
High-quality steel material
18T gearing
Precise Internal threaded
Zukka single-speed freewheel allows you to gain a stable and perfect ride after upgrading. Easy installation, high-quality material, and affordable price make it one of the best freewheels for your single-speed bike. It works best on hybrid bikes, city bikes, and cruising bikes. So if you own one of these bikes and want a better cruising experience, you should opt for the Zukka single-speed freewheel.
5. White Industries ENO Freewheel Sealed Cartridge Freewheel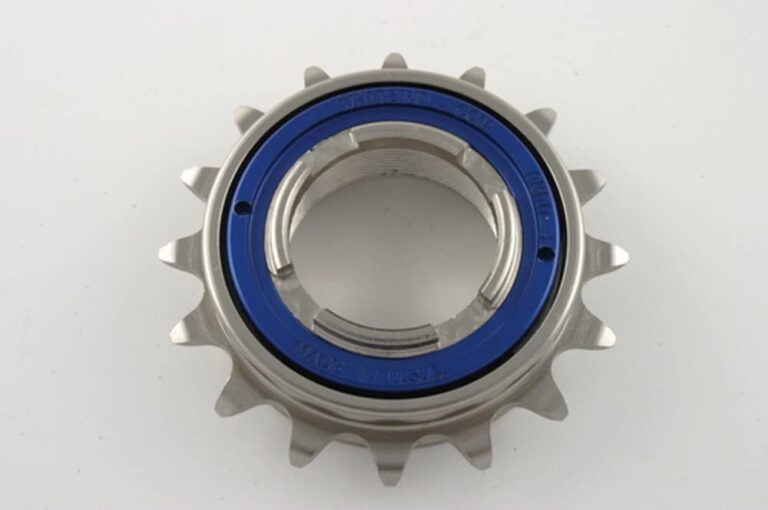 White industries freewheel is one of the versatile and high-quality built freewheels in the market. It is different from the other wheels because of its sealed cartridge bearings. Its shape is different and unique, and cartridge seals protect the freewheel cogs from mud, dirt, and water.
Moreover, the bearings are compact and considered as one unit so, when bearings are worn out, you do not need to replace the whole setup of the freewheel but just the part of it. The outer casing of White Industries ENO freewheel is made with electro-nickel plating. It protects the freewheel from abrasion and corrosion.
Additionally, it provides hardness to the freewheel, making it tough for all riding situations. This freewheel's inner and outer part is made with the machine, so both the components work in complete coordination. It offers you 36 engagement angles for better rides and excellent training.
This freewheel comes with chromium-plated 16T gearing cogs, but you can also get cogs like 17T, 18T, and 19T, depending upon your single-speed bike. Moreover, it is compatible with a 3 / 32 inches bike chain. I found it a bit expensive, but its high-quality build ensures its long-lasting lifespan. This freewheel is easy to maintain and reliable to use.
Pros
Nickel electroplating
Sealed cartridge
36 engagement angle
The ENO single-speed freewheel offers you a fast and safe ride with high-quality performance. In addition, the high-quality build ensures durability and long-lasting use. Many freewheels allow you to ride a bike with varying degrees, but White industries Eno freewheel gives you ten engagement degrees every time you cruise.
6. Lixada Single Speed Freewheel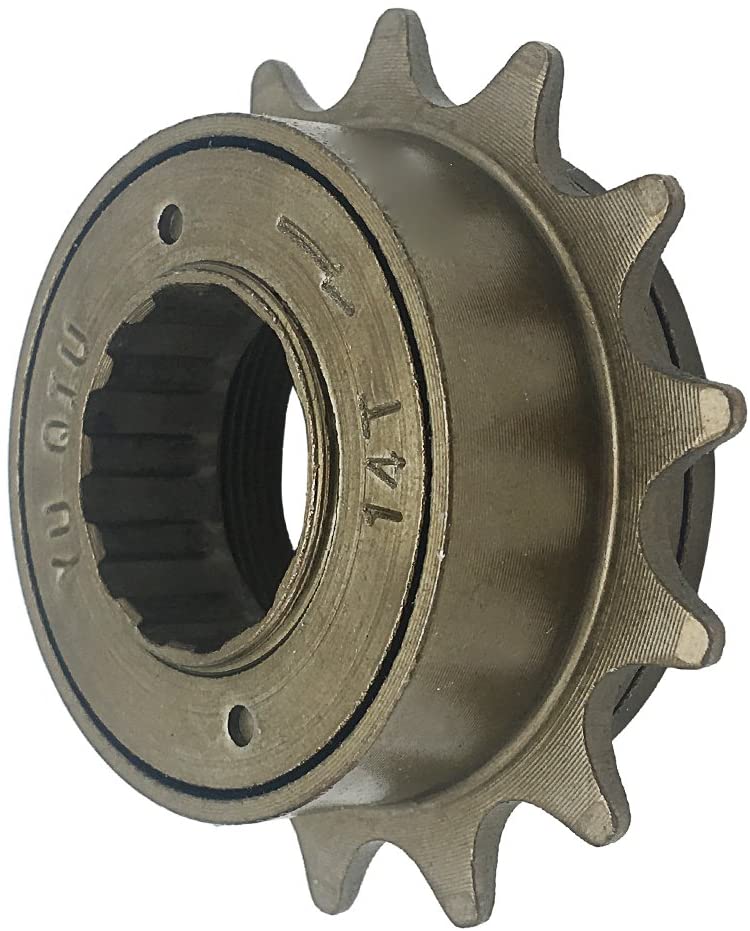 Lixada single-speed freewheel comes with 14 and 16 teeth gearing. The inner diameter for the 14T cog is 18mm, whereas, for the 16T, it is 34mm. The diameter of outer teeth for 14T is 62.5mm and for 16T is 54mm. The thickness of the 14T bearing is 21mm, and 16t is 15=4.5mm with a weight of 4.1 ounces. It is constructed with high-quality steel that keeps the freewheel from rust and corrosion, making it work for more years to come.
Lixada freewheel aims to give the bikers the best cycling experience, so they enjoy their sports to the fullest. The best part of this single-speed freewheel is that it allows you to enjoy your ride without any noise. You can ride your bike around the town without being disturbed by the clicking sound. The freewheel comes with internal threading that ensures the close connectivity of the bike's hub with its rotation which provides a smoother ride.
I found the movement of the Lixada freewheel so smooth and fluent without creating much noise. It makes it easy for you to ride your bike at a faster speed by applying less force. This freewheel gives you the freedom to cruise while riding a bicycle. In terms of installation, this single-speed freewheel is easy to fix, and once it is done, you are good to go.
Pros
High-quality steel construction
Internal threading
Easy installation
With easy installation and threaded cogs, the Lixada single-speed freewheel allows you to enjoy your activities to the fullest. Its high-quality build and availability in 2 sizes enable you to get a durable freewheel that perfectly fits your bike. It is best for people who want to ride their bikes without any sound. This freewheel gives your bike an excellent and fluent movement without any noise.
7. Drift Maniac BMX Single Speed Freewheel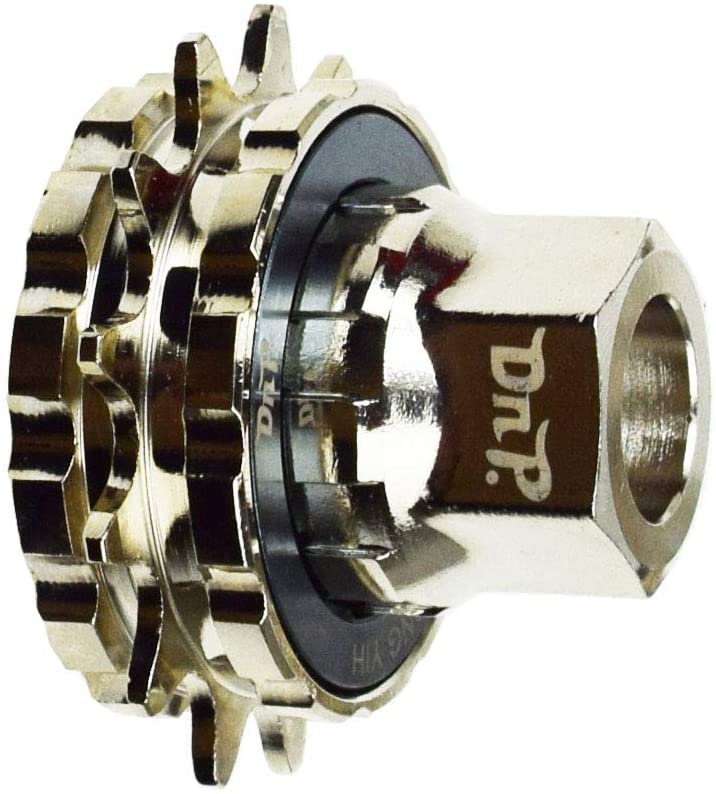 It is the best single-speed freewheel for BMX bikes. It comes with a black lock ring and is constructed with high-quality chrome-molybdenum steel. It gives strength, hardness, and extended life to the freewheel. It comes in different sizes ranging from 13T, 14T, 15T, 16T, 17T, and 18T. You can choose between these sizes according to your bike's needs.
Its non-breakable material makes Drif Maniac single-speed freewheel durable and yields tensile strength that can withstand extreme riding situations. The nickel-plated teeth gearing provide toughness and keeps your freewheel from rust and corrosion. It is compatible with 1/ 2 inch and 3/32-inch bike chains, high-quality, and this range goes up to the 9-speed chain.
Drift Maniac single-speed freewheel has loose ball bearings that are easy to clean and removable if worn out. You do not have to remove the whole freewheel. It also provides you with a removing tool that makes it easy for you to remove the freewheel without damaging or breaking it.
The internal diameter of 13T is 29mm, whereas the largest 18T's inner diameter is 34mm. It comes with 10.2mm of thickness, and it is easy to install. It allows you to choose between big and small tools depending upon the teeth bearing of your freewheel.
Pros
Nickel-plated teeth bearings
Black lock ring
Chrome-moly steel construction
This freewheel is a better replacement for BMX single-speed bikes. It gives you a more stable and better riding experience with its 60-degree engagement angle. It gives you a notch pattern tool for easy installation and removal. You can quickly fix it without any professional help. If you are fond of a noisy sound while cruising your bike, then this product is your go-to option.
Buying Guide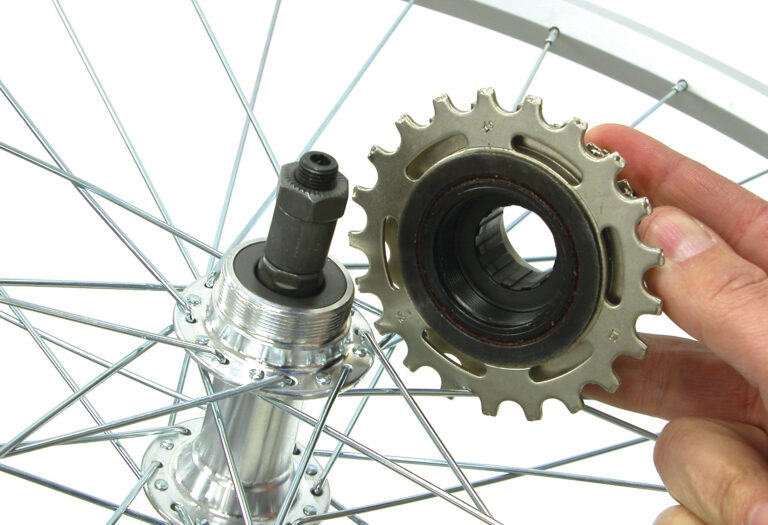 While purchasing a perfect freewheel for your single-speed bike, you must know why you need a new freewheel. If you want to upgrade your freewheel because, after use for an extended period, it is not efficient enough for future use, then you should opt for White industries single speed freewheel. On the other hand, if you want to give a perfect look to your single-speed bicycle, look for Shimano 1200. Whatever you choose for your single-speed bicycle, there are certain essential features that you must look for while buying a new freewheel.
Size Of the Chain
While replacing a freewheel, it is essential to note that you should also replace the chain because an old chain can damage and shorten your new freewheel's lifespan. In addition, the roughness of the old chain will interfere with the teeth on the cogs and can wear out the new freewheel quickly. Many manufacturers advertise the standard chain size for the freewheel as 3/32 inches and 1 / 8 inches.
While buying a freewheel, choose the standard width of the 1 / 8 inches chain for single-speed bikes because of its wider components. The more expansive the chain's components, the more chances of the extended life span of the freewheel will be. In addition, it offers strength to the freewheel. A perfectly fitted chain with a new freewheel will give you an excellent riding experience.
Gear Ratio
The standard gear ratio for the single-speed bike is 44:18. The number of teeth on the chairing is significant because it tells you about the effort you need to speed on moving the wheel. In the gear ratio, 44 tells you about the teeth number in the front, whereas 18 shows the number of teeth in the back. It also indicates the speed you can achieve while moving the wheel. The more the ratio will be, the highest will be your wheel's rotational speed. However, the best gear ratio also depends upon the track you are moving and your bike's performance.
While buying a new freewheel for your single-speed bike, you must focus on the gear ratio because a small gear ratio will make it difficult for you to accelerate your wheel's speed. 18T freewheels with the best gearing ratio are a must-have for your single-speed bike.
Durability
You buy tools for your bike to ensure its best performance and smooth ride, but durability is also an essential factor. Check the material of the freewheel while purchasing. The freewheel must be made with high-quality material that will give your wheel strength, extended life, and better performance. It will also protect your wheel from corrosion and rust. Always choose a brand because a reputable brand will offer you excellent quality material that will be durable and enhance performance.
Maintenance And Replacement
The best way to maintain your freewheel is by putting oil in the freewheel and the cover while moving the wheel. Then, wait for the oil to absorb in the ball bearings. You can use lubricant oil or heavy-duty car oil. The heavy-duty oil is sticky enough to reach your bike's bearings without interfering with its efficiency. Taking proper care of your freewheel will extend its life and give you a quality ride.
The same goes for your bike's chain, as adequate supervision of the chain will keep your bike running around the town. So you should clean the chain of your bike to protect it from rust and dirt. After cleaning, put some lubricant on for its smooth functioning. Keep checking the stretch of your chain. Replace it when you feel it is being stretched. Because the damaged chain will not only damage your new freewheel, but also it can cause an accident.
When you feel there is less friction in the freewheel of your single-speed bike with no noise, or the teeth of the rear cog are pointed, then it is the accurate time of changing your bike's freewheel because a pointed cog will keep your bike's chain slipping again and again.
Conclusion
The freewheel is a disposable part of the bike that can be replaced/installed easily. You can upgrade your multi-gearing bike to single-speed in no time. Single-speed bikes are easy to maintain and give you the best riding experience. The freewheel gives you fluent movement without much pedaling. The top three recommendation for the best single-speed freewheel are:
Shimano Single-Speed Freewheel for its Chrome-moly steel sprocket, Compatibility with 1 /8'' and 3 /32'' chains, and easy installation.
Senqi Bike Freewheel Sprocket Gear Single Speed for its Cold Forged CNC machining, three-pawl engagement, and a Lifetime warranty.
White Industries ENO Freewheel Sealed Cartridge Freewheel for its nickel electroplating, sealed cartridge, and 36 engagement angle.
Here is a review about the best freewheel that can easily be installed in single-speed bikes without special tools. Buying considerations are also given to help you find a perfect fit for your bike with crucial specifications. With the freewheel, You can get a better riding experience while cruising your bike in the city.
Check out these single-speed freewheels from Amazon also: