Editor's Pick
Good Choice
Also Consider
Mongoose Switchback Expert Adult Mountain Bike, 18 Speeds, 27.5-inch Wheels, Womens Aluminum Small...
Mongoose Tyax Comp Adult Mountain Bike, 27.5-inch Wheels, Tectonic T2 Aluminum Frame, Rigid...
Hiland Aluminum Mountain Bike, 24 Speeds Drive Train,26 inch Wheels, with Disc Brake,3 Sizes for Men...
Editor's Pick
Mongoose Switchback Expert Adult Mountain Bike, 18 Speeds, 27.5-inch Wheels, Womens Aluminum Small...
Good Choice
Mongoose Tyax Comp Adult Mountain Bike, 27.5-inch Wheels, Tectonic T2 Aluminum Frame, Rigid...
Also Consider
Hiland Aluminum Mountain Bike, 24 Speeds Drive Train,26 inch Wheels, with Disc Brake,3 Sizes for Men...
Mountain biking is fun but spending a fortune when you're starting out can be daunting. Choose any of these budget-friendly bikes and enjoy!
Hey miss! Yes, you! Are you tired of seeing everything being targeted to a male audience like half of the population isn't female? Or are you tired of paying the pink tax just because the bike is in a color other than black, blue, or grey? I think every woman has to deal with such issues almost every day. Unfortunately, this biasness is more predominant when it comes to sports.
This makes it hard to get gear that fits the bill and isn't overly charged because a woman is buying it. Scratch "mountain bikes for women within budget" out of the list. This list has everything any lady would need in a mountain bike to kick start her mountain biking adventure. What's more, all within a reasonable price range!
 Women's Mountain Bikes Under $1000 Buyer's Guide
1. Mongoose Tyax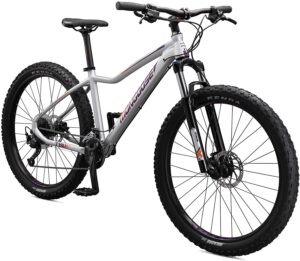 I think we all knew that this was coming. I mean, we're talking about the best women's mountain bikes. Of course, how can one NOT mention Mongoose? Just like the brand, this bike won't fail you. It is one of the best mountain bikes for you, especially if you're new to the sport and are getting used to it. Additionally, just because it's on the inexpensive side doesn't mean it's not well built. This mountain bike has all the good stuff and all without breaking the bank.
The frame is made with aluminum, so you know that it's lightweight and durable. The wheels have a nice width of 27.5". They also offer a 29" option for anyone ready to compromise speed for that extra stability that wide tires provide. Hence, this mountain bike will help you conquer obstacles like a pro while also offering you great speed. In addition to that, the brake system is a hydraulic disc. I personally love hydraulic disc brakes because they're more efficient compared to the rest.
What's more, you're getting such top-tier features at such an amazingly low price. Total steal! With a budget of $1000, finding a bike with front and rear suspension is hard. But no worries, as the front suspension this bike offers is excellent. Also, bikes with only front suspension last longer due to having less movable parts, making the Mongoose Tyax robust. What's more, it has a 100mm fork travel, so you know you're going to start your mountain biking journey splendidly with this bike.
Pros
Light and durable aluminum frame
27.5" & 29" wheel size
Tektro hydraulic disc brake
Lock-on grips (comfort & stability)
Cons
Might be damaged during shipping
Sizing may be inaccurate
This mountain bike is the best for ladies who are new to the game and don't want to compromise on quality. The frame is not only stylish but lightweight and sturdy. What's more, the assembly is pretty easy if you follow the instructions manual that comes with the bike. A heads up though, it might be damaged due to the shipping process. But all in all, this mountain bike provides excellent performance on a low budget.
2. Schwinn High Timber Youth/Adult Mountain Bike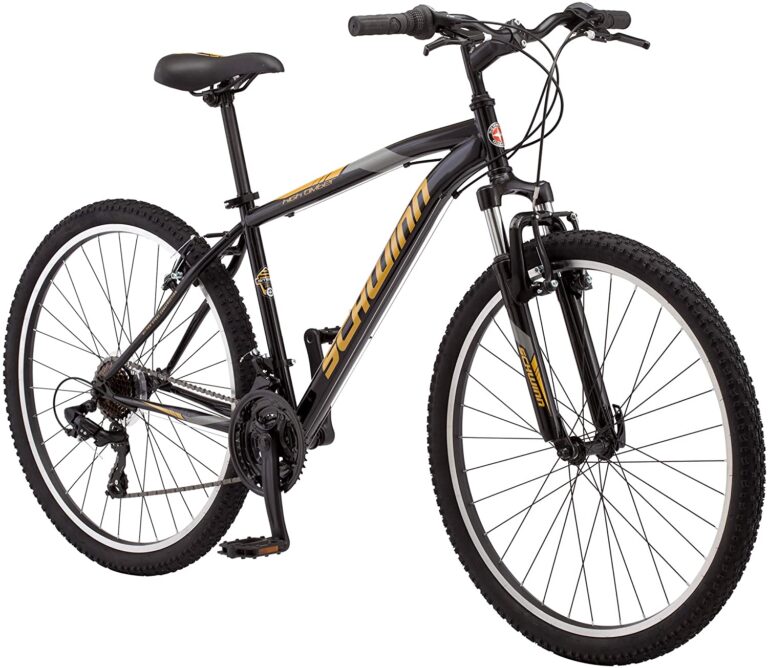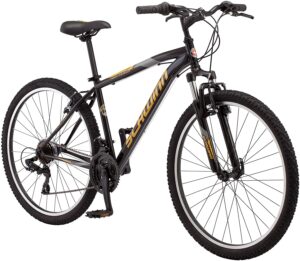 Schwinn is another well-renowned name in the biking world, and not without reason. This particular bike is named "Amazon's Best Seller." You get to choose the frame and size you want. What's more, it even comes in children's size, so you can even take your adventurous little one out with you. If you opt for the steel frame bike, you'll get a robust bike that can handle bumps like it's nobody's business. But remember, this will also add considerable weight to your mountain bike.
Furthermore, an aluminum frame mountain bike will be lighter in comparison but might cost a little more. In addition to that, this bike offers dual suspension, which is rare under a budget. With that being said, the alloy crank is an excellent addition as it makes shifting gears a breeze while also making it low maintenance. This mountain bike also has 21 speeds, so you can go cursing on any that suits your adventure lust. Also, the pedaling is easier and smoother on a 21-speed bike.
Moreover, the tires are nice and knobby. This means that you're going to have a stable and comfortable ride on any terrain. The 27.5" wheels are excellent as well, as they add stability while offering you the speed you need to zoom ahead of your friends on the trail. But that's not all. The seat's height is adjustable. Although, I'd suggest getting the seat replaced with a more cushioned one. That is if you want your tushy to be comfortable during long rides.
Pros
Steel and Aluminum frame available
21 speed
Dual suspension
Thick knobby tires
Adjustable seat height
Cons
Seat isn't cushioned enough
Might be small for people above 6ft
To put it simply, this mountain bike will astonish you as it did me. Like how can something so inexpensive offer you so much?! But this bike does. That's why it's among the "best women's mountain bikes under $1000." This bike comes with 21 speeds, meaning that the pedaling will be smoother and faster. The alloy crank makes shifting gears easy peasy, while the dual suspension is the cherry on top. A word of caution though, if you're taller than 6ft, it might be uncomfortable to ride.
3. Huffy Hardtail Mountain Bike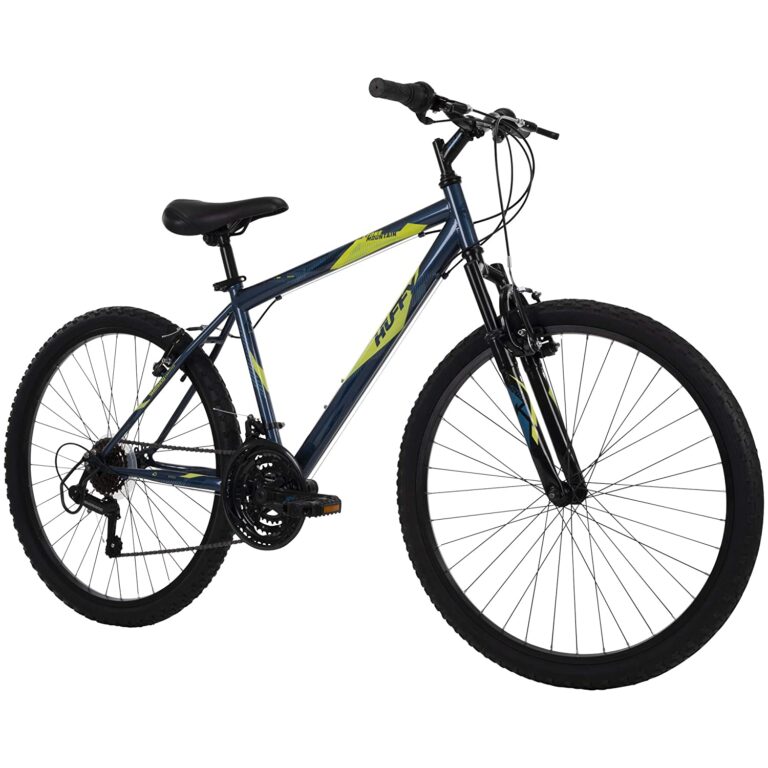 Here is another excellent mountain bike for you ladies that'll give you high performance within budget. What's different about this bike is that it's on the slimmer side. The wheel options for this mountain bike are 20", 24", and 26". Not exactly ideal for rough terrains, but if you're going for a light cruise around the block, it should suffice. The frame of this bike is made with steel, so you know that it's durable and robust.
But this also means that it's going to be on the heavier side. Moreover, it should ride perfectly with people who weigh up to 300lbs. That's a good margin especially looking at the frame of this bike. In addition to that, it had a front suspension and 21 speeds, so you can ride with the one you prefer. This is made possible due to the Shimano rear derailleur in combination with a micro shift twist shifter.
These allow you to change your bike's speed between the 21 options as you please. What's more, the assembly is very straightforward as well. They even have a tutorial video you can follow for added ease. Additionally, the ATB saddle has stitched sides which adds to its durability. The seat height is also adjustable, so you can make it fit better.
Pros
Durable frame
21 speeds
Weight Limit of 300lbs
Easy assembly
Cons
Seat might be uncomfortable
Gearing might be difficult
In short, this mountain bike is great to take on a track. It comes with a steel frame, so you know that it's durable and sturdy. But this also makes it heavier in comparison to others, so keep that in mind. It has 21 speeds so you can choose any that you feel like. Unfortunately, the package is relatively bigger so you'll have to go and get it yourself from the post office.
4. 2023 Gravity FSX 1.0 Dual Full Suspension Mountain Bike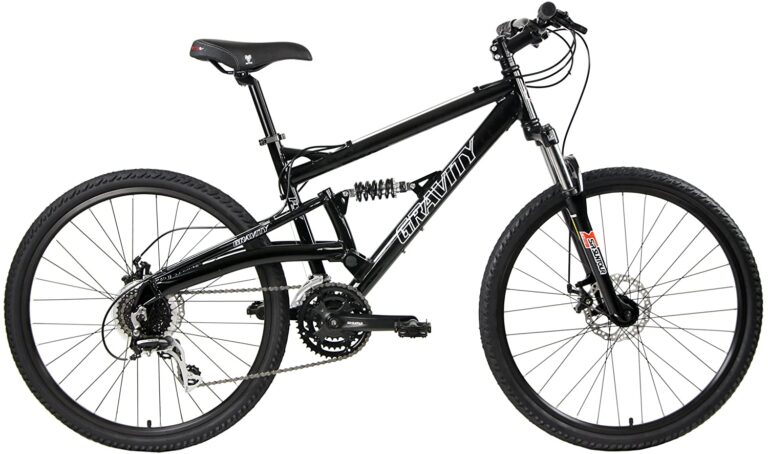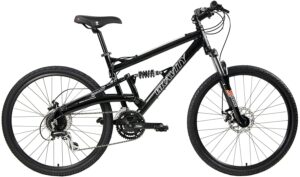 Buckle up ladies, because we have another excellent mountain bike that won't break the bank. It's a dual suspension bike! With front and rear brakes! These things are already hard to find in a mountain bike, especially within a budget, but the Gravity FSX 1.0 presents you with all that and more in under $500! Unbelievable right? I mean, you even have money to get another for your significant other so you can conquer those trails together. Talk about a power couple, am I right?
What's more, the aluminum frame ensures that you get a durable and sturdy mountain bike that won't weigh you down (literally). The front and rear disc brakes give you better stopping power to avoid any possible accident from happening. In addition to that, you get 24 speeds on this bike! We were talking about how great 21 speeds are. Imagine 24.
The wheel size isn't 27.5" like I normally prefer, but 26" is pretty good in itself. Furthermore, this mountain comes 80% assembled, and the remaining 20% is pretty straightforward. Even though it's easy and you can try your hand at it, it's still preferred that you get it professionally assembled for better results. Although the manufacturers have no set weight limit for this bike, I'd not suggest it for big people due to its slim frame.
Pros
Dual suspension
24 speeds
Front & rear disc brakes
Comes 80% assembled
Cons
Not ideal for big people
Professional assembly required
In conclusion, this mountain bike is one of the best bikes for women and under $1000. I mean, is there even a better deal out there? This bike has an aluminum frame, 24 speeds, dual suspension, and disc brakes for both the front and rear! It's the perfect low-budget mountain bike that would suffice a newbie and even an expert.
5. Mongoose Switchback Adult Mountain Bike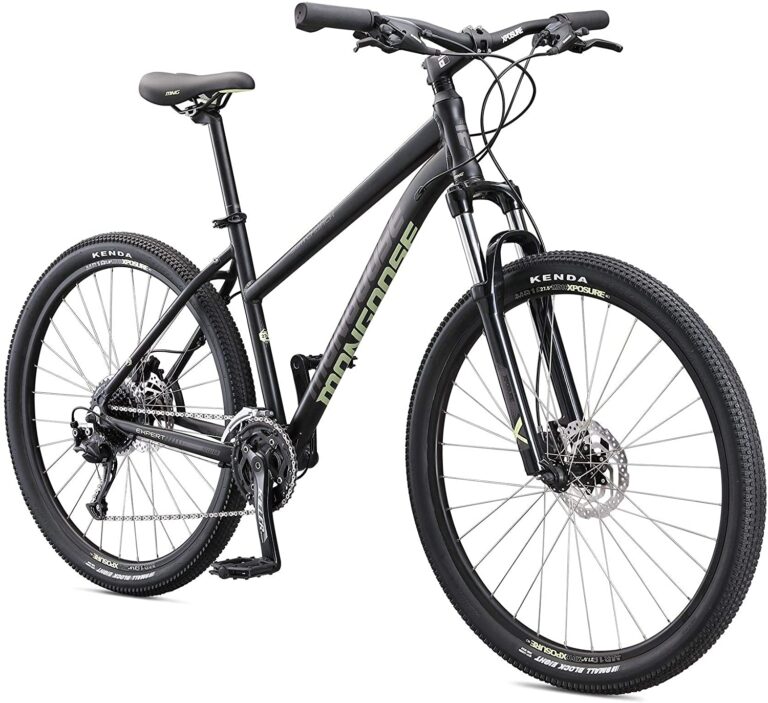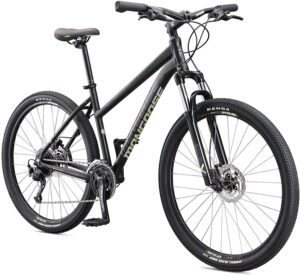 Mongoose making the list for the "Best Women's Mountain Bike Under $1000" again? I mean, who's shocked by the brand's reputation. The Switchback Adult Mountain Bike has a Tectonic T1 aluminum frame. This means that this bike is lightweight and durable and resistant to corrosion, odorless, and recyclable. In addition, the Mongoose MTB saddle is specifically designed for mountain bikes. This is to ensure that you ride comfortably, even on the roughest terrains.
In addition to that, the 27.5" wheels give you the ability to overcome any obstacles without a hiccup. Also, the wheels make speeding up a breeze, too, compared to 29" wheels that make speeding a bit problematic. The front suspension is simple and efficient to use. I mean, the front suspension is generally the norm when it comes to mountain bikes under 1000 bucks. Furthermore, the brake is disc-style, meaning that you'll get precise and accurate stops every time.
Another benefit of disc brakes is that they work flawlessly, even during wet conditions. So you know you're safe with riding this bike even if a rainshower decides to surprise you. Another thing that I like about this bike is that the cable routing is all internal. Thus, no messy cables getting tangled in your gear. Additionally, internal cable even increases the bike's durability as exposed cables are more susceptible to damage. What's more, the looks aren't bad either for all those girls that look forward to the form of things along with its function.
Pros
Tectonic T1 aluminum frame
Internal cable routing
Disc Brakes (precision and control)
All in all, this mountain bike is excellent for riding around. Although I won't suggest it for heavy use, nonetheless, it's perfect for beginners. It comes with 27.5" wheels that give you the speed and stability you need. What's more, the aluminum frame makes this mountain bike lightweight, durable, rust-resistant, and more. Additionally, the internal cabling perfectly gets all the cable clutter out of your way, while the disc brake ensures you stop properly every time.
6. Hiland 26" Aluminum Mountain Bike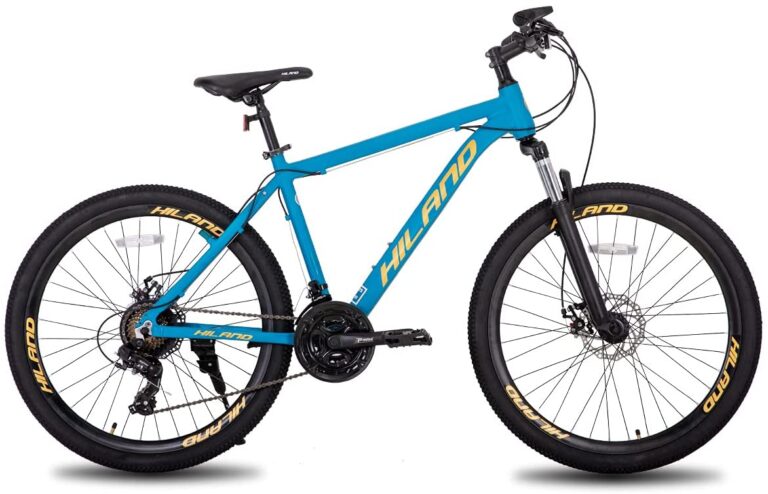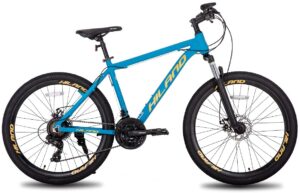 The reason that the Hiland Mountain Bike is one of the best women's mountain bikes under $1000 because it gives you great value for a great price. I think I've made it clear how aluminum is a superior material for a bike frame. Well, this mountain bike has an aluminum frame as well. This means that it's lightweight while being extremely durable. What's more, this bike is one of the few mountain bikes that offer 24 speeds.
With 24 speeds, you madames can have the lads eating dust whenever you shift. The wheel size is 26", 1.5" shorter than my ideal size, but that doesn't mean that it's terrible. If you prefer speed over sturdiness, this wheel size is perfect for you. The disc brakes have become a must at this point for mountain bikes, and this bike follows suit. This is because disc brakes are safer for the off-road trails that mountain bikes are generally ridden on.
In addition to that, the bike comes 85% assembled, so all you have to do is attach the remaining 15%. This has been quite a challenge for some people as they find the assembly to be a bit difficult. If you happen to find it difficult, you can get it professionally assembled. But once your mountain bike is assembled, you'll marvel at the beauty that it is. What's more, all the necessary tools are included in the package, with free pedals and a kickstand as well.
Pros
85% preassembled
24 Speeds
Lightweight and durable
300lb weight limit
Required tools included
Cons
Difficult assembly
Adjustments are needed for better performance
To put it simply, this mountain bike will make the perfect gift for any special woman in your life. You can spoil yourself by getting it for yourself. The assembly might be a challenge, but believe me, it's worth it. What's more, the 24 speeds with the dual brakes will ensure that you have an excellent biking experience. The material used in its construction is high quality, so you know it'll last a long while.
7. Barbella Mountain Bikes Adult Mountain Bike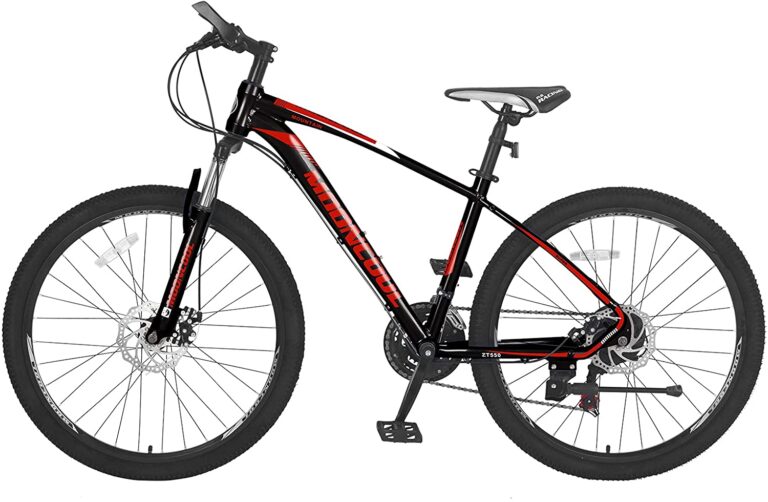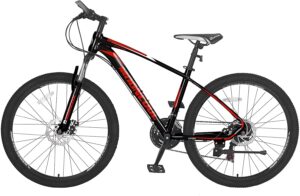 The Barbella Mountain Bike is suitable for both men and women, all under our budget of $1000. This mountain bike has a frame made with high-quality aluminum. This makes it exceptionally lightweight as well as robust and durable. What's more, it gives you the flexibility to change between 21 speeds. Hence, you can have a smoother and faster ride even off the road. What's more, the seat height is adjustable.
This feature makes it the perfect mountain bike for you whether you are 5'1" or 6'1". Unfortunately, people shorter or taller might find it a bit uncomfortable. Don't worry. You can go for other bikes that fit you. *finger guns* The double-disc brake is a lifesaver as it provides you with better control over your bike. They ensure that you stop with accuracy to avoid any mishaps that might happen on the trail.
Moreover, the front suspension paired with the 26" wheel soaks up any bumps or thumps that you might otherwise feel on the terrain. This makes your mountain biking more enjoyable as you can focus more on conquering the trail instead of avoiding obstacles. So what are you waiting for? Grab your Barbella now and get mountain biking.
Pros
Fits 350lbs
Adjustable seat height
21-speeds
Front & rear Disc brake
Cons
Requires professional assembly
Just from hearing about it, this bike mightn't seem all too different from the rest. Well, like the rest, this is a good-quality bike. What sets it apart is the overall feel that it gives you. This mountain bike is made with top-tier material, and it's unbelievable that it's available for under $1000. What's more, the 26" wheels and the suspension fork allow you to undertake any terrain. The 21 speeds give you the ability to switch gears to fit any trail you feel like tackling any day.
What to Look for in a Mountain Bike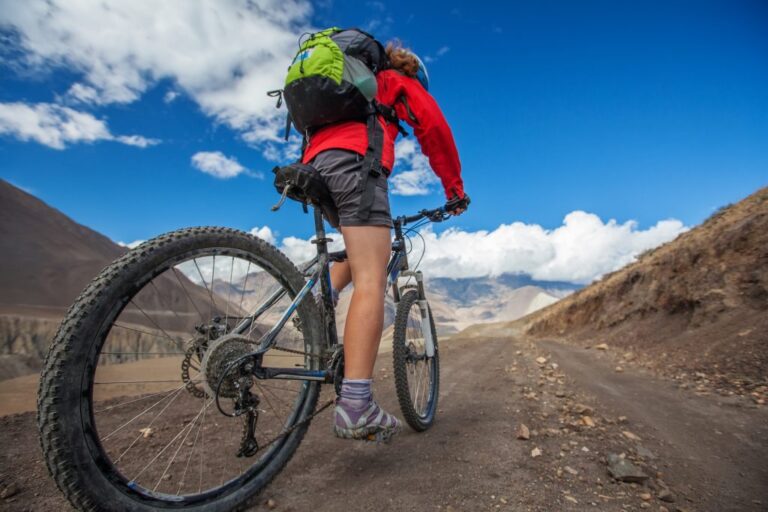 As civilization progresses towards the future with flying cars, our longing for nature deepens. That's why mountain biking is a perfect activity. Get away from all that grey asphalt and into the woods! But for that, you need a mountain bike and not just any mountain bike, a GOOD MOUNTAIN BIKE! When you put it like that, the pressure to get a good mountain bike increases, right? Don't worry because we've got your back.
Whenever you're buying something, especially online, there are certain things you need to check first. This is so whatever you get is worth your hard-earned money. Purchasing a mountain bike is no different. When out for a mountain bike shopping spree, make sure that your bike ticks off the following qualities.
Suspension
Because we've got a budget, sticking to a hardtail mountain bike is the best option. This is because a bike with front and rear suspension will either be really expensive. If it's not expensive, then it's not going to be high-quality. Hardtail bikes are the best option because they have fewer moving parts. This makes them inexpensive as well as robust. But even opting for a hardtail bike, there are a few things you should look out for.
Get a hardtail bike that has at the very least 100mm of travel in the front suspension fork. This isn't a lot, but it's enough to smooth out the rough trails within budget. SunTour mightn't be the top brand for shocks, but there's are still high-quality and all within budget. Additionally, a front suspension that locks out is a good option because it will make pedaling easier. Locking the front suspension will give you more power with every pedal making your uphill ride easier.
Wheels and Tires
Mountain bike wheels come in various sizes ranging from 26", 27.5", to 29". Smaller wheels have faster acceleration than the big boys. So if you're someone who has a need for speed, 27.5" is an excellent place to start. I recommend the 27.5" instead of the 26" because, compared to a 26" wheel, 27.5" gives you speed and comfort. With this wheel, you'll be able to conquer your trails more confidently and comfortably.
On the other hand, larger wheels might be slower comparatively, but they give you excellent security. They ride over obstacles as if nothing ever stood in their path. Furthermore, tires are also available in various sizes (according to your wheel size, of course). The size and type of tire you want is totally up to you. If you're going to ride on rough terrains, a thick tire (2.8) would be a better option as it'll withstand the rugged trail. But if you ride on smoother paths, a narrow tire (2.3) should be good for you.
Another thing to consider when it comes to your mountain bike's tires is whether they're tubeless or not. Tubeless tires are better because they reduce the chances of punctures and give a higher performance. In a budget of $1000, you should be able to get a decent bike with a tubeless-ready tire, but if you don't find one, no worries. Tube tires are good as well, especially if you're new to the sport. What's more, you can adjust the pressure according to the weather conditions of your area.
Brakes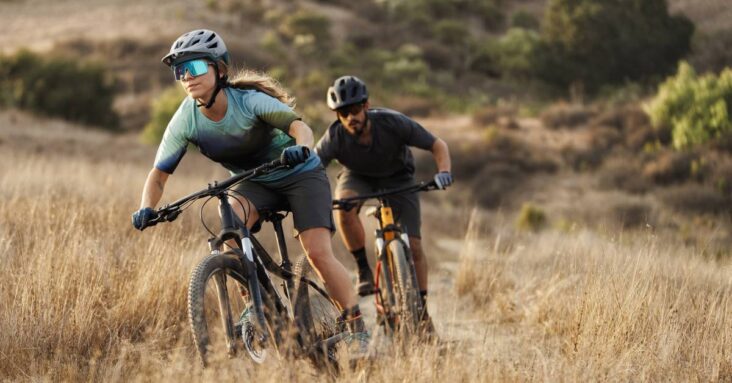 Although rim brakes are lighter, easier to repair, and less expensive, disc brakes are far superior. That's why I'd suggest that you go for a bike with disc brakes instead of rim brakes. Disc brakes have better stopping power and work exceptionally well even in wet weather. What's more, they don't heat your bike's rim, so you know your tires aren't blowing out anytime soon (unlike rim brakes).
You'll notice that even among disc brakes, you have to choose as they're two types: mechanical and hydraulic. Although hydraulic brakes have better performance and are the preferred option, they can be on the expensive side. No worries, though, as mechanical brakes work just as fine. Mechanical disc brakes are reliable, inexpensive, easy to maintain, and simple, making them perfect for a bike under $1000.
Weight and Size
Inexpensive yet good-quality mountain bikes are generally made with steel. Steel is robust and is sure to make your bike last longer, but it also makes your bike heavier. This is the reason why you might have to compromise on a heavier bike when you're on a budget. Moreover, when looking for a mountain bike, make sure you get the one that can handle your weight. However, that shouldn't be much of an issue because generally, mountain bikes have a weight limit of 300lbs.
But do check up on it because if you get a bike with a weight limit less than your weight, it might be a serious safety hazard. What's more, the warranty won't apply to the damage done as well. You can find the weight limit in the product's specifications. Otherwise, you can contact the company regarding it. Another thing you should consider is the size. I mean, no one wants to ride a bike they don't fit. It's like playing basketball in Jordans that don't fit, and now you don't want that now do you? Most women tend to face difficulties in sizing regarding bikes that are labeled for men and women both.
This is why getting a mountain bike designed specifically for women gives you better options that are more likely to fit your size. To get the bike that'll fit you just right, ensure to check the size. You can do this by checking the size options available for the bike you like or checking reviews of people similar to you in size. You can even measure yourself with someone's help and compare it to the bike's dimensions for a better fit.
To put it in Short
Mountain biking is a sport that lets you connect with nature as you go wild on rough terrains. And everyone should be able to enjoy this fun and exhilarating activity regardless of their gender. But to enjoy this activity to the fullest, you need the right equipment. When it comes to mountain biking, what other equipment is more important than the bike you ride? That's why the bike you ride needs to fit the bill, and for that reason, we have compiled some of the best mountain bikes and within budget, too. So grab that bike that you like best and conquer those trails like a QUEEN!
Mongoose Tyax, with its hydraulic brakes and lock-on grips, ensures you get an exceptional biking experience while staying safe. This bike is excellent for anyone that wants an inexpensive bike without compromising the quality.
Gravity FSX 1.0 Mountain Bike has 24 speeds, dual suspension, and disc brakes for both the front and the rear. The aluminum frame makes it lightweight, rust-resistant as well, and it also comes 80% assembled. So get the 20% assembled and get biking.
Hiland 26" Aluminum Mountain Bike comes 85% assembled, and if you're good at tinkering, good news for you as it comes with all the tools needed to assemble it. What's more, with the 24 speeds and 26" wheels, you'll be zooming past everyone on the trail.
The bikes mentioned above are all in the top of their league when we talk about budget-friendly mountain bikes for women. All of them are a great starting point for anyone that has started mountain biking or likes to mountain bike for fun. Additionally, all of these bikes are made with high-quality materials and offer many fabulous features without breaking the bank!
Take a look at these woman's mountain bikes from Amazon also: