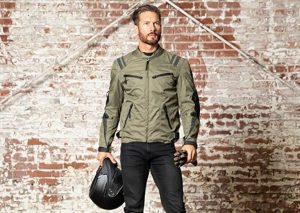 An outfit is a long-term investment because most garments wear out and need replacement after wearing for some time. The exception to this rule is a men's leather motorcycle jacket, which is a once-in-a-lifetime investment. A leather jacket is durable enough to be passed down to your children and even grandchildren.
With a few exceptions, the leather jacket looks great with almost anything. A trait that gives it a level of versatility that few other clothing in your closet can match. And it just gets better with time. However, learning how to get the perfect leather motorcycle jacket for your budget and outfit takes time and work, and looking good at one is not as simple as slinging it on your back. We are confident that our guide will be worthwhile. To get you acknowledged, we have answered a few key questions regarding Leather Jackets.
Why Should You Buy a Leather Jacket?
The durability of Leather:
A coat or jacket made of a more durable material would be hard to find. A good leather jacket will endure for decades and, if properly cared for, will outlast you. Despite its character-building bumps and bruises, it may display a gouge or a scuff, the garment itself will stay intact. Precisely, a high-quality leather jacket or coat can be costly. When considered in the long run, it may be less expensive than any other item in your wardrobe.
Leather Provide Protection:
It has long been a favorite of motorcyclists because of its ability to act as a secure secondary skin; it will not protect you from the worst scratches, but it will provide a discreet barrier between you and the road. It provides extremely water-resistant and wind-breaking protection against elements.
Leather is Long-Lasting:
Leather has both robust and long-lasting features, so your leather jacket will never go out of style. It is also unashamedly macho. The single best reason to purchase an amazing leather jacket may be its transforming, gruff tone. It allows you to feel tough without being pretentious. It is the one piece of clothing that every man should own.
Types of Leather Jackets:
The leather motorcycle jacket has two notable names, "rider" or "double rider" in the clothing business. It is unquestionably the style that defines the genre: belted, snapped, and zipped. The original features, big lapels, and a flaring collar with snaps to keep it fastened against the wind. It was and still is the champion of Harley-riding biker gangs and adolescent stars alike. It was introduced to the forefront of pop fashion by Marlon Brando. Others of its ilk adapt elements of this traditional clothing to create it fresh, a fashion-forward piece that is nonetheless classic, despite the real thing.
The bomber or flying jacket, which is often referred to by its more formal title, the A2, is just behind it. It is an armed forces leather jacket with a center front zipper, ribbed cuffs and collar, and two big front flap pockets; the G-1 is its naval variation. It was created for Army Air Corps pilots on the brink of WWII. This jacket was designed for complicated business. It is cropped at the hips to allow a pilot to sit comfortably for a lengthy period of time. Most of them were lined with sheepskin to keep the pilot warm in the cockpit. Existing lining fabrics include fleece, flannel, chenille, and sheepskin, which are still using in the modern bomber offspring.
The racer, or motocross jacket, is a slimmer, apparently most aerodynamic variant of the "rider." A symmetrical front zipper, band snap collar, zippered pockets, and other simple design features are typical. The moto jacket has a more fitting design than its more popular counterpart; it is undoubtedly the most adaptable of leather jackets, is streamlined and uncomplicated.
The cattleman's thigh-length is a leather jacket for cavalry. It usually stretches from the waist, a characteristic that reveals its equine ambitions.
The leather fatigue, field coat, and blazer are all variations. The fatigue is cut free, with a soft neck and wide flap pockets, and sometimes tightened at the waist, and occasionally belted, just like its cloth kin. Many coats have some or all of these features, confounding categorization.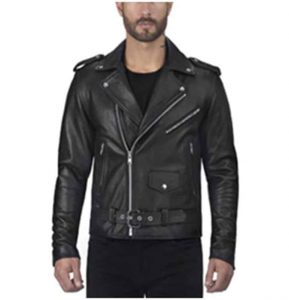 Types of Leather Used to Make Jacket:
Steerhide or Cowhide: If you picture a leather jacket and think of steerhide or cowhide, you are right. This sort of leather is the skin of an adult steer or cow, and it is commonly used to produce jackets. It is robust and long-lasting, and it takes a long time to break in. Therefore, it is best to use for more outerwear.
Deerskin: Deerskin is lighter in weight, generally colored in yellow and orange. It is better to use in warm-weather coats. It does not withstand damage, as do heavier leathers, but is nonetheless robust and spreads well.
Goatskin: Goatskin is much lighter than deerskin. IT has a characteristic look over time and is quite sluggish.
Lambskin: Lambskin is the smoothest, silkiest, and most sumptuous leather. But it is also the least durable because of its suppleness. It is nevertheless growing more popular for usage in leather coats. However, because the bare skins are smaller, a single jacket requires more of them. The price reflects this as well as the smoothness premium.
Calfskin: Calfskin is a good balance between cowhide and lambskin. Since it has the tenderness of the material furthermore sturdiness of the latter.
How to Choose a Leather Jacket:
First, Pick a Style:
The bomber is designed to impart warmth and utility. So, it is an excellent choice if that is what you are looking for.
A jacket with moto-inspired elements is more fitting, and as a result, layers worn under it are less accommodating.
Choose a fatigue-style jacket if you wish to add length.
While you might be able to locate something longer pick a duster, your outfit selections will be severely limited by this highly styled leather coat.
Second, Choose Leather Kind:  Consider the type of leather you require: if you want a soft, lightweight jacket, go for calfskin, goatskin, or lambskin. However, the lighter the hide, the more prone it is to tearing: avoid lambskin if you want to blast down the highway on your motorcycle in it.
How to Choose a Befitting Leather Jacket:
It should be fit like a proverbial gauntlet. Because if it does not fit you perfectly, it's worth nothing.
A leather jacket should be adjacent to your body, snug but not too tight, and with enough room below for a sweater if you need extra warmth.
If you want to wear a hoodie beneath the jacket, try it with a hoodie on while buying. If you do not account for this, you will almost surely be uncomfortable in the jacket later when you try to layer it up.
Do not wear an over-seized leather jacket. First, it does not hang well. Secondly, it looks like bestowed. You should have avoided this.
A leather jacket should be able to flex and contour your body. You should also be able to easily move your arms. The sleeves should not extend past the wrists, and the jacket should end at the waist unless you choose a longer version. The jacket must fit correctly from the start in order to look well on you afterward; unlike other materials, leather cannot be adjusted (at least not easily), so it is critical to get it right remarkably.
How to Determine Quality in a Leather Jacket:
Finding a suitable leather jacket is a task in itself. Recognizing a quality jacket demands proficiency. This section of this guide upskills your senses to find out a quality leather jacket for yourself:
The Full Grain Leather: The most vital aspect in deciding the price of a leather jacket is the grain of the leather. Full-grain leather is created from an animal's entire skin, including the outer layer of skin. It is unaltered and keeps the animal's original skin pattern. It also has natural abnormalities, including scuffs, scars, and imperfections, that occurred over the wearer's lifetime. This is why full-grain leather is so appealing.
Top Grain: The outside shell of the top grain leather is separated from the lower layers and smoothed out to provide an even surface for top grain leather jackets. As a result, the leather is thinner, more pliant, and possibly more comfortable.
Top Stitching: Topstitching is visible stitchery on the jacket's top or "right" side. Beautiful topstitching distinguishes a high-quality leather jacket from its less expensive cousins.
Lining: In lower-cost jackets, low-grade synthetics are employed. They do not breathe well and are frequently the first item to break down over time. The best leather jackets feature different lining materials in the sleeves and body, in particular, will frequently have a better quality insulating material.
Armholes: Look for a jacket with higher armholes. This makes it easier to move about and gives you a better overall fit. Armholes positioned lower on the jacket will restrict arm mobility.
Zippers: A flimsy zipper is a clear hint that the leather jacket was fabricated inexpensively.
Best Leather Motorcycle Jackets Reviews:
1. Viking Cycle American Eagle Black Leather Motorcycle Jacket for Men: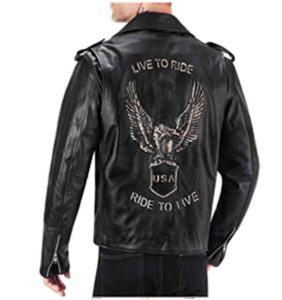 The American Eagle Leather Men's jacket is a traditional American-mannered jacket. This jacket, proudly fashioned of 100% genuine leather with stainless steel keypads and sturdy zippers, is constructed of an American bald eagle on the back. There are exterior and internal storage compartments in the jacket including, mobile phone pockets, blades, and sunglasses. The jacket features a waist strap that is adjustable and zips at sleeves to check the air while riding. Overall, the American Eagle is a classic jacket, which should have every proud rider in its closet.
Features
| | |
| --- | --- |
| CONSTRUCTION: | Drum Dyed Cowhide Leather With Stainless Steel Buttons And Zippers |
| EXTERNAL STORAGE: | 3 Zippered And 1 Buttoned Pocket |
| INTERNAL STORAGE: | Phone, Sunglasses, Wallet, Knife, Conceal Carry, and a Hidden Pocket |
| ADJUSTABILITY: | Soft Leather Construction With Padded Shoulders, Leather Waist Strap |
| | |
| HEADPHONE WIRE SYSTEM: | Headphone Loops To Keep Wires Out Of The Way |
| KEY HOLDER: | Key Holding Hook To Secure The Keys In |
2. Viking Cycle Cafe Premium Black Leather Motorcycle Jacket for Men: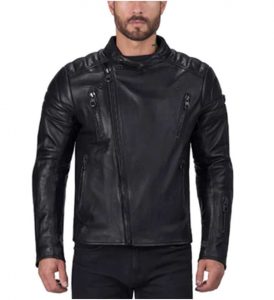 Our current vintage is the Cafe Premium Jacket. The jacket is composed of 100% genuine leather with vintage wide-grip zips. It fits like a glove and is intended to be worn about the city in fashion. The jacket includes 4 built-in ventilation vents. This jacket has substantial storage capacity with several indoor and outdoor pocks (including a shoulder ticket pocket). For optimal comfort and elegance, we added zippers to the sleeve. The shoulders and elbows are well cushioned, and the back is reinforced with a CE-approved armor panel to ensure the safety of the motorbike.
Features
| | |
| --- | --- |
| CONSTRUCTION: | 100% Leather |
| PROTECTION: | Padded Shoulders And Elbows And CE-Level Armor At The Back |
| ADJUSTABILITY: | Zippered Sleeves |
| EXTERNAL STORAGE: | 2 Side-Pockets And a Shoulder Pocket |
| INTERNAL STORAGE: | Zippered Pockets Including a Document Pocket |
| INCOGNITO ELEMENTS: | Hood and Thumb-Loops |
| VENTILATION: | 4 Vents For Maximum Air Flow |
3. Viking Cycle Bloodaxe Black Leather Motorcycle Jacket for Men: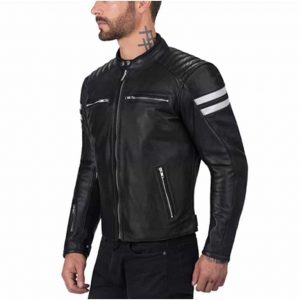 Leather Jacket Bloodaxe motorcycle is a superb vintage jacket made of firm and supple leather cowhide. The jacket is classically designed, with luminous lines on the arms and back horizontally. This jacket contains retractable armor on the elbows and spine and is fastened with Viking cycle Level 3. 4 outside pockets of the jacket. Bloodaxe jacket is also quickly accessible with a zipped shoulder jacket and features a key hook in the side pocket. We also have a secret indoor pocket, so you are free to transport your goods. Bloodaxe Motorcycle Jacket is a stunning, stylish leather jacket, as long as riding enthusiasm endures.
Features
| | |
| --- | --- |
| CONSTRUCTION: | Drum-Dyed Cowhide Leather |
| EXTERNAL STORAGE: | 2 Zippered Chest, 2 Zippered Side Pockets, And a Sleeve Pocket |
| COMFORT: | Soft Leather Construction With Padded Shoulders |
| ADJUSTABILITY: | Sleeve Zippers And Waist Snaps |
| VISIBILITY: | High Viz Stripes On Back And Shoulders |
4. Viking Cycle/Nomad USA Angel Fire Black Leather Motorcycle Jacket for Men: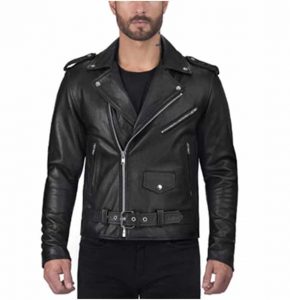 Angel Fire Motorcycle Leather Jacket is a stunning motorcycle jacket with all the classic components. This jacket is composed of 100% genuine leather with buttons and sturdy creams of stainless steel. The jacket is equipped with a phone, knife, and solarium with exterior and internal storage compartments. The jacket features a waist strap that is adjustable and zips at sleeves to check the air while riding. All in all, the angel fire is a classic jacket, any proud rider in his closet should have.
Features
| | |
| --- | --- |
| CONSTRUCTION: | Drum Dyed Cowhide Leather With Stainless Steel Buttons And Zippers |
| EXTERNAL STORAGE: | 3 Zippered And 1 Buttoned Pocket |
| INTERNAL STORAGE: | Phone, Sunglasses, Wallet, Knife, Conceal Carry, And a Hidden Pocket |
| ADJUSTABILITY: | Leather Waist Strap |
| HEADPHONE WIRE SYSTEM: | Headphone Loops To Keep Wires Out Of The Way |
| KEY HOLDER: | Key Holding Hook To Secure The Keys In |
Final Word
Remember that a leather jacket is a casual item by definition; it will not work in every setting, but it will in the vast majority. However, unless your workplace is casual, it will not pass for professional attire and will seem out of place in the boardroom.
In some informal work contexts, a moto-inspired or bomber jacket can be worn with a dress shirt, wool pants, and black leather shoes. Stick to brown or black leather, and keep in mind that the more "decoration" on the jacket, the more casual it is.