Bike riding is thrilling. And to make sure your ride is safe, you need to dress right, whether you're driving or sitting on the back seat. Accidents can happen with even the most expert of riders. And in that case, the right motorcycle outfit can prove to be a lifesaver literally. So let's find out how to match your outfit to your motorcycle.
Leather or Textile?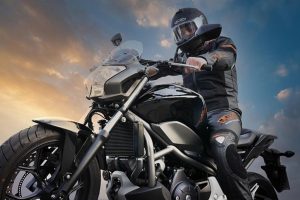 Leather is one of the most abrasion resistant material available but it does have its drawbacks. Leather is only wind proof and not water proof and in hot climates, leather will trap the heat in instead of allowing the air to flow freely.
Now you can get perforated leather but that's not as good as our other options as textiles we're going to look at. For colder climates or the fall season, leather is a great choice to keep warm and be protected. It feels nice to wear too. It smells good.
But since leather is dyed material, if it soaks it can transfer the color to your skin or other clothing. Also the great thing is that nowadays many companies make vegan leather as well so if you are concerned about animal welfare, you don't have to skimp on that to stay protected.
Textiles have come a long way in the past 100 years. They offer a decent amount of abrasion protection but also have features leather does not offer. Textile gear can be water proof, breathable and be lighter than leather while offering similar levels of protection. Now, how does it do that? The answer is via armor.
Should you wear Armor?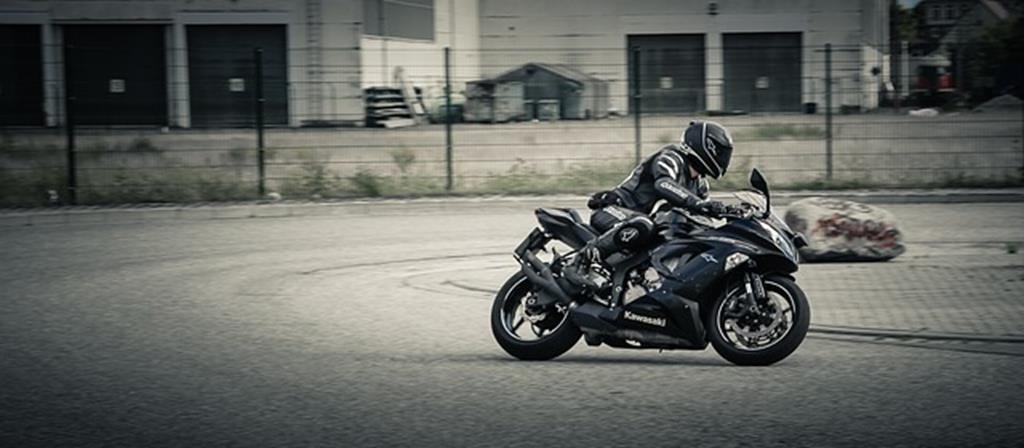 Armors and paddings become a necessity for your motorcycle outfit when riding a bike. When do you need it and how much do you need? For the beginner rider, armor and padding can feel sick, bulky, and heavy and even limit your movement. All of this can be true for any rider. Properly sizing your gear is going to be the most help. There are multiple levels of armor and padding available with many coming with different certification levels.
For beginners, stick with CE level 1 or 2 and don't get confused with any other type. A word of advice I will say is if a jacked is rated CE level 2, it doesn't mean that all of the pads within the jacket meet that standard.  For example, many brands have CE level 2 armor in shoulders and elbows and the back pack is just a foam insert and its not going to protect you against any kind of serious impact. Smacking your back on the pavement hurts and cracking vertebrae really sucks.
Most riding gear comes with some kind of armor or the ability to purchase and install an armor in it. It will be worth if you can swing it because you don't want to crash and wonder what the difference armor would have made. It would always make a difference.
Is all gear created the same?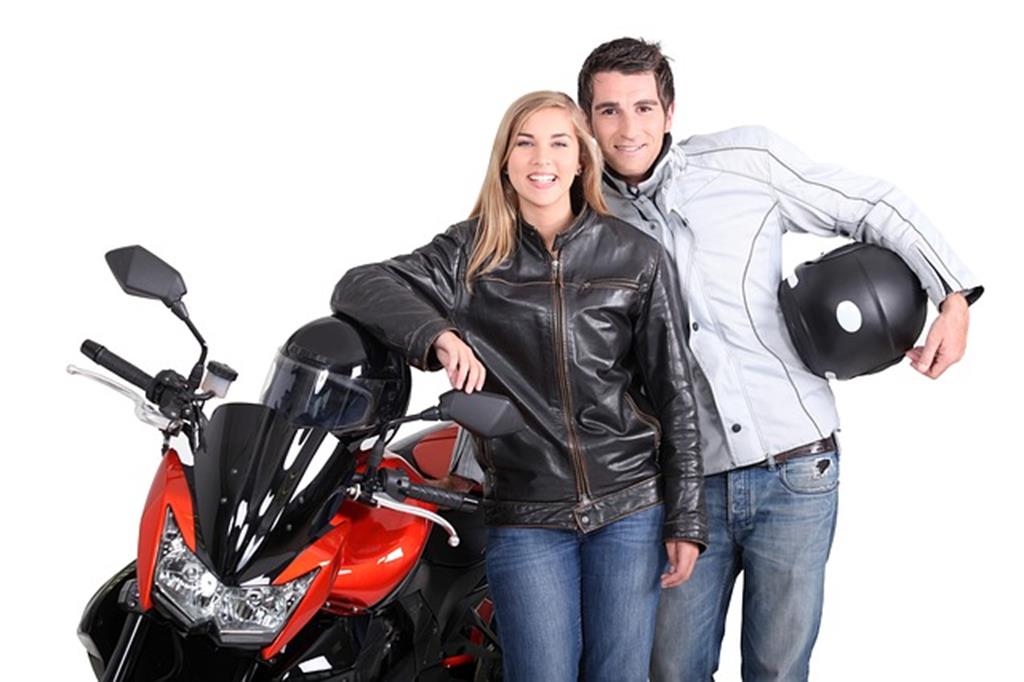 Well, Just like everything else in life, no its not. In the world of two wheeled fun, the old saying 'you get what you pay for', still rings true. Now, don't take this the wrong way and begin to obsess over everything simply because of cost. Remember that everything has its place in the motorcycling economy.
A seventy dollar helmet might not be for you, but it might be perfect for the inner city moppet rider who needs to get by and is not going to go over 20 or 30 miles per hour. There is gear in everyone's price range. If you plan on going 120 miles per hour on the track or something like that, the better quality the gear you're going to slide in, it's going to give you more confidence if you go down.
Is more expensive gear always better? The answer's not something you want to find out. I'd rather want to go down with an expensive helmet on than a cheap helmet that I bought on sale. But that's not to say that cheap helmets protect you less than expensive helmets. There is a breakeven point that happens where expensive helmets are just more comfortable than cheaper helmets. Budget at least 200 bucks for a good helmet and you'll be fine. You can almost everything in a motorcycle outfit at any price range, but you will get what you pay for.
The Absolute Must-Have Piece of Gear:
The Helmet
Regardless of your state or country's laws, if you're only choosing to wear one piece of gear, let it be your helmet. The 3 most important factors of a helmet are: safety ratings, comfort and convenience. Helmets carry certifications from organizations like Department of Transportation (DoT), The Economic Commission for Europe (ECE) and Snell, an independent testing facility.
Since you'll be wearing your helmet whenever you are on your bike, you need one that fits properly and is comfortable. Some helmet brands will fit the shape of your head better than others. You have to buy what fits properly and not what looks cool.
Gloves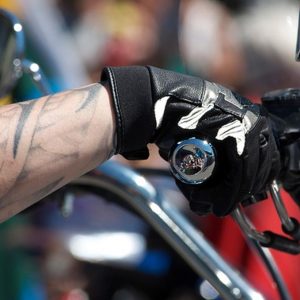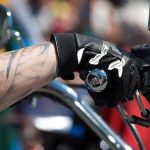 Gloves provide protection for your hands in three ways. They protect against impacts. They keep your hands warm when it's chilly. And they protect your hands when you go down.
Just like any other part of the body, the hands must be protected during a crash. It is recommended to get a full finger glove with some kind of knuckle padding that goes at least to your wrists.
Boots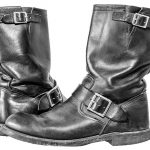 It is best to have a pair of over-the-ankle type boots. You don't want to try to wear anything that's too bulky or too thin. Riding boots are very different than other footwear because they provide arch support for the use of foot pegs while shifting and using your brakes, they have reinforced upper soles because of the shifter.
If you wear a sneaker or a basic leather shoe or boot while you're riding, you're going to nurse a considerable amount of wear on your shoe and they are also just not as safe. A fashion leather boot is not appropriate for riding and is going to tear your foot off in case off a crash. If you are planning on doing any off-road riding, your boots are going to be more important because low-speed crashes happen super often when you're out on the trail. So definitely invest in some big bulky boots if you're planning on doing some adventure riding.
Jackets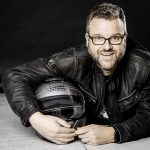 The biggest and most visible piece of motorcycle outfit, besides the helmet is going to be your jacket. This isn't something you want to skip out on either. A rider jacket is going to have reinforced seams, be windproof or waterproof. It's going to be cut in a way that it's shaped to be comfortable while riding.
Some jackets feature layers that can be removed that is absolute must in areas where the afternoons are warm. If you buy a jacket having a provisions of armor, use them. The idea of a jacket in 75 degree might sound hot but if you buy a jacket with plenty of vents, it is very comfortable while you ride.
It is good to have some kind of reflectors or high visibility element in your motorcycle outfit. Wearing all-black is a lot like camouflage in the worst way possible. You want to be seen on the road, so high visibility is always good when you are looking on how to match your outfit to your motorcycle.
Wrap up
Thanks for checking out this article. Hope this would have helped you in finding the right motorcycle outfit for riding. Stay safe when you are on the road.
Related Post:
Top 12 Best Motorcycle Jackets Of 2023
11 Best Motorcycle Knee And Shin Guards 2023
Top 6 Best Airflow Motorcycle Helmet of 2023
7 Tips For Winter Motorcycle Riding In 2023
How To Clean Non Removable Helmet Liner