The Turkish designer Mehmet Doruk Erdem's creations straddle a border between futuristic and cyberpunk, often making them hard to describe. His latest design, titled Khan, is no different. Erdem has a unique sense of aesthetic and Khan embodies it very well. The bike almost feels like a concept, but the designer claims it is a fully developed version, ready for the road.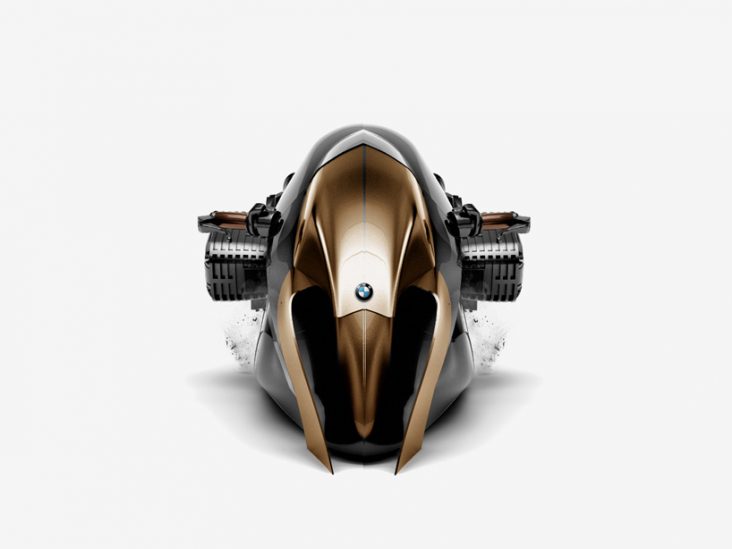 At first glance, it is hard to see even how the bike is meant to be ridden until you notice the handlebars, which are mere inches from the ground. You will be bent at an angle of more than 90 degrees in order to seat properly on Khan, and that is not a driving position most people will be comfortable with. Those who decide to try it will be awarded a dizzying sense of speed, as they watch asphalt zoom past their faces, and the asphalt is the only surface this bike will ever be on.


The design features a massive rear wheel and a seat nestled between it and the gas tanks the front wheel, cover with aerodynamic cowling, is almost invisible, creating a sharp contrast to the naked rear end of the bike. The bike doesn't look very practical, but it is one of the most beautiful design we have seen in the last few years.
Khan is powered by Mehmet Doruk Erdem's BMW R 1100 R twin-cylinder boxer 1085 cc engine, delivering 90 horsepower and 95 Nm of torque. Despite somewhat low power output, especially compared with modern bikes (R 1100 R production ended in 2001), the engine is capable of max speed of 211 km and that is on the original frame. Mounted on super aerodynamic Khan, it will probably be enough for at least a few kilometers per hour more, if the rider has the stones to turn the throttle all the way. We don't expect that many wills.