Our Pick
Good Choice
Don't Miss
Also Consider
Schwinn Phocus 1400 and 1600 Drop Bar Road Bicycle for Men and Women, Alluminum Frame, 14 or...
Vilano Shadow 3.0 Road Bike with Integrated Shifters
Schwinn Fastback Carbon Road Bike, Fastback AL105, 45cm/Extra Small Frame
Schwinn Stites Fixie Adult Commuter Road Bike, Single-Speed, 58cm/Large Steel Stand-Over Frame, 700c...
Our Pick
Schwinn Phocus 1400 and 1600 Drop Bar Road Bicycle for Men and Women, Alluminum Frame, 14 or...
Good Choice
Vilano Shadow 3.0 Road Bike with Integrated Shifters
Don't Miss
Schwinn Fastback Carbon Road Bike, Fastback AL105, 45cm/Extra Small Frame
Also Consider
Schwinn Stites Fixie Adult Commuter Road Bike, Single-Speed, 58cm/Large Steel Stand-Over Frame, 700c...
8 best road bikes that are budget-friendly, under $1500, and have promising quality as well along with a buying guide to help you out!
Along with racing and daily commuting, road cycling is a fun and leisurely way to attain fitness goals as well. Being held back from that fun due to budget is by no means fair; that is the last thing that should be keeping you from getting yourself a nice road bike. Fortunately, you and I are not the only ones thinking that way.
There are some really great and good quality road bikes available in the market, under a budget of $1500. All that is required is some time and research to find those, which, again, fortunately for you, has already been done. After investing the necessary time in the research, I have shortlisted the 8 best road bikes under $1500, along with adding an extensive buying guide. Keep reading to find yourself the right bike without breaking the bank.
Top Road Bikes Under $1500
1. Schwinn Fastback Carbon Road Bike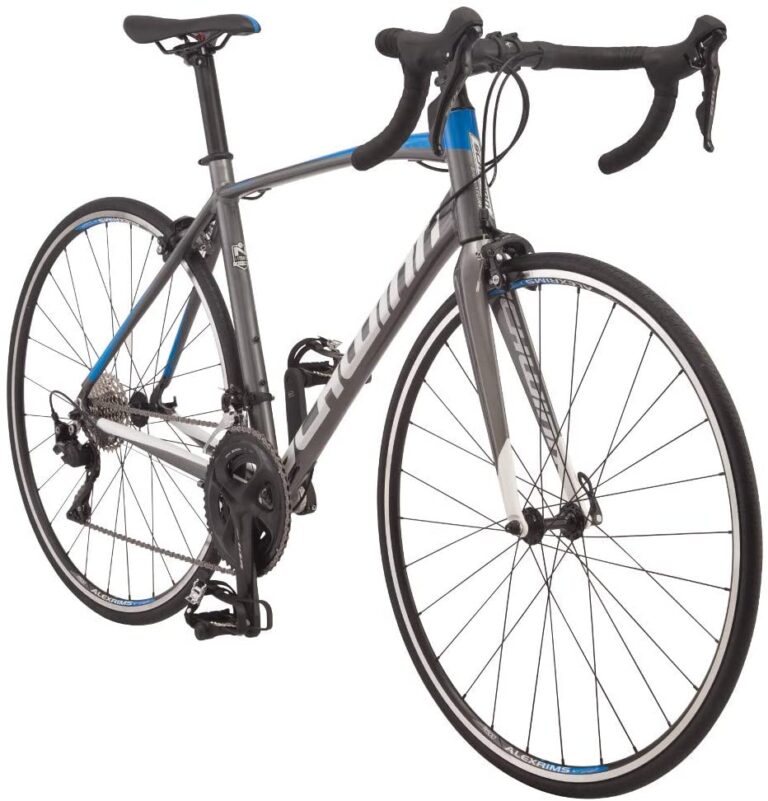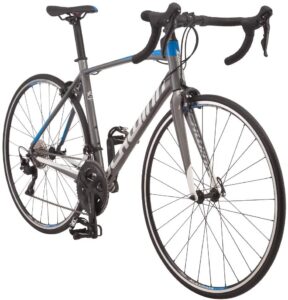 The Schwinn Fastback Carbon Road Bike is a great choice for a road bike if you are a median rider and want a good upgrade. This Road Bike has a lightweight, durable, and strong aluminum frame. The carbon fork absorbs the shocks resulting from a bumpy ride, giving the rider a comfortable and pleasant ride.
The drivetrain of the bike has 22 speeds, allowing you to ride comfortably at different types of surfaces with varying speeds. The aluminum steer allows smooth, effortless turning of the bike. The road bike has powerful and responsive dual-pivot caliper brakes, so you get a safe and controlled ride. The rims are double-walled, hence strong, durable, and having high strength to weight ratio.
Performance-wise, enhanced wheel stiffness and longevity provide a stable and secure ride. This Schwinn Fastback Road Bike is one from the Schwinn signature series and is one of the best road bikes under $1500. Manufactured with high-quality components, taking care of the elements like comfort and security, this bike delivers amazing performance at a great price.
Pros
A strong and lightweight frame
Shock absorbing carbon fork
Powerful brakes
A great choice for the median to pro riders
Cons
The quality of wheels can be improved
The one drawback that I found, though, is that the quality of wheels could have been better. So if you are okay with one modification, replace the wheels. Otherwise, the bike offers a great value for money, comparable with the road bikes that are twice as expensive. It's a great upgrade for average to expert-level riders.
2. Eurobike XC550 Road Bike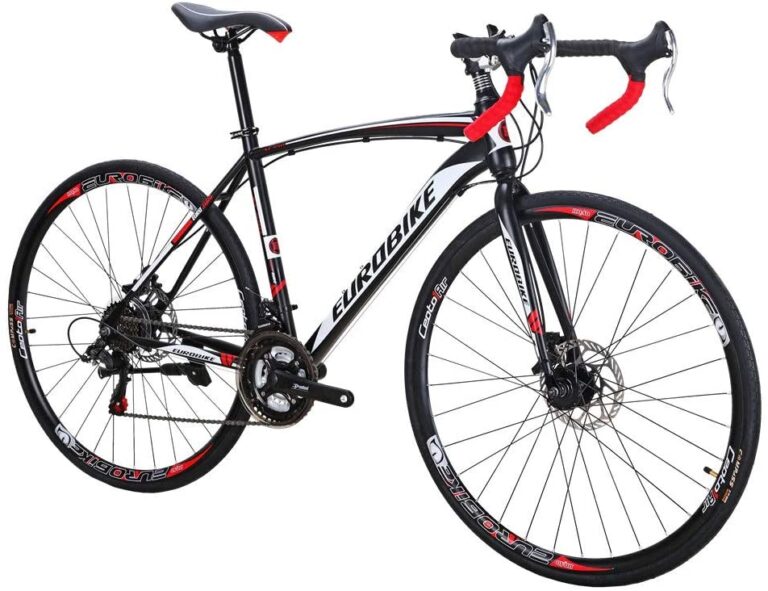 Eurobike Road Bike is another great road bike that comes at an incredible price. This road bike has a steel frame, which is the indisputable winner in terms of strength and durability. The steel frame of the bike also makes it able to absorb more shocks, providing comfortable and safe performance and for a long time.
The road bike has an efficient shifting system with the Shimano TX-30 shifters and SHIMANO A050 21-speed gear. These are some really top-notch components, making the bike capable of delivering similar performance. You can change the gears quickly and have total control over the speed on different sorts of tracks, not just some specific kind.
Coming to safety, the Eurobike Road Bike provides a precise and powerful braking system with aluminum dual disc brakes. You can stop the bike from the maximum speed with safety ensured. The efficiency of the disc brakes requires less force to be applied on the lever on your part, and the bike abruptly comes to a halt. That means that there will also be reduced fatigue.
As for the wheels, I really liked their elegant-looking 3 spoke design, similar thoughts for their performance. The 26-inch wide aluminum rims are lightweight, which makes up for the steel frame that could feel heavy. There is not much difference in the durability department, though. The wheels offer precise control plus stability on different types of paths.
Pros
Strong and durable steel frame
Durable and lightweight aluminum wheels
Efficient brakes
Suitable for different terrains
Cool design
Cons
The steel frame is heavy
Assembly is difficult
Can develop rust if not taken care of
This Eurobike Road Bike offers excellent quality for this cost, the durability and strength are incredible, performance is great as well. However, the steel frame is heavier than its carbon or aluminum counterparts and can be corroded due to prolonged contact with water. The design is cool, the brakes are amazing, and the wheels durable as well as stable due to their width, which sums up why this road bike is one in this compilation of best road bikes under $1500.
3. Hiland Road Bike 700C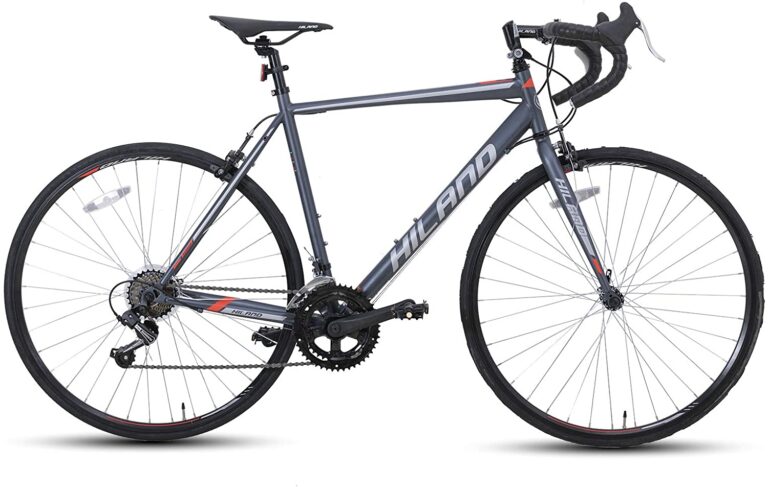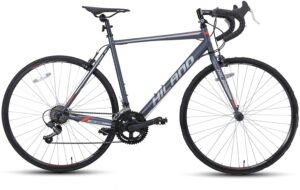 This Hiland Road Bike consists of a high-Ten steel frame and fork, making them incredibly strong and long-lasting. The steel fork absorbs the severe shocks resulting from the bumps on the path and provides excellent support to the frame. The SY20A thumb Shimano shifters work smoothly to help you achieve high speed with a comfortable riding experience.
The wheels garnered similar opinions from me; sturdy and incredibly durable aluminum rims that are lightweight, don't hold you back while you ride yet are able to withstand an extra load. The 700 x 25C heavy-duty tires offer excellent grip and stability on a number of varying surfaces without you feeling the need to change them frequently.
With the high speed comes the high-quality and precise braking system. The disc brakes in the rear and front provide an abrupt stop, keeping you safe. These brakes give you full control over the bike regardless of the weather conditions. Assembly is incredibly easy since the bike comes 85% pre-assembled; the little assembly that remains to be completed can be done with the tools that come packed with the product.
Pros
Shifters work smoothly
Long-lasting frame
High shock-absorption of the fork
85 % preassembled
Sturdy and durable wheels
This Hiland Road Bike comes in a number of sizes from 50 to 58 cm, suitable for riders with heights ranging from 5 to 6.2 inches. Apart from the not-so-lightweight frame, I didn't find any other downside in this road bike. In this price range, the performance and quality offered are excellent.
4. Schwinn Phocus 1600 Drop Bar Road Bicycle for Men and Women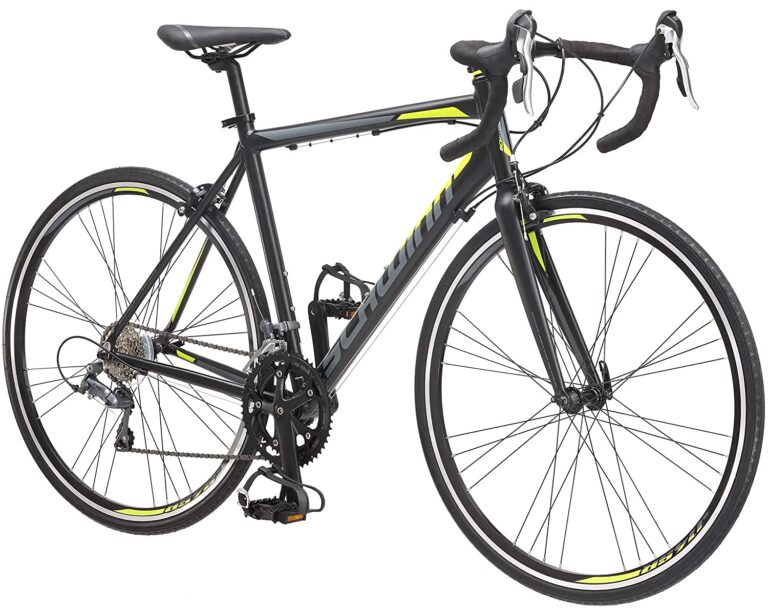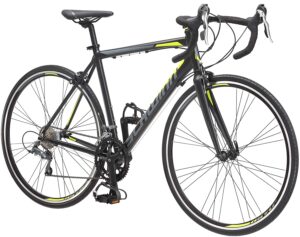 The Schwinn Phocus 1600 has all the features that you will normally find on an expensive bike, making this road bike one of the best you can get for under $1500. It has a sturdy and lightweight aluminum frame and carbon fiber fork. The best thing about having the carbon fiber fork is that it makes the bike able to absorb the road vibrations and shocks, giving a comfortable and pleasant ride experience. This is not a feature you normally get at this price.
The Shimano Claris Shifters are integrated with the brakes, which merges the gear shifting and braking into one part. This provides the rider ultimate control over the bike since you don't have to let go of the bars to shift gears, a feature I really liked. The 16-speed gearing provides you enough low-end gears to ride on and off steep inclines, as well as the high gears for riding 18 to 20 miles per hour on a flat track.
The alloy double-wall rims have extra strength but are lightweight at the same time. The dual pivot caliper road brakes are powerful, ensuring safety. This model also comes in a women-specific design. There is one downside, though, this road bike comes in one size only, which is pretty disappointing if you ask me. This 56 cm frame bike can be said to be medium-sized, suitable for 5.8 to 5.11-inch riders only.
Pros
A strong and lightweight frame
Shock-absorbing carbon fiber fork
double-walled strong wheels
Integrated shift/brake lever combo
Cons
Quality of tires needs improvement
It comes in one frame size only
The Schwinn Phocus 1600 can compete with some really expensive road bikes in terms of quality and performance. The quality of tires, though, can do better with some improvement. So, keep in mind and be equipped with new and good quality ones, since you might need to replace these ones soon.
5. Vilano Shadow 3.0 Road Bike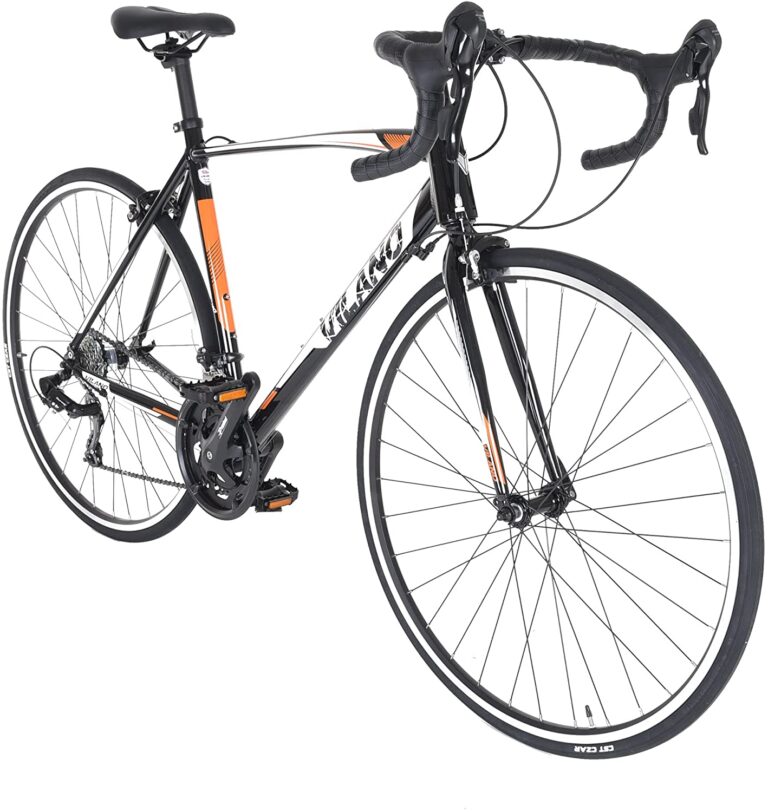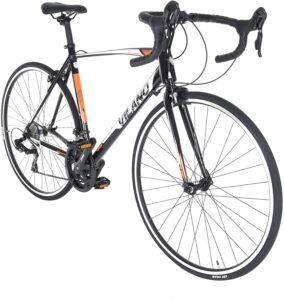 Vilano Shadow 3.0 is another affordable road bike with outstanding quality and features at this price. The aluminum frame offers a comfortable and stable ride with its lightweight yet supportive nature, which is going to last you years. The double-walled wheels are strong and provide a smooth and stable ride.
The thinness of the wheels makes it so much easier to turn the wheels, avoiding the small obstructions on the road effortlessly. The grip of the tires is good, keeping you in control and safe on different types of roads. The caliper brakes of the bike provide precise and easily controllable braking; the brakes are pretty durable as well. Also, the brakes are located at a point where they are easy to access.
Moreover, this road bike has integrated brake levers and a shifting system. You get both brakes and shifters combined in a single component and don't have to remove your hands from the brakes to change the gears. The saddle is nicely padded, providing anatomic comfort; its shape and size are also designed to keep you comfortable throughout the ride.
Pros
Integrated shifting and braking
Lightweight and durable aluminum frame
Comfortable saddle
Double-walled wheels
The package includes free pedals
Easy assembly
Cons
Shifters can be challenging on inclines
I felt that the shifters don't work so smoothly on steep hills, so unless you really like to ride up the hills, this can pose a problem. It is lightweight, durable, with efficient braking, and offers anatomic comfort as well.
6. Schwinn Stites Fixie Road Bike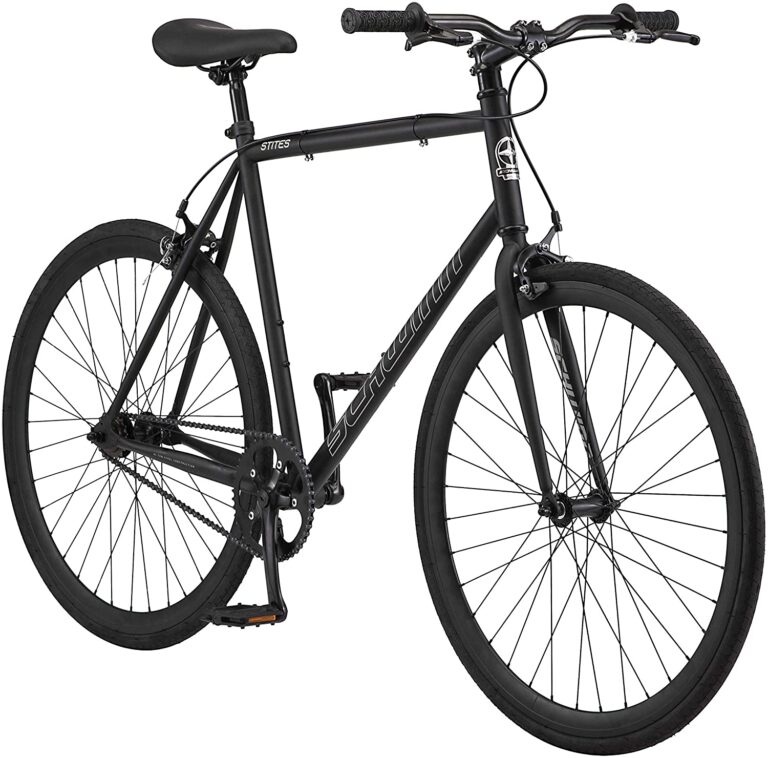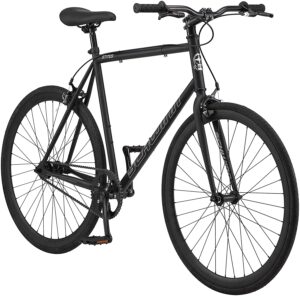 This Schwinn is another one of the best road bikes under $1500; the Brand has never been disappointed with its excellent quality at the most reasonable prices. The Stites Fixie comes with a steel frame and fork that will serve you for ages. It will also keep the ride quality springy yet comfortable over long distances. This fixie gives an extremely pleasant and fuss-free riding experience and is able to tread through different road conditions, like snow and mud, efficiently.
The Road Bike is a single-speed originally but has a flip flop hub, so you can switch from a freewheel to a fixed-gear whenever you like. You can ride on and off steeps as well as enjoy a pleasant urban ride with a single bike; the fixed cog is sold separately. The dual caliper brakes are powerful, providing abrupt stopping. The alloy rims are lightweight yet strong, providing high stability and for a long time.
The Schwinn Stites Fixie doesn't just offer that unmatched sense of control, connectedness with the bike, and lack of distractions and maintenance that shifters demand. Being able to be transformed into an equally great freewheel, it offers the best of both worlds. So I'm positive that your age-old indecisiveness to get whether a single-speed or a fixie will end with this model here.
Pros
Durable and strong frame
Lightweight and long-lasting rims
Has flip flop hub
Powerful brakes
If you feel like you have been forever battling with the choice between getting a freewheel or a fixie, you just found out both the options available within a single road bike. That too, at an incredibly reasonable price tag. What's more, it has a highly durable steel frame and lightweight rims that will compensate for the heavy frame.
7. Eurobike XC560 Classic 700C Road Bike XL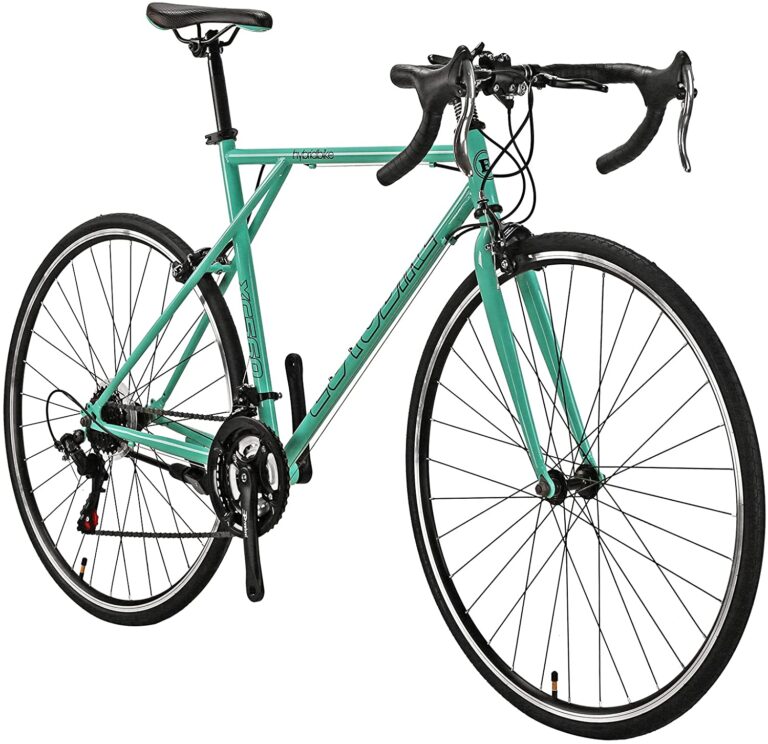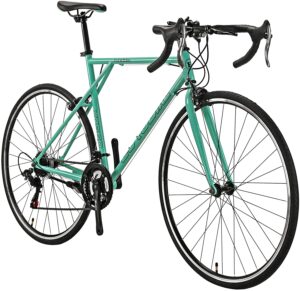 This Eurobike XC560 Road Bike offers the strength and durability of a steel frame at an amazingly low price. Other than that, the front and rear caliper brakes provide a precise, stable, and efficient braking system; the alloy brakes are lightweight yet durable, requiring low maintenance but work for a long time.
The smooth drivetrain system enhances the performance of the bike; the 21-speed shifter works smoothly. Changing the gears is quick, and the speed is totally in control of the rider regardless of the nature of the track one is riding on. The bike comes 85 % preassembled, making the assembly extremely easy.
It's quick and easy to put the remaining parts together; the necessary tools required for the assembly come packaged with the bike, including free pedals. The bike is perfect for daily commuting and workout or training. The slim frame and the retro-style design of the bike make it look stylish and smart.
Pros
Long-lasting and strong frame
Lightweight alloy brakes
Durable caliper brakes
Easy assembly
Cons
The steel frame is relatively heavy
Can develop rust
The Eurobike XC560 offers a promising quality, both performance-wise as well as in terms of durability, at an extremely affordable price. The ride is smooth, controlled, and stable due to the quality components the bike has. You will find all the necessary features in it that you need in your road bike.
Buying Guide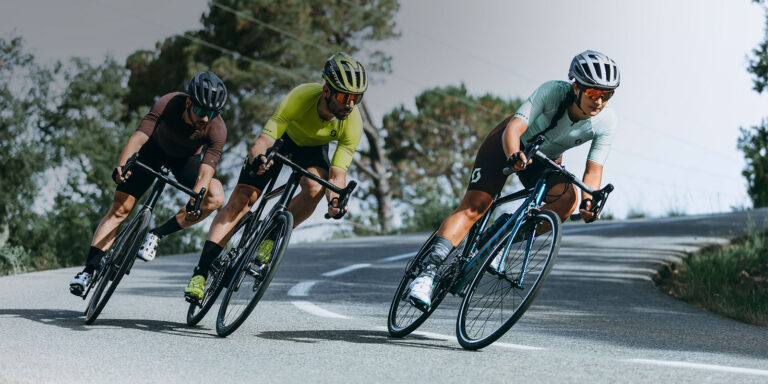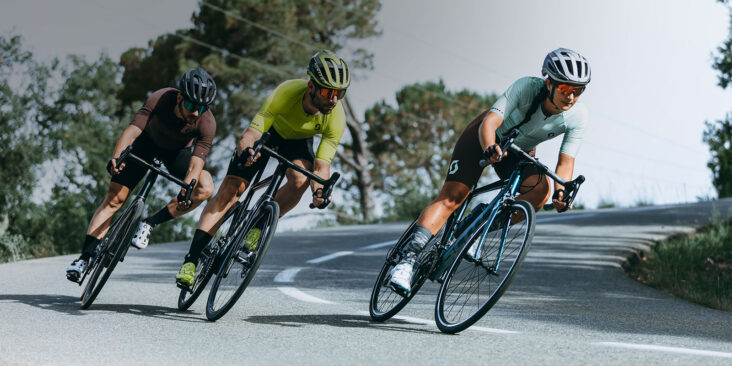 Finding a road bike that has quality, performance, and longevity all at once and is budget-friendly at the same time can be pretty challenging; there is no denying that fact. But it's definitely not impossible, which you must be well aware of by now. You can find one by yourself as well, but not without the necessary guidance.
Having the knowledge about what exactly to look for when you are buying the best road bike for yourself is extremely important. That will be provided to you here in this buying guide, the features you need to look out for while buying a road bike. So, go through it and don't forget to follow it.
Frame Material
The frame is the most important part of a bike; that much is pretty obvious also. It holds the bike up and together. So if you don't want the entire vehicle to fall apart, it's crucial to guarantee the quality and longevity of the frame. The commonly used bike frame materials that you can easily get under $1500 are aluminum and steel.
Both the materials have different qualities and a few downsides; the choice depends on what you prefer. When it comes to strength and durability, steel is impeccable; you cannot get a bike frame stronger and longer lasting than the one made of steel. Although steel is a heavy material and well, it's no brainer that a heavier bike will be difficult to speed up and to ride up the steep hills.
Aluminum, on the other hand, is not as strong and durable as steel, but it's lightweight, about three times lighter than steel. So, you can reach the desired speed with aluminum and pretty quickly than with steel. To account for the low strength of aluminum, the aluminum frame tubes are made with thicker walls. This still doesn't get as strong as steel, but unlike steel, it does add to the strength of the frame without making the bike significantly heavier.
Unlike steel, aluminum is also resistant to rust, which makes it low maintenance. Steel is prone to corrode when exposed to water for prolonged periods. Aluminum is also stiffer than steel, mainly because it has thicker walled tubes. This provides a stable ride, much to your advantage if your bike regularly needs to climb high hills or when you want more speed.
However, this stiffness can get uncomfortable, so if you just need a daily commute, just to get from one corner to the other through your road bike and prefer comfort, steel can provide you that. Steel can also absorb shocks and vibrations resulting from the rocks and bumps in the road, minimizing the discomfort.
Brakes and Drivetrain
Ensure that the bike has an efficient braking system before you go ahead and buy it. Shimano brakes offer the best quality and performance, and they have a wide range available, and they are easily available under a budget of $1500. Mostly, rim brakes and disc brakes are found on the road bikes under this budget. Both have certain features specific to each one of them.
Disc brakes have incredible stopping power, and they require considerably less effort. You can bring the bike to an abrupt halt by applying little pressure on the brake levers; this ensures safety along with reducing muscle fatigue. Disc brakes perform unaffected by the weather conditions, like on a wet and slippery surface, unlike rim brakes, the bike comes to a stop instantly.
However, disc brakes are heavier than rim brakes and add to the weight of the bike. They also require high maintenance and are difficult to replace. You will find rim brakes more common on a low-budget road bike; they cost less than disc brakes. Rim brakes are much lighter than disc brakes, so you will not be burdened with the extra weight.
Braking efficiency is not as powerful as discs but works fairly well as well; there can be a moment's delay before your bike stops. They are also low maintenance. If you don't want the speed to be affected, you have an advantage with rim brakes. If you ride in rainy conditions or in winter, disc brakes are your best bet from the safety point of view.
As for the drivetrain, you can get up to a 22-speed drivetrain within this price range. 7, 8, 9, 10, and 11-speed drivetrain is suitable if you don't need to ride up steep inclines regularly. If you are to climb on and off steep hills, then get a drivetrain with speeds 18 to 22. That way, you will have enough gears to shift and get the necessary speed to ascend the inclination.
Wheels and Tires
Affordable road bikes come in a range of wheelsets. The weight of the wheels matter; it compensates for the weight of the frame of the bike. Mostly, the bikes with steel frames have lightweight alloy or aluminum rims to save you from dragging the bike forward, compensating for the heavier frame. Similarly, bikes with lightweight aluminum frames can have steel rims.
Double-walled rims are extra strong and offer more durability and stability. Wide tires are now increasingly found in budget-friendly road bikes. Tires about 28mm or wider can be easily found; they increase the comfort and stability of the ride. They do increase the weight, though, so there isn't much advantage if you desire more speed.
FAQs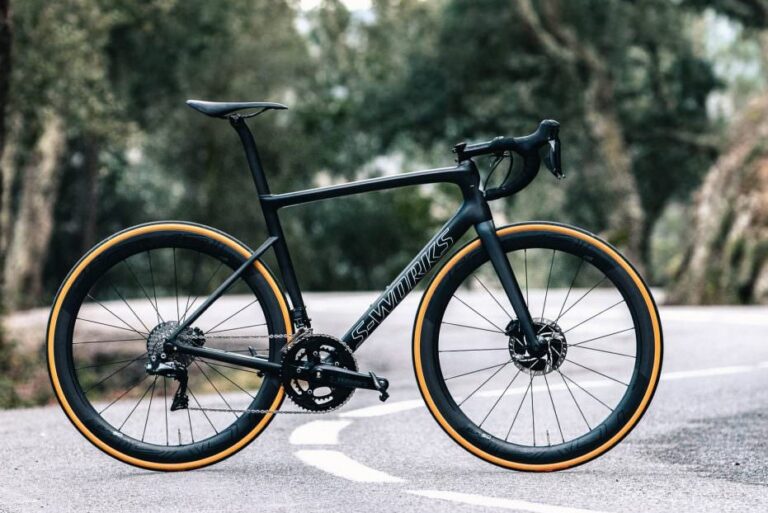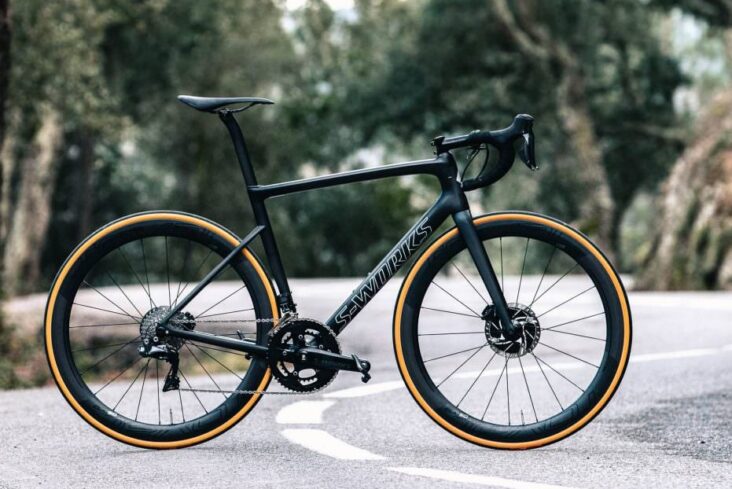 Is a road bike easier to ride uphill?
Yes, road bikes are easier to ride uphill, that's because road bikes are lightweight and agile, making pedaling easier. The components like light and tall wheels, slim tires make such bikes faster on the roads and also easy to ride uphills.
Is a road bike faster than a mountain bike?
Yes, a road bike is faster than a mountain bike. The lighter weight of the road bike accounts for that. Also, the riding position is more aerodynamic on a road bike than a mountain bike. The tires are light and thin, exerting more pressure on the surface than an MTB. Thus, a road bike goes faster than a mountain bike with the same amount of pressure.
Are more expensive bikes faster?
This is true, but not entirely; more expensive bikes are lighter, having better components that make them faster, but not necessarily all of them. The skill of the rider also matters; in fact, most of the time, it's not about the bike but the rider. Those who invest in expensive bikes are most likely to be more skilled at racing and riding longer miles. Getting an expensive bike won't make you faster; it's more dependent on your legs, fitness, and endurance.
Final Words
If you wish to get yourself the best road bike you can get under a budget of $1500, you are not going to regret choosing one from the options above. All of these provide the best quality that is available at a budget-friendly rate. From beginner to intermediate riders, all will find what they are looking for in the road bikes shortlisted in this article. The top three recommendations are:
Schwinn Fastback Carbon Road Bike because of the shock-absorbing carbon fork and suitability for the median to pro riders.
Eurobike XC550 Road Bike because of its strong steel frame, lightweight rims, and efficient brakes.
Hiland Road Bike 700C because of the smooth-shifting system, shock-absorbing fork, and easy assembly.
Along with the compilation of the best budget-friendly road bikes, there is an extensive buying guide. That will guide you into the decision of buying a reasonably priced road bike for yourself. Containing all the important factors that need to be looked at in a road bike, this guide will not let you regret your choice if you make sure to follow it.
If these weren't enough, check out these road bikes under $1500 from Amazon also:
Tommaso Imola - Sport Bike Performance Aluminum Road Bike, Shimano Claris 24 Speeds Road Bicycle Men...
QUALITY CYCLING PRODUCTS SINCE 1985: Our Italian designed cycling shoes, bicycle, and cycling products have made riders look like pros since '85. But...
THIS IS AFFORDABLE PERFORMANCE, NOT ENTRY LEVEL: The Imola is a top-performing bike that's not just for beginners. Starting cycling can be...
READY TO TAKE YOUR RIDING TO THE NEXT LEVEL? Look no further than the Imola – the bike that's built to deliver the power, performance, and speed you...
NEVER MISS A SHIFT: Shimano Claris shifters provide consistent, reliable shifting in all riding conditions, so you can focus on pushing yourself....
BUILT TO LAST: All too often things are made cheaply and break before their time. We believe that bikes should be reliable and built to last. This is...
Vilano R2 Commuter Aluminum Road Bike 21 Speed 700c
6061 Double Butted Aluminum Frame - Lightweight
A050 Thumb Shifters
700c Doubled Walled CNC Machined Wheelset with Quick Release Skewers
21 Speed Drivetrain to Handle Any Situation
Free Pedals Included, Bike is Factory Direct, Assembly & Tuning are required
SAVADECK Carbon Fiber Road Bike, Carbon Fiber Frame 700C Racing Bicycle with Shimano Sora 18 Speed...
TORAY T800 Carbon Fiber Frame, Fork and Seat post - It's a lightweight and stiff carbon road bike at 9.8kg (21.6lb), also designed to offer a bit...
SHIMANO Speed Control - SHIMANO SORA 2*9 Speeds with Shifter lever, Front derailleur, Rear derailleur - It enables you to start and operate your ride...
Designed in the Wind Tunnel, the stays, seat post, and seat tube are aerodynamically contoured; fully internal cable routing ensures clean airflow...
Oval concepts 6061 Alloy 40MM Bearing Wheelset and Continental Ultra Sport II (C304 SL) Wire 700x25C Tire. Free Pedals Included.
Mostly assembled complete road bike, which is ideal for cycling beginners and enthusiasts.