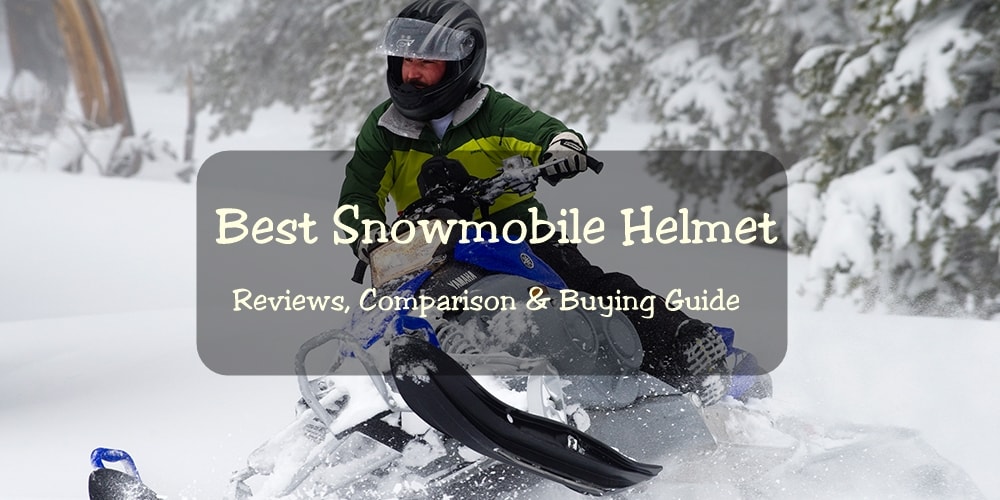 Choosing the best snowmobile helmet is a major deal, since your life might depend on it. Consider our buying guide & reviews of the best snowmobile helmets. Protective gear is very important when it comes to riding. Finding a quality snowmobile helmet will ensure you with safety and comfort and reduce the risk of injuries every time you go on your sled.
Over the recent years motorcycle helmet market has been flooded with many different designs. Each helmet has different design, features and materials and it can become very hard to choose the right gear for your safety. Many of these helmets are specially crafted for the most aggressive rider to ensure extra safety.
Checkout Best Snowmobile Helmets
Consider the table below for a quick comparison of the Best Snowmobile Helmets
| Product Name/Image | Brand | Weight | Our Rating | Price |
| --- | --- | --- | --- | --- |
| Matte Black 953 | IV2 | 5 lbs | | |
| 509 Tactical | 509 | 4.8 lbs | | |
| VIPER 953 Dual Visor (Black) | IV2 | 4.8 lbs | | |
| Demon Samurai | IV2 | 5 lbs | | |
| Electric Heated Shield Full Face | Typhoon Helmets | 3.5 lbs | | |
**Detailed reviews of these best snowmobile helmets are given below.
Snowmobile Helmets Buyers Guide
If you are looking to buy a snowmobile helmet, this guide is just the right thing for you! The market is full with so many various products that it can become confusing to choose the right helmet for your needs. With this guide, you can get an idea of the features the best snowmobile helmets can offer and choose the right fit for yourself.
Types of Snowmobile Helmets
Modular Snowmobile Helmets
Modular snowmobile helmets are the most popular type of helmet available. The best feature about these helmets is that the front of it can be flipped up when its necessary.
For this reason, the helmet is perfect for someone who wears glasses or who feels claustrophobic. This type of design also often includes ear pockets for communication equipment.
Full Face Snowmobile Helmets
This type of snowmobile helmet usually comes with a dual lens shield and breathing box, which is the biggest difference from a regular motorcycle helmet. These features reduce the possibility of the fogging of the shield, since they direct your breath out of the helmet. Some of these helmets also come with a sun visor on the inside or outside of the helmet, which can be flipped up when not needed.
Open Face Snowmobile Helmets
These helmets differ from other designs with one feature- they do not have a face shield. These snowmobile helmets use to be one of the most popular types, but currently they are considered old school.
If you still want to purchase this type of helmet, in order to ride comfortably, you will need to use googles. Also, to avoid frostbite, you should use a balaclava.
Snocross helmets are very similar to motocross helmets, but the main difference is that these helmets are equipped with breath box and goggles.
Breathing box will prevent fogging of the shield, by directing your breath outside the helmet and keep your face warm.
Supplemental Shields
Electric shield is used to reduce fogging. Some helmets already come with a fitted electric shield, but in some cases, you can purchase it separately to further reduce fogging of the shield. These devices come with a cord to hook up to the power source on your sled. Wiring is usually very simple and easy to use, and mostly it depends on the type of sled you use.
Some helmet models have optional tinted shields. These are usually dual lens shields with a special tint which will reduce the sun glare.
Head Covering & Face Masks
Balaclava is a specially made hat that covers your entire head and neck, with the exception of your eyes. Balaclavas are usually crafted from a thin fabric and provide a special layer of protection from the cold. Some balaclavas are longer and can cover your neck and also shoulders.
Fog evader is a unique product for your snowmobile helmet. This item covers nose, mouth, chin and parts of your cheeks. The main purpose of fog evader is to keep your face warm in very cold weather and reduce fogging of the shield.
Fitting of the Helmet
It is very important to determine the right size of your helmet. Online shopping makes this process a bit tricky, so make sure you reference the manufacturers size chart, even if you already know your helmet size. Size charts are usually 80% accurate, but sometimes you will need to go up or down a size. If you have a very big head, and helmet or hat fitting has been a problem for you previously, it is best that you buy the helmet in person. There are of course manufacturers who produce extra-large size snowmobile helmets, so you just have to find the right ones.
Here is a video that covers the types of Snowmobile Helmet:
The Best Snowmobile Helmets of 2023 Reviews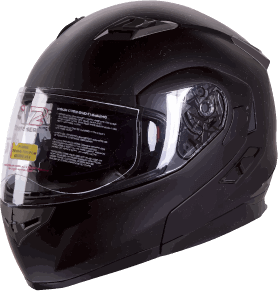 The 953 Dual Visor, Modular Motorcycle/Snowmobile Helmet is an excellent product which has a built in drop-down tinted visor. The DOT approved One button, one-hand flip-up system will allow you to comfortably convert this helmet from full-face to open face model.
This helmet is also waterproof and has glove-friendly controls, making it perfect for winter sports. The inside of this helmet is layered with an EPS Impact Absorption Inner Liner, to lower the risk of trauma.
The interior is removable and you can easily wash it. This helmet is also great since it has a very advanced ventilation system, which provides excellent air flow with its 10 venting ports. This best snowmobile helmet is DOT Certified. What makes this item one of the best snowmobile helmets is that you can use it both as motorcycle and as snowmobile helmet- perfect choice for extreme sports lover.
Pros
Washable Interior.
Single button flip-up System.
No unpleasant smell.
Best Snowmobile helmet for glasses.
Cons
On of the main issues with this helmet is that the ventilation gaps and grooves create a lot of noise while riding.
All new 509 snowmobile Tactical Helmet is a perfect combination of comfort, safety and design. This open face design helmet already comes with special protective goggles and partially protects your face from the cold.
It is AS, DOT, ECE 2205 certified ensuring you with the highest safety standards. It is crafted from a dual density polycarbonate shell with interlocking EPS lining, but the outside shell is crafted from very durable polycarbonate.
The neck brace of this helmet is specially designed to expand for easier wearing. One of the best features about this helmet is the locking top center mount, which holds the visor in place, preventing unwanted movement. The interior of this helmet is custom lined and will ensure you with the best comfort. If you are looking for an open face helmet, this one is probably the best snowmobile helmet you can get. For those who are looking for more face protection should consider a design with a shield.
Pros
This helmet features integrated top and intake vents and a rear exhaust vent.
This helmet also comes with a cold weather breath box, which will keep you warm even in the harshest weather
Nice peripheral vision.
Cons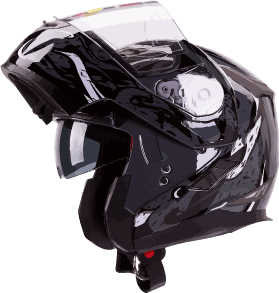 The Viper Dual Visor Modular helmet is a very high-quality, multifunctional product. First of all, it is designed so that you will be able to use it for both your motorcycle and your snowmobile.
The one-hand, flip-up system allows you to easily convert the helmet from full-face to open-face design. All the controls are waterproof and glove friendly to ensure you with most control and comfort. The inside of the helmet is lined with an EPS Impact Absorption Inner Liner, and the interior is fully removable and washable.
This top snowmobile helmet is crafted from very durable materials to provide you with the most safety. First of all, the helmet is crafted from a lightweight durable shell created by the advanced thermoplastic shell technology. The sun visor can be retracted if not necessary, and it is made of anti-scratch material.
The Viper modular helmet is a great product in its price range. It is well designed and you can choose the right size for you.
Pros
Lightweight.
Anti-scratched.
Thermoplastic shell technology.
Cons
This helmet could use a little bit more padding on the skulls crown and if you want more warmth during cold weather, an additional balaclava should be advised.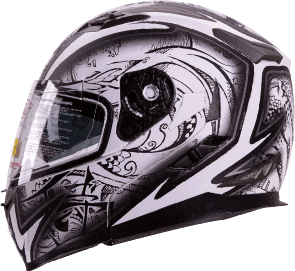 This helmet is not impressive just because of its model name Demon Samurai, but also for its great looks and detailing and excellent safety features. This dual visor modular helmet is perfect for use on snowmobiles and motorcycles. Your safety and comfort is ensured with this extra light helmet- crafted with the advanced thermoplastic shell technology.
The dual visor system provides extra safety for your face and the sun visor is an excellent addition for sunny days in the snow. The visor is scratch-proof, therefore it will last you a long time. It also has a stainless steel dual d-rings strap, which you can easily open with one button. This helmet is DOT certified.
Overall the Demon Samurai is a great looking and comfortable snowmobile helmet. It is very easy to open the visor and convert the helmet into an open-face wear, since it is equipped with a one-button, one-hand flip-up system to open it. all the controls are glove friendly and waterproof. It is very easy to take care of this helmet, since the inner layer is washable. The ventilation system is perfect for use in snow, since it prevents fogging of the visor. Be sure you check the size chart before purchasing this helmet, since it runs smaller than usual size.
Pros
Multiple air vents.
Anti-scratch features.
Unbeatable price.
Cons
May produce bad odor due to absorption of sweat but you can wash it.
This product is probably one of the best snowmobile helmet in the market. It is specially crafted for all your needs while riding a snowmobile.
One of the main features which makes this helmet so great is the heated electric shield. This function allows you to simply plug in your helmet (the cord is included) and prevent any fogging of your visor. This is an excellent function for cold weather.
The front shield also has a ventilation system. Another safety feature is the high-density EPS energy absorbing inner shell. The outside shell is crafted from a very durable and lightweight material. This helmet is DOT certified and also Federal Motor Vehicle Safety Standard 218 certified. Typhoon helmet has a dual visor system- the inner lens is crafted from a durable shield, with an anti-fog coating, but the outer lens is coated to prevent scratching. The ratchet system can be positioned in multiple ways.
Pros
Heated electric shield.
For easier cleaning, the inner layer of this helmet is completely removable and washable.
Ultra lightweight.
Cons
**Above, you will find rating and comparison of these best snowmobile helmets.
>>>Click Here To View Comparison Table<<<
Our Best Pick
It is very important to have the right snow helmet for your activities, especially in winter. The best snowmobile helmets will not only protect you from possible injuries, but also keep your head warm and comfortable.
If you are looking for a helmet to ensure your safety and comfort while riding a snowmobile, my top pick is the Typhoon Electric Heated Shield Full Face Red Snowmobile Helmet. This is one of the best snowmobile helmets, since it is specifically crafted for cold weather needs with its heated visor and ventilation system. It meets all the safety needs and comes with a good price.
Go For Our Best Pick at Amazon.com
Related Post:
Top 5 Best Motorcycle Jackets Of 2023 ( Buyer's Guide )
Top 5 Motorcycle Riding Boots And Shoes For 2023