According to estimation, the rate of motorbike accidents has increased over the past 12 years, which is heart-wrenching. Lack of safety gear and diminished vision is almost certainly the leading reasons behind this dilemmatic approximation, which can only be improved by wearing protective gear, including motorbike goggles. People with weak sightedness usually skip goggles, thinking they can't wear them while riding, but that's wrong because we got Over The Glasses (OTG) Motorcycle Goggles in the market.
Our Pick
Good Choice
Don't Miss
100% Accuri 2 OTG Mountain Bike & Motocross Goggles - Over The Glasses MX and MTB Racing Protective...
100% FMF POWERBOMB OTG Goggle
JHUA Adult Motorcycle Motocross Goggles Windproof Anti UV OTG ATV Dirt Bike MX Offroad Racing...
Our Pick
100% Accuri 2 OTG Mountain Bike & Motocross Goggles - Over The Glasses MX and MTB Racing Protective...
Good Choice
100% FMF POWERBOMB OTG Goggle
Don't Miss
JHUA Adult Motorcycle Motocross Goggles Windproof Anti UV OTG ATV Dirt Bike MX Offroad Racing...
In a picture-perfect scenario, the best OTG is the one that fits perfectly over the prescribed glasses so that the rider won't have to risk comfort in any case. Plus, there is a need to ensure that the best OTG should provide safety and crystal clear vision during the ride to reduce the risk of accidents to zero. In this blog, I will uncover the best products that match this picture-perfect world. So, let's not waste a second and begin the review!
Over The Glasses (OTG) Motorcycle Goggles
1. 100% Accuri OTG – Best Over Glasses Motorcycle Goggles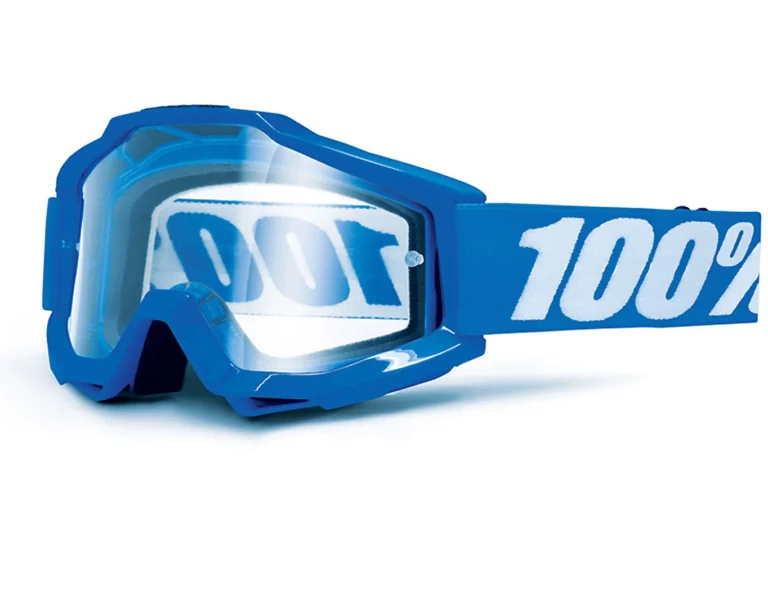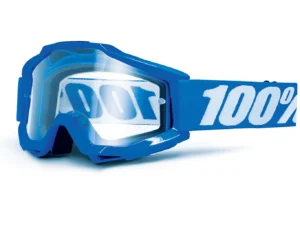 The first choice on this list is "100%Accuri OTG Goggles"! I kept these goggles at the top of the list because of their ergonomic design which makes them worn over eyeglasses. It means that if you have weak eyesight, you can wear these OTG safety goggles over your prescription spectacles so that you won't face any difficulty in sightedness while riding a motorbike.
Safety is important, but style can also not be neglected, and on that note, I cannot wear something that looks odd or ruins my personality. Fortunately, the 100%Accuri glasses will not bring you in that situation because of their classy looks; and it comes in many different colors: red, orange, yellow, black, and blue. I love the variety of colors allowing us to ride in matching outfits. I bought the orange one to complement my orange bike!
While purchasing safety goggles, the interior profile is of great concern because it adds grip and comfort to the goggles. The Accuri comes with cushioning pads embedded on the interior lining of goggles, providing pillow-like relaxation. The foam material also can absorb moisture or sweat so that you won't feel itchy or uneasy during travel. Over that, this additional lining facilitates better grip than goggles lacking that feature.
The primary thing which knocks our minds is the clear vision while buying a good goggle. In other words, if your glasses' lens is not good enough, then these are of no use. Therefore, you should go for Accuri goggles that possess incredible vision.
It comes with a Lexan lens, which is far better than a standard glass lens, as it comes with extreme impact resistance, scratch resistance, and anti-fogging properties. It will also improve your peripheral vision because through this lens; a rider can see the road and up-head view simultaneously, lowering the risk of accidents. Isn't it unbelievable?
Pros
Improve peripheral vision
Comfortable for long rides
Resists fogging
In conclusion, the Accuri OTG glasses come with excellent build quality. The lens embedded in this goggle is pretty impressive, as it resists high impact, heat, pressure, scratch, or even accumulation. After wearing these spectacles, I noticed an improvement in peripheral vision. However, if your prescribed glasses are large, the Accuri goggles might not fit over properly.
2. FMF Powerbomb OTG – Motorcycle Goggles To Wear Over Glasses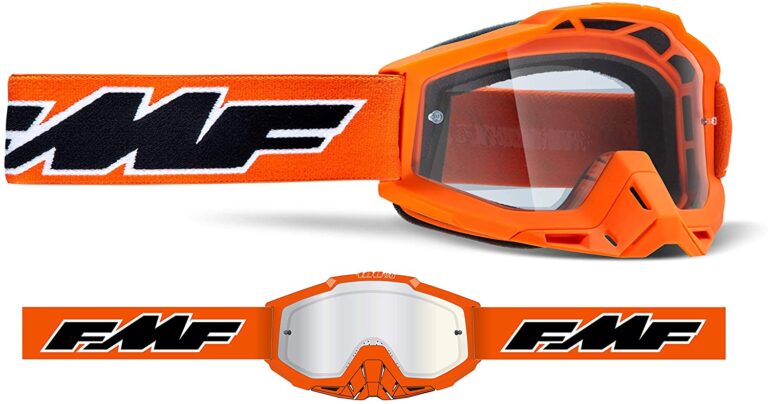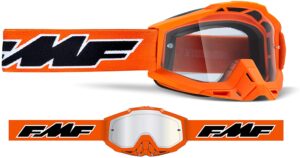 Foggy glasses are annoying and lower your vision to zero, increasing the risk of accidents. Get rid of this dilemma and buy these FMF Powerbomb OTP goggles, resisting the condensation that forms fog. The FMF glasses come with a polycarbonate lens composed of thermoplastic polymer. These lenses have natural fog resistance properties that improve your vision throughout the length of rides so that nothing can distract your focus!
Moreover, the polycarbonate lenses are best worn over the prescribed spectacles because they are lightweight, impact-resistant, scratch-resistant, ultraviolet resistant, and whatnot. It overall improves your vision without making you feel uncomfortable. I strongly recommend these goggles to eyewear users or eye protector users; thank me later!
FMF Racing is the front-runner in the motorsports industry because it has been selling high-end quality products for fifty years. The Powerbomb goggles are no exception! These spectacles come with flawless design, including large eye ports so that they can fit over any vision glasses. Plus, it has foam pockets that provide boundless comfort and relief from any pressure on the inside. Those pockets are sweat absorbent and shock absorbent too.
When you put your spectacles on your face, there's a connector between both eye frames over your nose, called a nose bridge or nose guard. Usually, eyewear users, including me, are not too happy with that nose bridge because it adds pressure onto the nose, causing breathing difficulties sometimes. However, that's not the case with powerbomb glasses, as it comes with a removable nose guard, and even if you won't remove them, the frame is so large that it won't affect inhalation.
Pros
Affordable
Comfortable
Fogg-resistant
In a nutshell, the powerbomb goggles come with a decent profile and a good quality lens. The polycarbonate lens is in demand these days for its resistive properties. I love the cushioning offered by these spectacles, which made long rides comfortably possible. The best thing about these goggles is their anti-fogging properties!
3. JHUA Adult Motocross Goggles – Motorcycle Goggles For Glasses Wearers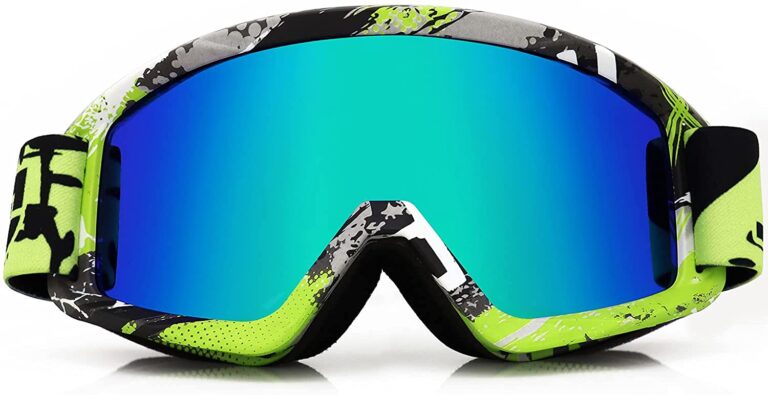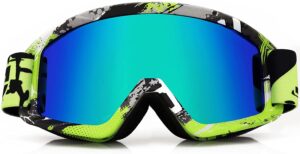 The JHUA Adult Motorcycle is another front-runner product for its premium building and durability in today's market. The frame is made up of polyurethane material, which is quite a popular kind of plastic these days. This material is widely used in the making of furniture, carpeting, bedding, and accessories because of its excellent durability and support. The polyurethane goggles are great as it provides excellent grip and comfort to the users, even after hours of wearing.
The exterior of these spectacles is quite funky! It features a multi-color lens with a black and red frame that collectively looks jazzy. The company is offering different color choices for this item to choose accordingly. Overall, the classic design makes it a perfect choice for a broad age group, including men and women.
The lens used in JHUA goggles is made of polycarbonate material, a thermoplastic engineered to add strength, toughness, and transparency. Plastic lenses are in great demand in safety goggles because of high-level impact strength and resistance against shock, water, and UV. Additionally, unlike glass lenses, plastic lenses withstand breakage, enhancing protection elements. I found these goggles perfect for visibility and sightedness because of the PC lenses.
There is a three-layer padding system on the interior side that gives endless comfort. The cushioning also save your head from shaking if you meet any accident as it is shock absorbent. I have been suffering from Hyperhidrosis for a long time, so a long ride on my bike was a reverie to me. But, thank goodness, with these fantastic glasses, my dream comes true; the pad layers absorb all the moisture and keep my face and under eyes dry out. This feature facilitates non-itchy and comfortable length rides!
Pros
Budget-friendly
Looks funky
Protective
Overall, the JHUA spectacles are the perfect choice if you're searching for something funky and cute. I am impressed with the durability and build quality because it is unbelievable in this price range. Plus, you don't need to compromise on comfort as there is a three-layer cushioning system that relieves you from external stress or pressure.
Buying Guide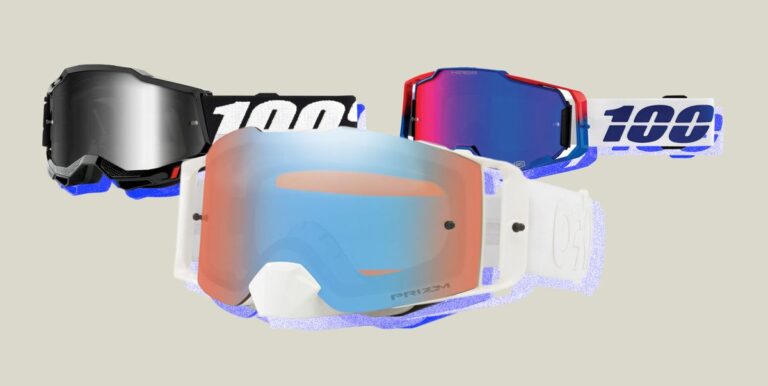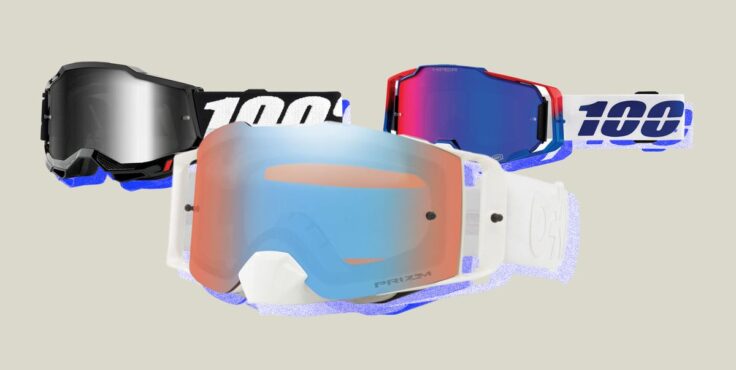 Design
Whenever we look at something to wear, the appearance matters a lot, and the same is the case with goggles. Even though we're wearing motorbike goggles for safety, we can't compromise on style. In this way, the design of motorbike spectacles needs to be considered. In the market, there are numerous choices, including classy and funky models, a range of colors, and more. You can choose one as per your choice, but I suggest you get one that matches your helmet and bike, as it looks fashionable.
Lens
The lenses are of great concern while buying goggles. I have tried numerous lenses but find polycarbonate material exceptionally great! Thermoplastic adds strength and transparency to the material because of its high-level impact strength and resistance. The plastic lenses withstand breakage, unlike glass lenses, enhancing protection elements, which is the reason behind their utmost durability.
Moreover, the visibility should be noticed too before making a purchase. The lenses with low transparency affect your vision and increase the risk of accidents. In this way, it is essential to choose the best goggles like Accuri, which improve peripheral sightedness.
Comfort
A motorcycle goggle is a necessary safety gear that needs to be worn all over the ride. If your glasses are loose or too tight, hours of rides become unrelaxed and nearly impossible for you. You might put your life at risk this way; therefore, it is essential to mark the comfort element from the checklist while purchasing the best goggles.
I strongly recommend the spectacles, which have cushioning layers on the interior side. It provides relief from external pressure and absorbs moisture or sweat, facilitating a dry and comfortable riding experience. JHUA Adult goggles are a great choice with a three-layer padding system that gives endless comfort. The cushioning also save your head from shaking if you meet any accident as it is shock absorbent.
Ventilation
The passage of air molecules from your goggles is vital to restrict the condensation process; otherwise, fog will accumulate over your lenses and reduce the visibility to zero. Some glasses have particular lenses which are fog repellent, while some have space on sides so that air passes quickly. So you should get one with a promising ventilation system or anti-fogging properties so that you won't put your life at risk.
Breathability
You must be thinking about how eyewear links to the breathing process, but that's true! The spectacle has a nose frame connecting both eye covers to form an entire structure. In some glasses, the nose frames are so tight or small that it makes inhalation difficult. Therefore, to avoid suffocation, go for the option that features either a replaceable frame or a large nose frame.
FAQs
Can motorcycle goggles be worn over glasses?
Yes, motorcycle goggles are called "over the glasses or OTG," which can be worn over your prescription glasses. These spectacles are designed primarily to be worn over your glasses, so these typically come with a larger room so they can fit over properly. I strongly recommend OTGs to people with weak sightedness so that they can ride effortlessly.
Are OTG goggles good?
Yes! OTGs are an excellent choice for people who wear prescribed goggles. These glasses come with a perfect frame and ample space to adequately cover the already worn glasses. It is necessary to wear OTGs while riding a motorbike, playing snow sports, etc., to ensure ultimate protection and safety.
Can you wear OTG goggles without glasses?
Yes! Some OTGs can be worn without glasses, for instance, Smith OTGs or ski goggles. Feel free to wear it that way; there's no restriction. However, try not to buy extra large ones if you're planning to wear those with no glasses on so that it fits properly.
Do I need motorcycle goggles?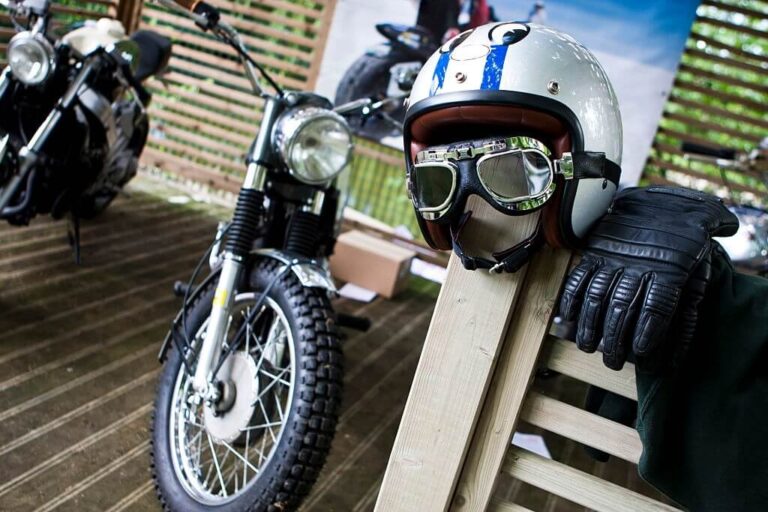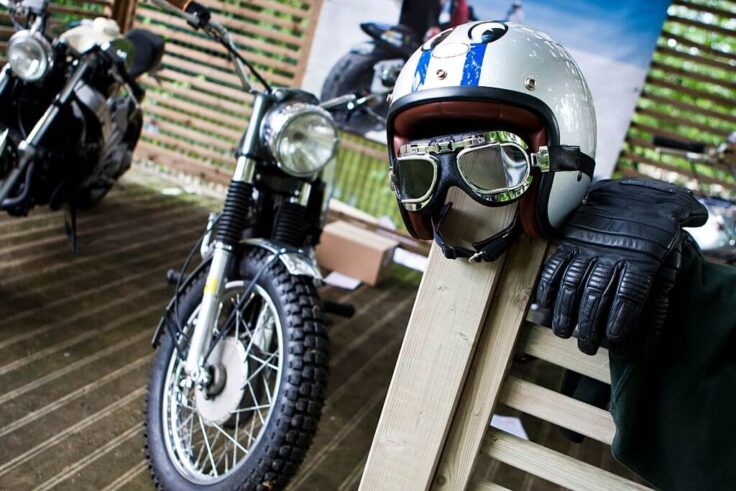 Yes, of course! A motorcycle goggle is a safety gear that needs to be worn before riding your bike. You can wear safety spectacles while on track, in streets, off-road, or wherever you want. It just aims to protect your eyes from tiny pollutants in the air or bugs. Also, goggles provide relief from stress or shock in case of accidents. Hence, regardless of your level of precision, you need to wear safety glasses every time.
Summary
The OTGs are the best solution for riders who skip safety goggles because of their prescribed glasses. There are so many choices in the market, so I decided to sum up the best ones I have been wearing for a long time. If you are running short on time, then here are my top preferences from above:
100% Accuri OTG Goggles improves peripheral vision, offers comfortness and excellent build quality.
If you didn't decide on any of the items above, look at the buying guide, which helps you choose wisely. In a few words, fitness, comfort, clarity of the lens, and ventilation are essential factors that need the buyer's prior consideration. In conclusion, wearing safety goggles is not a choice but mandatory to ride a motorbike.
Check out some other picks from Amazon also:
2 Pieces Motorcycle Goggles Helmet Riding Goggles Glasses With Face Cover (Elegant Color)
High-quality material: safe and nice quality tinted goggles, wide peripheral vision, soft leather sponge padding, very comfortable, a necessary cool...
Comfortable & wear resistant: there are two holes beside the mask which to make air circulating, detachable design allows it to be easy took off and...
Products dimension: our motorcycle glasses' dimension is lens height: 75mm (2.98inches); Lens width: 75mm (2.98inches); Nose bridge: 50mm...
Windproof & Dust-proof: sturdy hallowed foam air cushions are directly attached from the frame of the goggle, providing the ultimate eye protection...
Widely applied: nice face and eye protection for you, our customers use our face mask can protect face and eyes in some sudden accident; You can use...
Global Vision Big Ben Motorcycle Goggles Fit Over Most Glasses Black Frames Clear and Smoke Lenses
Goggles fit comfortably over most eye glasses
Highly flexible, highly durable TPR rubber frame goggles fit easily over most eye glasses
Soft, airy foam padding provides extra comfort while top and bottom vents along with anti-fog coating keep lenses clear and free from fog
Shatterproof, scratch-resistant polycarbonate lenses provide 100% UVA and UVB protection
High-quality adjustable elastic strap makes for a comfortable, secure fit
Sale
Peicees Vintage Helmet Goggles Motorcycle Goggles Bike Motorcross Pilot Goggle
Frame Materials - These vintage helmet goggles are made from imported ABS raw materials, copper/black frame. Higher hardness surface and chemical...
Lenses Materials - Our retro cycling goggles lenses are PC Lenses. The glass can be hardened, coated, anti-fog. After be hardened, the glasses are...
Sponge Frame - The frame sponge of these vintage motorcycle goggles is covered by corium, safely cling to the face. The soft and skin-friendly...
Adjustable Elastic Head Band - The head strap of our bike goggles are 100% cotton, adjustable, non-slip, and high elastic head strap, which can be...
Professional Design - This kind of cycle goggles use optics design of the human body, featuring with good ventilation, wide vision and it can avoid...