Netflix is one of the most popular streaming services today, and it represents a platform where you can choose some of the best movies and TV series that came out recently, but you can watch some older titles too. The platform is transparent and easy to use, with various charts where you can see some of the most recent titles. You can also choose movies and series by genre.
Netflix is a place where anyone can find something for its taste. For people who are fans of movies with bikers, and their amazing choppers, here are some of the best biker movies that you can watch on Netflix in 2023.
1. Easy Rider
Easy Rider is an American road drama film written by Peter Fonda, directed by Dennis Hopper, and released in 1969. It is a story about two bikers traveling American Southwest and South, carrying earnings from a cocaine deal.
On their journey, the main characters experience bigotry and hatred from the inhabitants of smaller towns in America and meet with other travelers that seek alternative lifestyles. The movie depicts the roles of self-proclaimed rebels in a conformist society.
It is an important and influential film from the late 60s, and with its engaging theme, look, and editing, it represents a clear yet disturbing presentation of the angry estrangement of American youth.
2. The Courier
The Courier is an action thriller movie directed by Zackary Adler, released in 2019. It follows the story of a notorious businessman and crime lord, Ezekiel Mannings, who is under house arrest and looks to eliminate the only witness that can tie him to a murder he committed.
The witness is heavily guarded in a safe room in London so that he can provide evidence against Mannings over video link to the United States. As the unnamed female courier delivers the package containing cyanide in the witness' room, she decides to rescue him and quickly finds out that his protection detail has been compromised.
Thrilling and action-packed, this movie is currently available on Netflix and is well worth checking out for every motorcycle lover.
3. Speed is My Need
This documentary tells the story of some of the biggest names in one of the world's most dangerous sports – superbike racing. It offers exciting footage of incredible crashes, the psychology behind racing, and an intimate look inside the world and minds of superbike racers.
The documentary also covers how modern psychology and surgery have impacted today's racing. For the most part, the movie is following racers and their ups and downs throughout the seasons. The storyline is really good and strong, and it is followed by real coverage and footage.
4. Nitro Circus: The Movie
Directed by Gregg Godfrey and Jeremy Rawle, this action documentary followed by comedic content was released back in 2012. The story revolves around a highly skilled and adrenaline-addicted group of friends performing various stunts.
Every character gets a small amount of background story, and you get really attached to the whole crew very fast. This attachment drastically raises the excitement factor whenever they are about to a new, major stunt.
The documentary is packed with energy, excitement, fear, and in some cases, even sadness as the crew is going from one stunt location to another.
5. Sgt. Will Gardner
The Sgt. Will Gardner represent the realistic life of a biker who is riding across the country to find his son and live with him again. The director and main actor in this movie is Max Martini, while other main roles belong to Omari Hardwick and Lily Rabe.
In this movie, we can see the struggles of veterans who came back from the war in Iraq, and how hard it was for them to blend into the community and live normal lives again. Sgt. Will Gardner movie was released in January 2019.
6. Deuces
Deuces is a crime movie with a lot of action, and it is premiered on Netflix in April 2017. The main roles in this movie belong to Meagan Good, Lance Gross, and Larenz Tate. The director and writer of Deuces is Jamal Hill, while the producer is Queen Latifah and Flavor Unit Entertainment.
There are two main personas in this movie, the undercover agent Jason, and his boss Stephen Deuces Brooks. During the movie, some things are getting complicated between the two of them, and the storyline of Deuces has an amazing plot. This movie is full of action, drama, love story, and everything else that makes it a great recommendation to spend your free time in front of the screen.
7. Burnout
If you are a fan of a biker movie that is full of action and drama, we have to recommend to you to watch the Burnout. This title was released in 2019, and the director of it is Yann Gozlan. The main actors of this European action are Francoa Civil, Manon Azem, and Olivier Rabourdin.
The story in Burnout is about Tony, who dedicated his life to biking, and his dream to become a professional. However, things get complicated when the mother of his son got into problems with some criminals of the French underground. He got himself in a situation when he has to work for drug lords during the night, while he is still trying to reach his dreams, and goes on bike races during the day. The drama in this movie is about his future and is he going to save his family, and bring their lives back to normal.
8. Hitting the Apex
Hitting the Apex is another great documentary about professional bikers and their challenges and struggles to become the champions. This documentary is directed and written by Mark Neale. Many people who watched it were astounded how realistic it is since it is showing the real life of bike racers.
The main actors of this movie which is released in 2015 are Jorge Lorenzo, Marc Marquez, and Jose Manuel Lorenzo, and other professional Grand Prix racers.
9. Unchained: The Untold Story of Freestyle Motocross Stuntmen
There are many documentaries about bikers, and Unchained: The Untold Story of Freestyle Motorcross Stuntmen represents one of the best when it comes to the drivers of extreme biking with ATMs. This movie has some great reviews from people, and it managed to show us what are the real challenges of these brave racers.
This movie was released in 2016, and the main writer is Paul Taublieb, while he was directing this movie with Jon Freeman. The main actors are Brian Deegan, Josh Brolin, and Seth Enslow, who are all professional dirt-bike drivers.
Other TV Shows about Bikers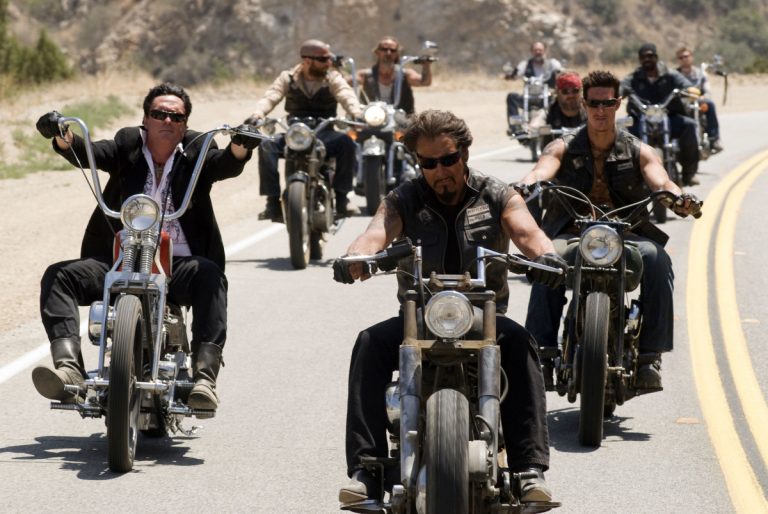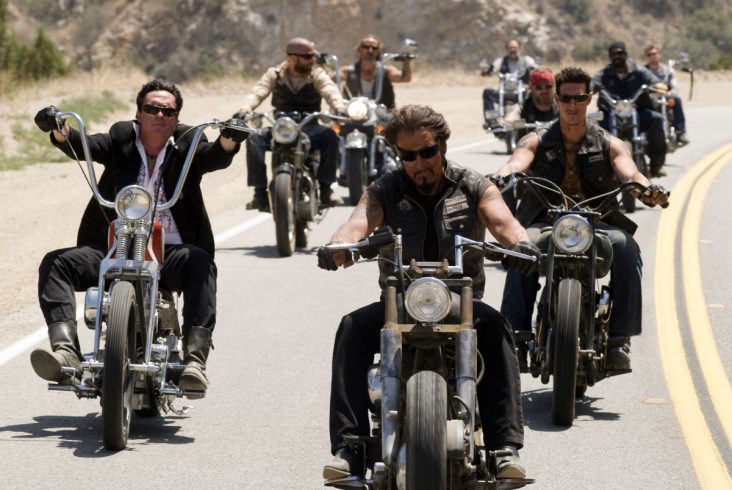 Besides some great movies on this theme, there are also many fantastic TV shows about bikers and their adventures. One of the most popular bikers shows is Warrior and Sons of Anarchy. Both of them are presenting the lives of riders but from some other angle.
The first season of Warrior was released in 2018, and it represents one of the best movies and TV shows ever about the life of bikers and their struggles in society. This movie is mainly related to people who are veterans of the Iraq war, and how they joined biker gangs when they come back, and their struggles to live normal lives again.
The story of this series is about a war veteran who is joining some Copenhagen biker gang as an undercover cop, and his mission is to try to stop these dangerous gangs to terrorize the city, kill people and sell drugs.
The TV show Sons of Anarchy is now a cult show that brought to us the lives of all those tough and dirty bikers, their wives, lives, battles, struggles, and all those things that make them so popular among people. The director of this crime TV show is Kurt Sutter, while the main actors are Kim Coates, Katey Sagal, Maggie Siff, Theo Rossi, Jimmy Smits, and many more.
There are seven seasons of this TV show, with 92 episodes. The executives are Kurt Sutter, James Parriott, Dave Erickson, and many others, there is a big team of people who were working on the creation of this amazing series.
The main story of the show is about vandalism and racism of these riders, and how they manage to commit many crimes and got without any consequences because they also corrupted some officials. This show showed us a little more about the life of bikers, and there was help from a real biker club Hells Angels. They are the biggest bikers club in the world, with their members in many states around the world.