During the course of the past previous years, Netflix has grown into one of the biggest companies and TV channels that deal with film and series production. Their films and TV series have become popular worldwide due to their plots and the quality they are made with.
Some of these shows are related to motorbikes and bikers and they have become increasingly popular since this topic is becoming popular worldwide. Let's see which ones are the most popular.
1. Sons of Anarchy (2008)
This American action crime drama TV show was created by Kurt Sutter and aired first in 2008. The story is based in a fictional town Charming, in California, and it follows the story of biker gang SAMCRO (Sons of Anarchy Motorcycle Club, Redwood Original). The show is rich in intrigue, strong characters, relationships, and violence.
It stars Charlie Hunnam in the role of Jax Teller, who is initially the vice president of SAMCRO and subsequently the president. After he finds out about the manifesto written by his late father, John Teller, who previously led the club, he starts to doubt the direction it is heading and the criminal activities they get themselves into.
Jax is frequently at odds with his stepfather, who took over the club after his father's death and got married to his mother, Gemma Teller. Exciting, dark, and violent, this show is definitely worth checking out if you are a fan of action, drama, and motorcycles.
2. Unchained: The Untold Story of Freestyle Motorcross Stuntmen (2016)
This is a movie per se and we are led throughout the movie by the narrator who is actually Josh Brolin, who is famous for being nominated for an Oscar Award. The narrator is telling us the story of the beginnings and development of Freestyle Motorcross.
So, if you are a biker and if you are interested in the entire phenomenon around this event, this is a film that you simply have to watch. The film is not only a documentary one. It also follows the lives and life troubles of some of the most known bikers in the world such as Metzger, Deegan, Pastrana, Hart, and Seth.
The film is even more interesting if we add that these famous bikers are actually giving their interviews about the phenomenon and what was necessary to be good at it. Moreover, the film also provides insight into the lives of the family members of these bikers, and how the life of those bikers influenced the lives of their relatives and family members. The movie was shown for the first time in 2016.
3. Burnout (2018)
The debut of this film took place in 2018. It should be also mentioned that we are talking about the film that is actually a European one. To be more precise, the film was made in French production and it is thus very unique with a very special plot. The entire film revolves around one character and that is Tony who is actually a biker and a passionate one.
The biker tries to become a professional and the film follows his journey to glory. However, everything gets complicated when he discovers that his wife is having some relationship and serious problems with some criminals. So, Tony is now in the dilemma since on one hand, he has his career and his dream to become a professional biker and on the other hand, he needs to do everything he can to save his family.
This is why he decided to help those criminals during the night and work in their drug business. At one point, he is simply aware that it might happen that he can never get out of the problems he is in. the lines and the entire production is fantastic and is greatly organized. The biking parts are also magnificent. Despite not being made in an English-speaking world, this one is worth watching, especially if you are a biker.
4. Warrior (2018)
The premiere of this series took place in 2018 and this film is one of the best biker movies in the world. Why? Well, we are not talking about a simple biking series and bike races. This series is much more than that. The entire series revolves around the important issues in human lives, so there are many questions related to loyalty and betrayal.
We should also mention that all this is related to people who are war veterans and have returned to try to live normal lives with their families. The plot and the script are very straightforward and neat, and all these have been combined with very good actors and effects. We need to mention that this is actually a Danish series and that many bikers consider it to be the best biker series in the world.
5. Deuces (2017)
The entire plot is based on two lead characters. First of all, we have Jason Foster who is actually a cop and has infiltrated into the biker community. Then we have Stephen Deuces Brooks who is his boss.
The entire problem starts when they realize that they have much more in common than they have expected. The film was released in 2017.
Recommended for You:
Since the culture of bikers is becoming popular worldwide, biker pins have also become increasingly popular as a symbol of freedom and are now often used to show membership in a motorcycle club. Why not create unique biker and pins with your own club's name, logo, and slogan? EnamelPins.com provides high-quality pins with the lowest prices and fast shipping. The meaningful and unique gifts for your club members and biker pals.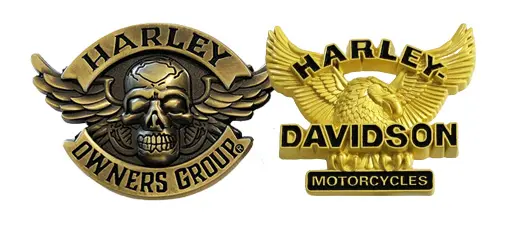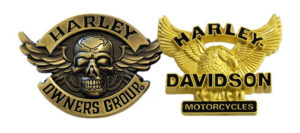 Best Biker Shows on Other Streaming Platforms
Although there are multiple biker-related shows that you can stream on Netflix, other platforms offer you even more titles that you can explore. In the section below, we will list some of the most popular ones.
Mayans M.C. (2018)
Years after the Sons of Anarchy ended, the popularity and interest for the show kept elevating so much that spin-off series was introduced. The story is within the same fictional universe, and it premiered back in 2018.
Although the show has a lot to live up to, Mayans MC. has received numerous positive reviews, and it is trending upwards in viewer reviews. The story of the show revolves in yet another fictional town in California – Santo Padre. It is centered on EZ Reyes, a young man who joined the Mayans gang after he got out of prison.
After cartel violence almost completely ripped his family apart, the Mayans MC offers him a chance to get revenge and get even with his enemies. The show's story picks up 2.5 years after the events of Sons of Anarchy.
So far, we have had a chance to watch three seasons, while the fourth is set to premiere in April 2023 on Hulu – FX Networks.
World's Greatest Motorcycle Rides (2008)
Released back in 2008, this documentary series is exactly what it says it is in the title. In this series, motorcycle adventure lover Henry Cole takes you on a series of rides across the world. Henry has visited numerous countries on different continents and led us through various adventures throughout the show.
So far, the show has 17 seasons, and each season contains two or three episodes, although there are some exceptions. Apart from visiting numerous beautiful world scenarios, the show also teaches viewers a lot about biking culture around the world.
In the episodes, Henry Cole talks to other riders and indulges in local cultures and rides through various environmental and weather conditions in the episodes. The show airs on the Travel Channel, while you can find some episodes on Youtube.
The Motorbike Show
Released back in 2011, The Motorbike Show is popular series hosted by motorcycle enthusiast Henry Cole. With eight series so far, it explores all things that are involved in biking culture and lifestyle.
You will also see numerous classic bike restorations, rides across the UK and other countries, specialist workshops, tracks, races, and everything that bike enthusiasts love to indulge in. There are also interviews and discussions with some of the world-renowned names in motorcycling.
Henry Cole has been presenting TV shows for over two decades, and his knowledge about motorcycles and relaxed presenting kept viewers entertained and will for years to come. The show airs on ITV4 every Sunday, with repeats throughout the whole week.
Gangland Undercover (2015)
Available to stream on History, Gangland Undercover is a fictionalized series based on real-life events that are detailed in the memoir named "Vagos, Mongols, and Outlaws: My Infiltration of America's Deadliest Biker Gangs," which was written by Charles Falco.
The show premiered back in 2015, and it provided a fascinating look into undercover operations. Sadly, the show was canceled after its second season. The story revolves around Falco, a confidential informer for ATF. He went in undercover in order to infiltrate one of the most notorious biker gangs – the Vagos Motorcycle Club.
The second season also follows Falco, as he assumes yet another undercover role, trying to infiltrate the Mongols Motorcycle Club, which proves to be an even more dangerous task than the previous one.
Outlaw Chronicles, Hell's Angels (2015)
This is another show that is available to stream on History. It revolves around one of the most notorious biker gangs in the world, Hells Angels. They are officially incorporated as Hell's Angels Motorcycle Club and have thousands of members in countries around the globe.
The club is classified as a crime syndicate in most law enforcement agencies. The show gives us an in-depth look into one of the largest motorcycle clubs in the world, and the story comes from the former member and leader of the Ventura chapter, George Christie.
Considering that Hell's Angels are very secretive about all of their operations, the whole story adds even more to intensity and mystery. The show gave us many truths about the club's initiations, criminal activities, and other pieces of information that had never been known before.