Want to get the best motorcycle saddlebag for your adventure trip! then read on. With each passing day, advancements in the realm of engineering reach new heights. Increasing the engine power also increases the joy of riding for the riders. Motorcycle riding has grown quite popular in recent years.
Best Choice
Good Choice
Don't Miss
Also Consider
Dowco Willie & Max 58707-20 Braided Series: Synthetic Leather Compact Slant Motorcycle Saddlebag...
Stansport Canvas Saddle Bag - Black (766-20)
KEMIMOTO Motorcycle Saddlebags Throw Over Saddle bags with lock Small Size Panniers 14L Side Bags...
Milwaukee Leather SH66602 Zip-Off Double Pocket PVC Throw Over Motorcycle Saddlebags - One Size
Motorcycle manufacturers are working from dusk to dawn to introduce motorbikes with cutting-edge technologies like motorcycle saddlebags to give you a good riding experience. Riding a bike on lengthy roads and highways delivers an indescribable form of adrenaline rush. Riders in America have access to vast stretches of scenic roadways.
In many ways, riding a motorbike differs from driving a car. A motorcyclist has to carry his basics on longer tours and rides, but how? This is a valid question. Consider hanging your belongings on your motorbike handlebar: there is an absolute probability you will lose them. A motorcycle gear that allows you to carry your belongings safely and effortlessly while riding your bike.
Motorcycle Saddlebags are designed to fill the gap of motorcycle rider's needs. While traveling in the city or on long trips, you can easily carry your belongings in your Motorcycle Saddlebags.
Choosing the right saddlebag is just as crucial as picking the right bike. If you are thinking of buying a saddlebag, there are a few things to consider.
Top Motorcycle Saddlebags Reviews
1. VikingBags Dweller Large Side Pocket Studded Leather Motorcycle Saddlebags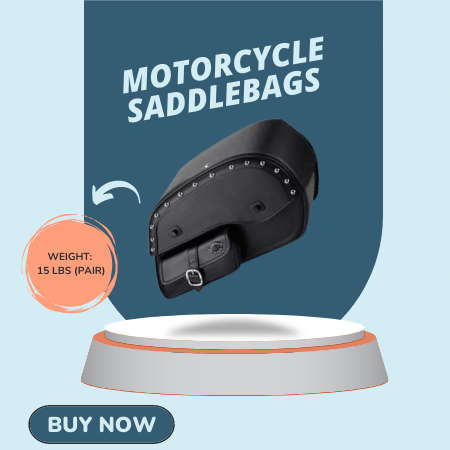 For durability and tenacity, premium grade leather is used. Pre-assembled mounting hardware is installed at a low cost. Robust metal frame, reinforced plastic lid, and body, the long-lasting quality of shape stability. Built-in quick-release locking mechanism. It is weather-resistant with Velcro cushioning. Internal pockets are installed to offer additional storage.
Basic Product Descriptions:
Dimensions: 20″ x 6.5″ x 11.5″
Storage Capacity: 1586 cubic inches (Pair)
Weather Resistance: Yes
Weight: 15 lbs (Pair)
Sold As: Pair
2. VikingBags Char SS Large Padlock Single Strap Studded Leather Motorcycle Saddlebags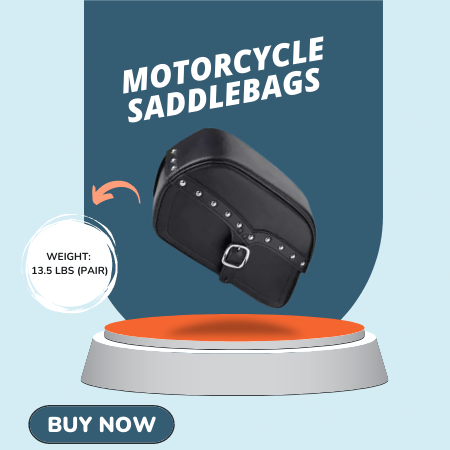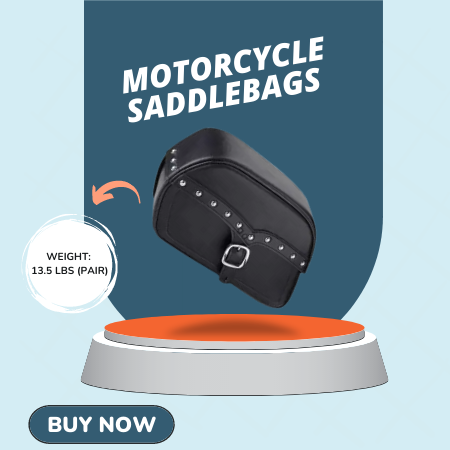 The VikingBags Char SS Large Padlock Single Strap Leather Motorcycle Saddlebags has multiple features. Viking leather is utilized for production and offers endurance and durability. Hardware mounting and guidance are additional. The strengthened mix of plastic cover and aluminum frame reduces decay.
The rear side is reinforced with heavy-duty durable plastic ABS. Mechanism of integrated locking. Buckles under the straps are quick to remove. Comes with a fitting jacket. For lid closure, comfortable Velcro straps are installed. Internal storage compartments.
Basic Product Descriptions:
    Dimensions:  20″ x 6.5″ x 12″
    Storage Capacity: 1586 Cubic Inches (Pair)
    Weight: 13.5 lbs (Pair)
    Weather Resistant: Yes
     Mounting Options: Hard Mount or Throw-over
3. Nomad USA Leather Slanted Motorcycle Saddlebags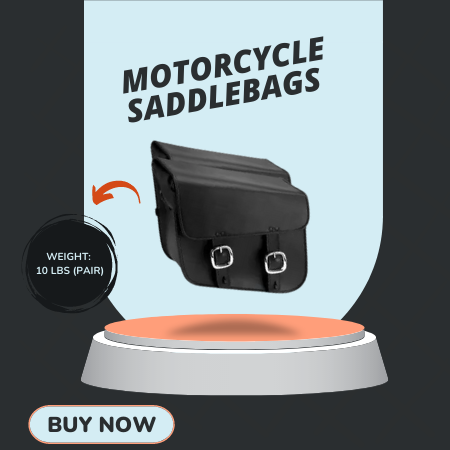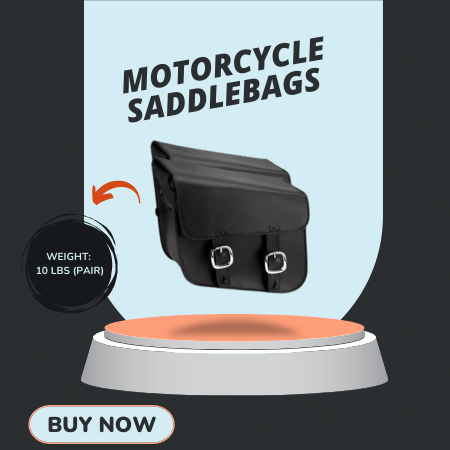 The Nomad, USA saddlebags are composed of weather- and temperature-resistant synthetic leather. They have metal frames for added strength and robust bodies to retain the saddlebag's shape. They are dark in hue for aesthetics and to offer security camouflage to the bags.
The twin chrome adjustable buckles on the Nomad, USA saddlebags keep the U-shaped flaps closed at all times. Stitching runs around the sides and seams of these saddlebags for enhanced durability and beauty. Because they are reinforced with solid metal frames, these saddlebags keep their shape well.
Your items will not be squished or harmed as a result of this. Quick-release buckles are also included on the Nomad panniers for convenience of usage.
Basic Product Descriptions:
Dimensions: 16″ x 11″ x 6.5″
Storage Capacity: 10 lbs (Pair)
Weather Resistant: Yes
Mounting Options: Saggy Style
4. VikingBags Hammer Extra Large Leather Motorcycle Saddlebags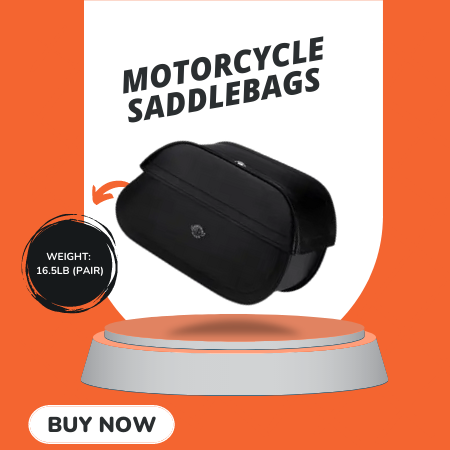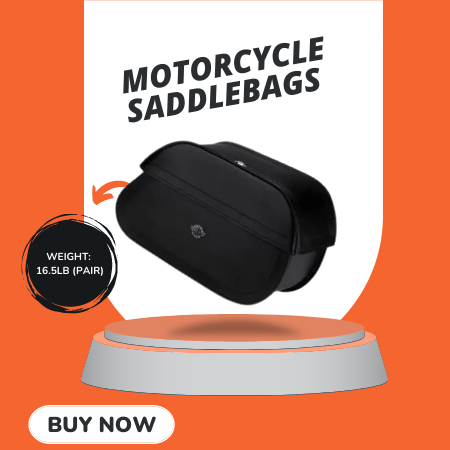 All Hammer Extra Large Saddlebags series are provided with a free mounting rack to maximize your investment from the time you buy. This bag is made to last using the finest Viking leather. Constructed from a metal frame, with a reinforced plastic body of industrial robustness.
The Hammer Series ensures shape preservation, so for years, your bike will look nice. A strong straight plastic back guarantees optimal wear and crash protection. The bags' fast-release buckles provide complete simplicity of operation. A breakthrough locking system will ensure that your belonging will be safe and sound as soon as you lock your bag till you reopen it.
Completely weather-resistant, the vagaries of wind, rain, snow, and sunshine will always protect your possessions. Spacious pocket storage provides maximum capacity. Break the bag into your current style and use it as a hard mount on the Shadow, toss it over or beside the complimentary hardware included in the pricing. Airtight Velcro paneling.
You will get both left and right saddlebags at this incredibly reasonable pricing. You may send them back to us within 30 days to get your complete no-question reimbursement if you are not delighted with your new saddlebags upon delivery. This product now has four patents pending with the Patent and Trademarks Office of the United States.
Basic Product Descriptions:
Dimensions: 22″ x 7.5″ x 13.5″
Storage Capacity: 2074 Cubic Inches (Pair)
Weather Resistant: Yes
Weight: 16.5lb (Pair)
Mounting Hardware: Included
5. VikingBags Lamellar Raven Large Shock Cutout Painted Motorcycle Hard Saddlebags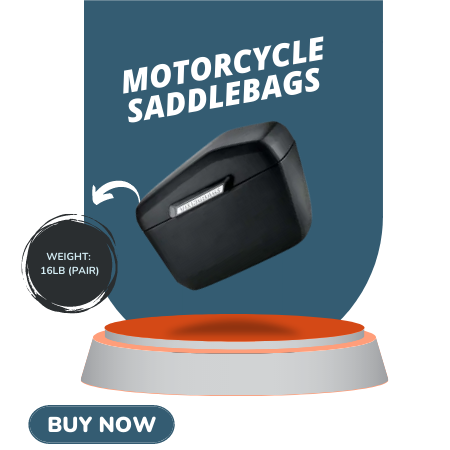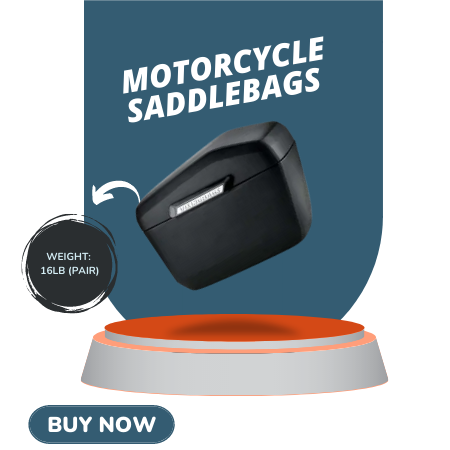 Airtight and smooth style brimming with the fender lines. You may stock or paint black gloss to fit your motorcycle. Hardware mounting included saving more than $100. Rustproof hinges for heavy-duty and conditional saddlebags key locking are complimentary features. The bag is resistant to weather.
Basic Product Descriptions:
Dimensions: 22.5″ x 7.5″ x 13″
Storage Capacity: 1464 Cubic Inches (Pair)
Weather Resistant: Yes
Weight: 16lb (Pair)
Mounting Hardware: Included
6. VikingBags Lamellar Blood Rider Large Leather Wrapped Motorcycle Hard Saddlebags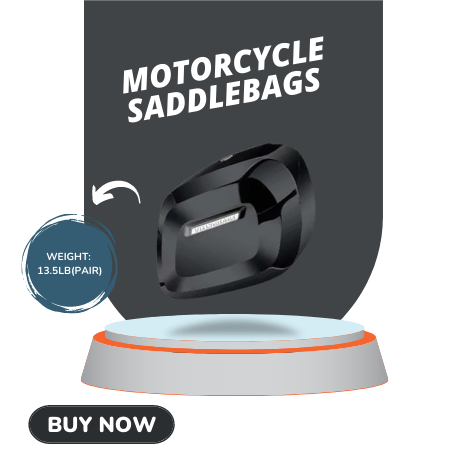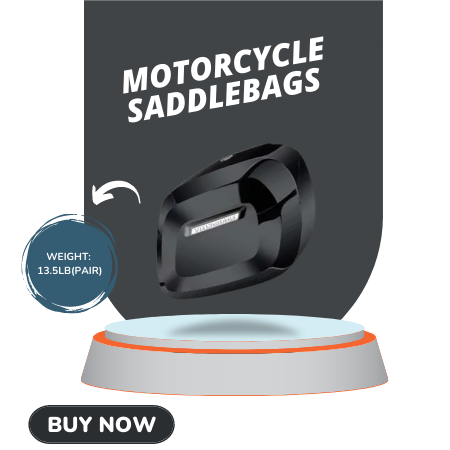 Viking Leather is wrapped with a tough fiberglass water-resistant shell. Free-of-cost mounting equipment and instructions guide is included in the deal. Although, hidden hinges require the minimum amount of space. Conditional saddlebags for key-locking. Saddlebag is never going to slide or lose form.
Weather-resistant quality makes sure the safety of your stuff from bad weather conditions. For an unbelievable price, sold as a pair. Cashback guarantee for 30 days. The product consists of 4 USPTO patents pending.
Basic Product Descriptions:
Dimensions: 19.5″ x 6″ x 12″
Storage Capacity: 1586 Cubic Inches (Pair)
Weather Resistant: Yes
Weight: 13.5lb (Pair)
Mounting Hardware: Included
7. Dowco Willie & Max 58707-20 Braided Series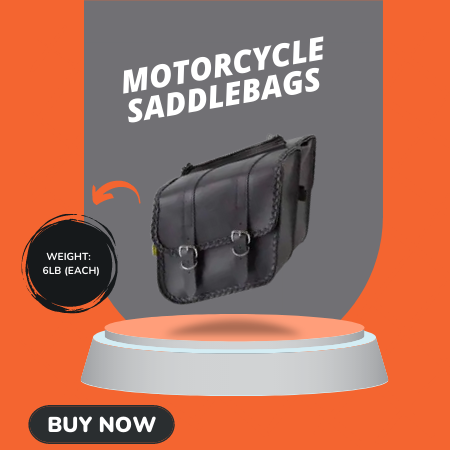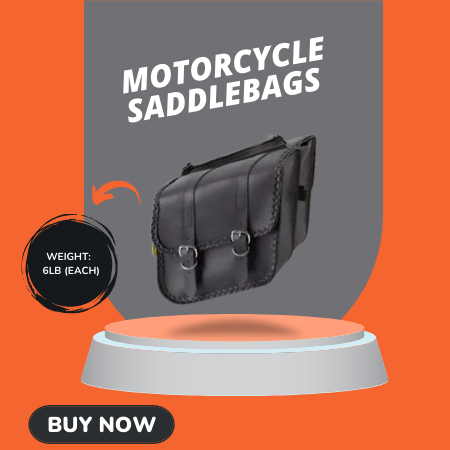 The Dowco Willie & Max saddlebags are composed of a long-lasting UV water-resistant vinyl that can survive even the most extreme weather. These saddlebags are the best storage chambers for your motorbike, whether it is snowing or raining. The inside is composed of a durable material that helps them maintain their form. Boast twin chrome buckles provided for a more classic style and elegant braided motifs on the sides.
Basic Product Descriptions:
Dimensions: 12″ x 9.5″ x 5.5″
Storage Capacity: 22 lbs (Each)
Weather Resistant: Yes
Weight: 6lb (Each)
Mounting Options: Middle Strapping
8. VikingBags Warrior Brown Large Leather Motorcycle Saddlebags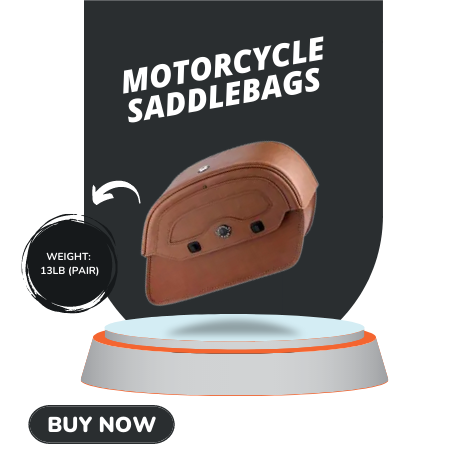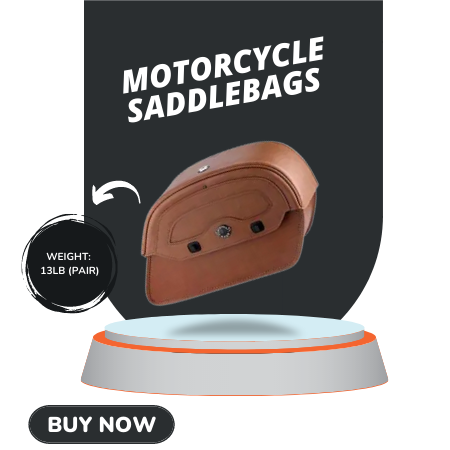 Warrior Saddle Bags are constructed of tough Viking leather and have a robust and beautiful appearance. These bags contain fiberglass bodies, backs, and lids on the inside, which adds strength and durability.
They also include an ABS plastic reinforced straight back and a metal frame to assist them to endure road impact. Instead of providing a general design, the variable mounting option allows you to utilize the bags any way you like. The adjustable mounting yoke allows for simple height and angle adjustments. Weather and terrain resistance is provided with the leather exterior and extra features such as airtight Velcro sealing.
Basic Product Descriptions:
Dimensions: 20″ x 6.5″ x 11.5″
Storage Capacity: 1586 Cubic Inches (Pair)
Weather Resistant: Yes
Weight: 13lb (Pair)
Mounting Hardware: Included
9. Oxide Deluxe Tek Leather Motorcycle Saddlebags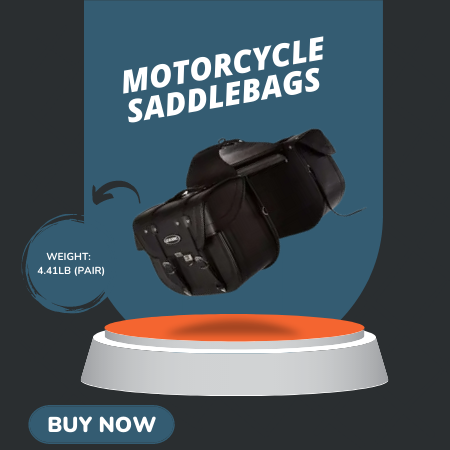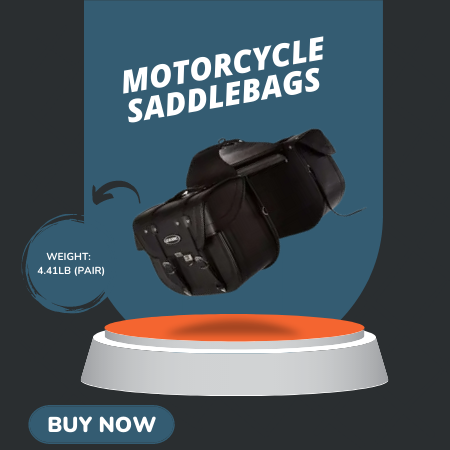 The quality Tek black leather fabric used in the Oxide Deluxe panniers is weather and temperature-resistant. To ensure the panniers' endurance, the stitching is of the highest quality. For each pannier, two adjustable chrome buckles secure the lids. Both include non-slip grips for a secure and pleasant grip.
Your rides will be more comfortable and stable with the Oxide Deluxe Tek panniers. They are safe and secure, and they are simple to install. It incorporates a secret heavy-duty YKK zipper, which makes removal a breeze. Internal pockets have been added to the Oxide Deluxe panniers to hold small goods like accessories and paperwork. Both bags include soft linings that will not scratch or harm anything you put inside.
Basic Product Descriptions:
Dimensions: 13″x 8″x 17″
Storage Capacity: 661 lbs (Pair)
Weather Resistant: Yes
Weight: 4.41lb (Pair)
Mounting Options: Middle Strapping
Supportive: Does not Support Every Bike
10. Stansport Saddlebags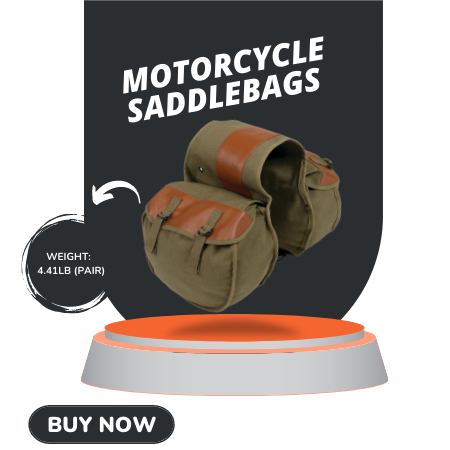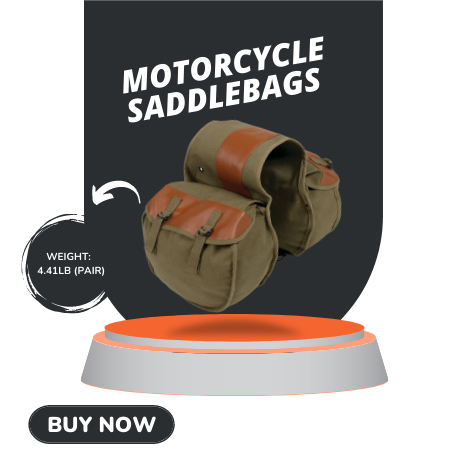 These heavy-duty saddlebags have integrated vinyl linings and are constructed of interwoven duck cotton. Stansport Saddlebags are water-resistant for which the latter is installed. The flaps of both bags are held closed by double strapping with adjustable loops. They also have drawstrings built-in for additional security.
The saddlebags are composed of water-resistant canvas fabric. For extra flair, they include brown PVC panels on the tops of the bags. The Stansport saddlebags are ideal for quick journeys to the shop or picnic days in the park. They can carry your hygiene items as well as clothing if you spend most of your time on the road. They are composed of a sturdy material that will not readily tear. Stitching adds to the durability.
Basic Product Descriptions:
Dimensions: 8.5″ x 5.5″ x 8.5″
Storage Capacity: Fractional
Weather Resistant: No
Weight: 1.8lb (each)
Mounting Options: Throw-over
Features To Consider While Choosing Motorcycle Saddlebags:
Saddlebags, on the other hand, become a part of your motorcycle once they are mounted. Saddlebags are a must-have accessory like a motorcycle helmet since no rider wants to lose his or her riding gear or other belongings.
A saddlebag should be carefully picked. As a result, saddlebags are available in a variety of colors, sizes, and forms; select one that will complement your bike and give it a more attractive appearance.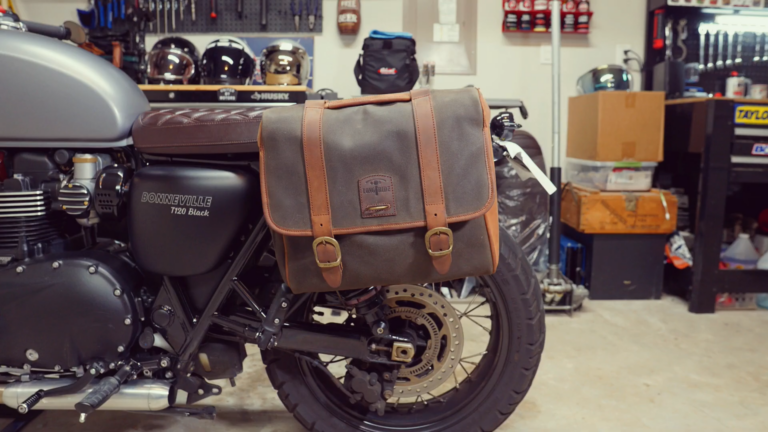 Design:
You may get saddlebags in a variety of patterns, styles, and materials on the market. The actual bidding is finding the proper saddlebag. Saddlebags offer a finishing touch to your bike appearances. It is important to remember the form of your motorcycle. Square saddlebags are not a good match for the messy tail. You have the option of choosing what you admire.
Size:
Along with the diversity of styles, you also have to choose an appropriate size saddlebag as per your requirements. Small, medium, large, and extra-large saddlebags are available on the market. You are free to select what is appropriate for you.
Safety:
The security of your belongings is critical, yet not having a saddlebag poses a significant danger. It is risky to carry your belongings on your travel, lay them on the tank, or hang them from the handlebar. You risk losing your belongings, having them skip off your lap, and causing traffic congestion for other drivers.
Storage Space:
Another option for traveling with your baggage is to store items in pockets or a backpack. Saddlebags offer much more space than most other options.
Comfort:
Installing Saddlebags on your motorcycle relieves you of worry. You are at ease and relaxed. If you are aware that your belongings are secure in the saddlebag, your focus will not divert.
Protection:
Weather conditions in most parts of America, such as South Dakota, are unpredictable. It will immediately begin to rain, and your belongings could waste. Although not all saddlebags are of this caliber, the majority of saddlebags are designed to withstand extreme weather conditions. Waterproof saddlebags protect your belongings from harm and keep them secure.
Guide to Buying the Appropriate Saddlebags for Your Motorcycle: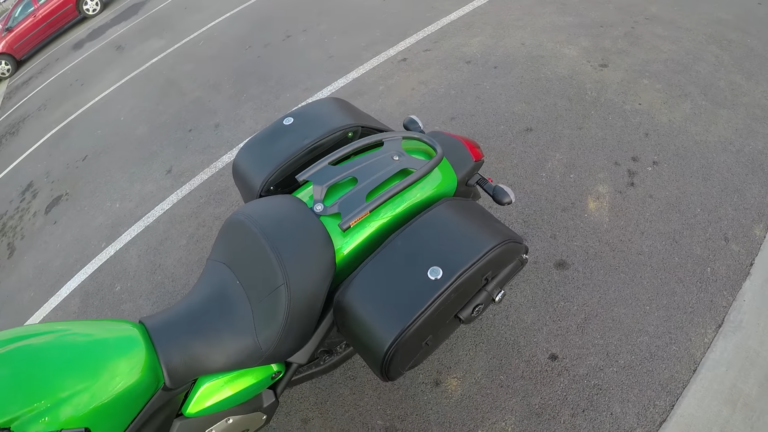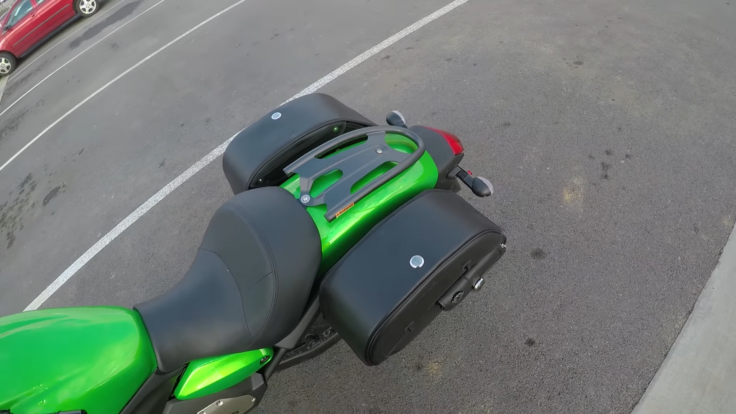 Types of Saddlebags:
There are two types of Saddlebags: Soft and Hard.
Soft Saddlebags:
These bags are generally composed of a soft material that is not waterproof. Although, the material used to produce soft saddlebags is nonetheless sturdy, and of good quality. They are not meant to be permanently fixed on a motorcycle. It is done for both security and to avoid wear and tear.
Anyone who wants to take the contents of your bag may easily rip or cut apart soft saddlebags. Short-distance travel frequently necessitates the use of soft panniers.
The material which is a used in making Soft Saddlebags are:
Nylon
Synthetic Leather
Plastic
PVC
Canvas
Hard Saddlebags:
Hard Saddlebags are made of tough and long-lasting material. They are more secure than soft saddlebags, but they are more complex to install. Hard Saddlebags usually come with a padlock security mechanism that is extremely difficult to break.
To hold these saddlebags in place, you will need racks or a lot of strapping. They are a lot heavier, but they have a lot of storage. Hard outer saddlebags are exceptionally waterproof, and most come with airtight closures to keep moisture out of your gear.
The material which is a used in making Hard Saddlebags are:
Stainless Steel
Aluminum
Metal
Hard Plastic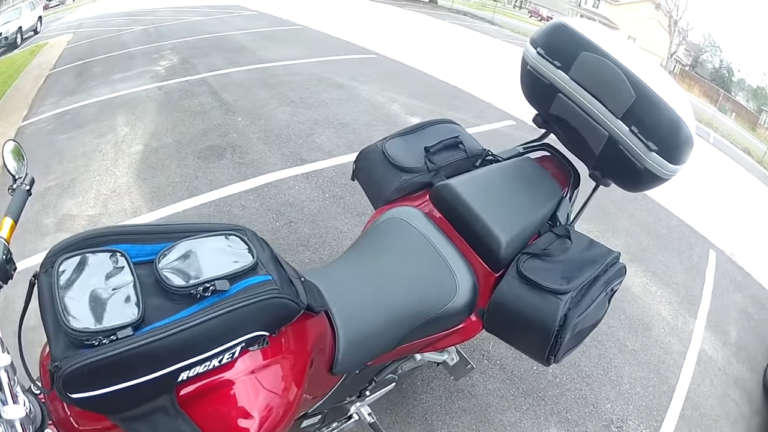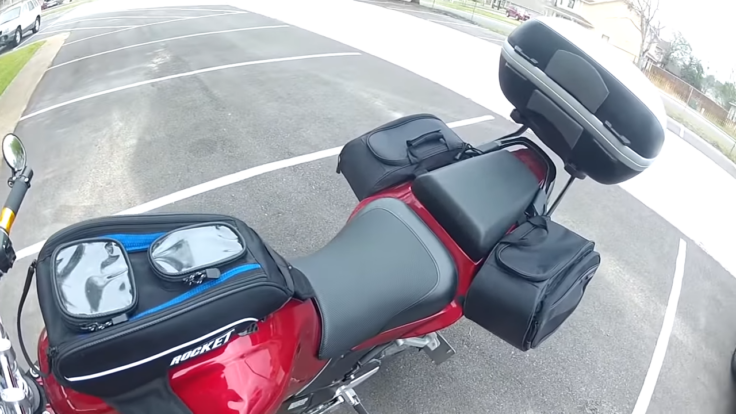 Racking against Straps:
Saddlebags can be mounted in two ways: racking and strapping. The mounting function of saddlebags determines whether they accommodate racks or straps. You can select one based on your needs; for example, straps are a convenient option. If you do not plan on unmounting your saddlebags anytime soon, racking would be the best.
Saddlebags with Racking:
Advantages:
More Secure and hard to break
More Durable Material
More Stable when mounted
Easily support bigger saddlebags
Disadvantages:
A little alteration will be required for racking
Non-removable
Weighs your bike
Put small scratches on motorcycle paint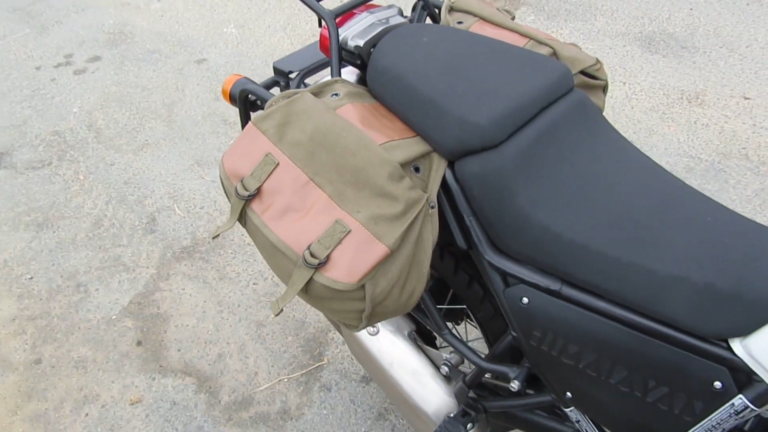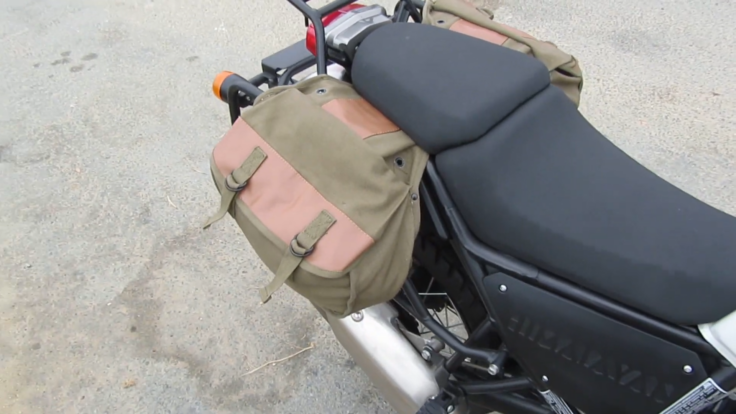 Saddlebags with Straps:
This option is for riders who do not want to change the appearance of their motorbikes. They like to utilize saddlebags that can be removed and mounted quickly.
These saddlebags are sometimes sold in pairs or as a single bag. They feature strong straps with buckles and built-in clipping mechanisms. Saddlebags with straps can attach to your seat or the bike itself.
These bags are made with soft materials that are waterproof. To keep them closed, adjustable buckles are employed, and they are usually temperature resistant. If not tied firmly enough, these saddlebags have been known to drop while carrying a lot of stuff.
Advantages:
Easily Removable
Light-weighted
Easy displacement
Compact design
User-friendly
Portable
Permanent Installation is an option
Disadvantages:
Usually not fully waterproof
Easily tearable
Straps can be easily cut
Final Words:
Being a Motorcycle enthusiast, you must love hitting long roads usually. On your journey, you take your belongings such as a tent, riding gear, jacket, and so on. To carry all of this, you will need a saddlebag to help you transport your belongings.
These are the Top 10 Best Motorcycle Saddlebags in the market. They are mentioned in the top Saddlebags category because they are good in quality, low in price, and convenient with practical features. Consider these best Motorcycle Saddlebags while you are shopping for saddlebags for your bike.