For most people, when they think motorcycle sidecars, the first association is World War II. This is because these machines were one of the main way of transport in that period. These machines are distinguished by their high quality and reliability, while today there are not so many motorcycle sidecars, and also they have changed a lot.
In Second World War, Allied as well as Axis forces used them equally. Simply, it was vehicles that will not let you down. Their application was broad, they were used for the transport of soldiers, munitions or weapons.
The interesting fact is that at that time, Germany produced a lot of motorcycles, significantly more than cars, so the Germans used to ride bikes. With all the convenience of such a vehicle, the addition of a machine gun was a great solution in the war period. In this way, these motorcycle sidecars have become important fighting machines, capable of many challenges.
The main motorcycle manufacturers at that time were BMW, BSA and Harley-Davidson, but there were also Benelli, Ariel, Gilera, FN, Moto Guzzi, Gnome-Rhône, Motosacoche sidecars, Rikuo, Matchless bikes, Terrot, Royal-Enfield and many other famous names in the motorcycle industry. That was the time when motorcycles dominated the roads. Of course, the main characteristic of every motorcycle sidecar was a logically the sidecar, which became one of the main weapons. Due to the historical significance of these vehicles, we prepared 10 motorcycle sidecars that marked the period of World War II. So, let's start.
10. The Indian Model 340 B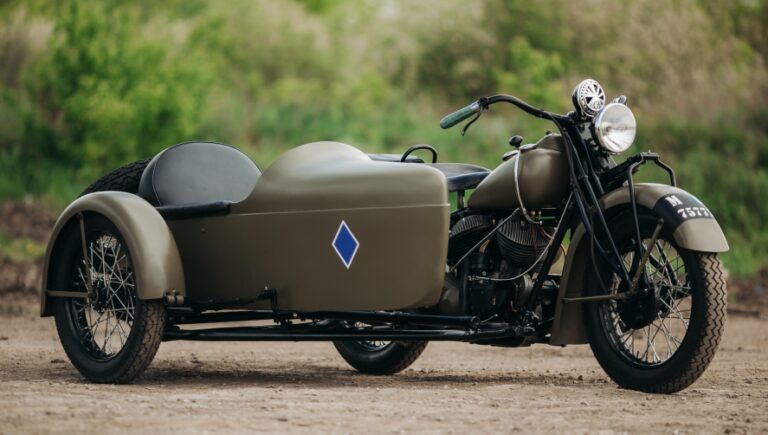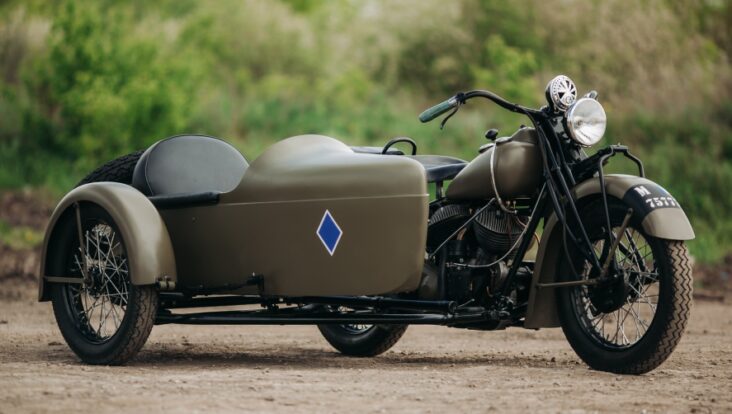 We start with a motorcycle that may not be the first association on the war bikes. It's about the Indian Model 340 B motorcycle sidecar. As far as its technical characteristics are concerned, this machine had an air-cooled v-twin engine, 1206cc as well as a 30 horse power. Otherwise, the production lasted from 1940 to 1942. During this time, the company made 9,374 units, including 5,000 for the French army. These motorcycles are manufactured for the US market, too. One interesting thing is that these bikes are remembered as ordinary motorcycles for one person, although they originally had a sidecar.
9. The Kurogane Type 95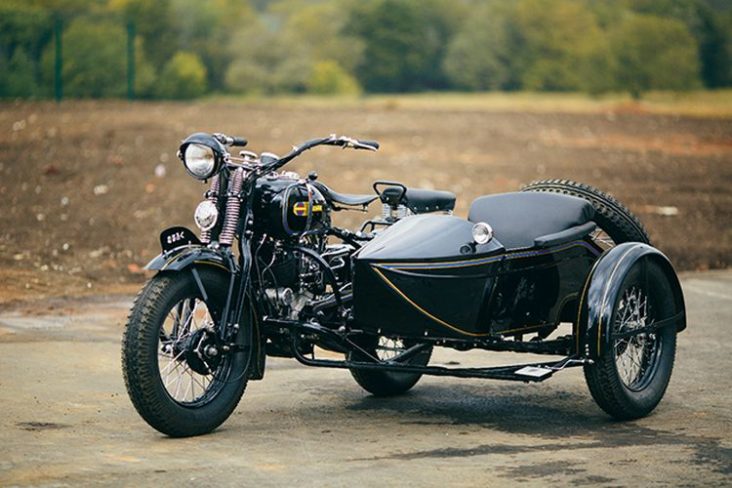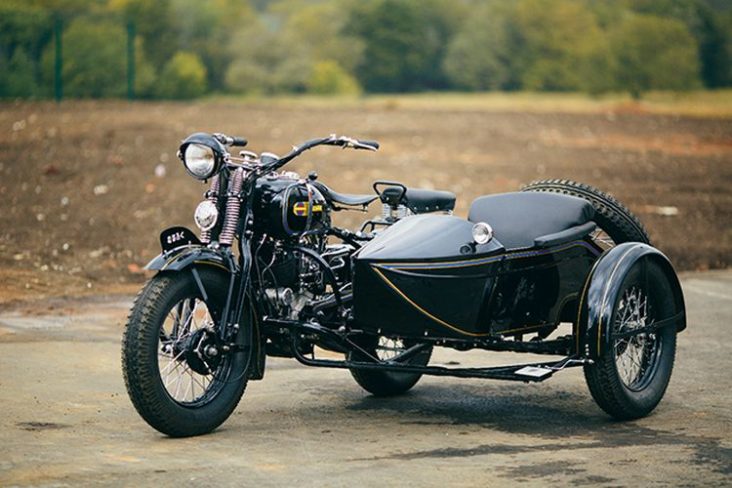 Model Type 97 manufactured by Sankyo Company is well known to all. This company, several years before the start of World War II, signed a contract with Harley-Davidson on the production of motorcycles under their license. However, when a war between China and Japan started, the army asked Sankyo Company to produce the Kurogane Type 95. The Kurogane Type 95 had a 1260cc V-Twin engine and 12 horsepower. Also, the name "Kurogane" in English means Black Iron. Its application was in the transport of soldiers. The production of Kurogane Type 95 lasted from 1937 to 1945.
8. The Norton Big Four 633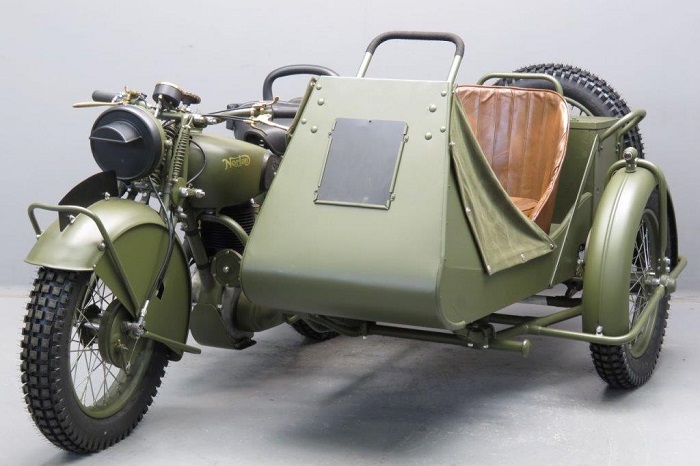 The Norton Model 1 "Big Four" is a motorcycle sidecar produced in Great Britain and was one of the most famous Norton models. As far as its characteristics are concerned, it had a 633cc air-cooled, single cylinder engine with 14.5 horsepower. For war purposes, this machine was armed with a Bren gun or even a 3 inch mortar. Model 1 "Big Four" was a very powerful vehicle, and it could carry even three soldiers or a large amount of ammunition. Production lasted from 1907 to 1954, and during the war, 4,700 units were produced. Today, it's very hard to find the original model. Because of their great popularity and reliability, they were used on battlefields as long as they worked.
7. The Gillet Herstal 720 AF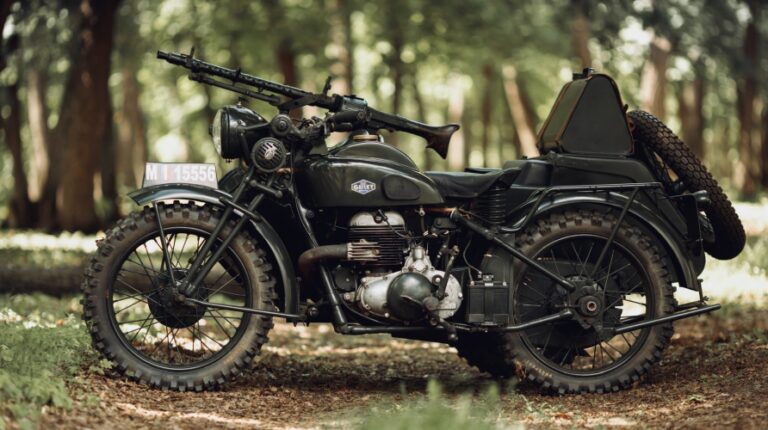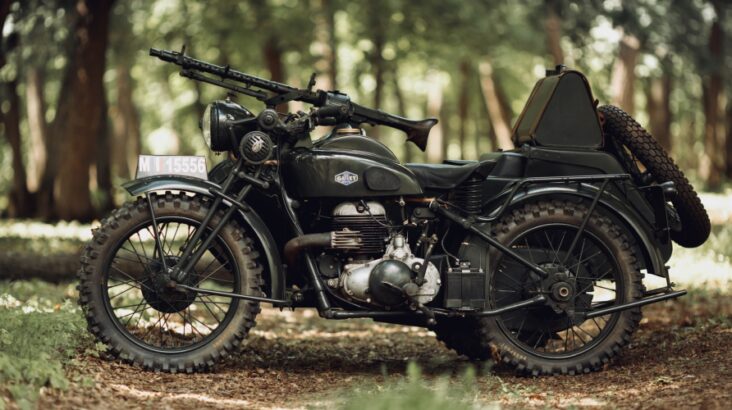 As the French army at the beginning of the World War II needed a lot of motorcycle sidecars, and the production capacities were at the maximum, they had to find another solution. This solution was Ateliers Gillet Company. This Belgian motorcycle producer was ordered to make motorcycle sidecars, but the sidecars would be delivered by Bernadet Porte Dragon, a French manufacturer. Ateliers Gillet then produced only 784 of the 1,500 units ordered. Otherwise, the Gillet Herstal 720 AF had a 728cc twin-cylinder two-stroke engine with 22 horsepower.
6. The BSA G14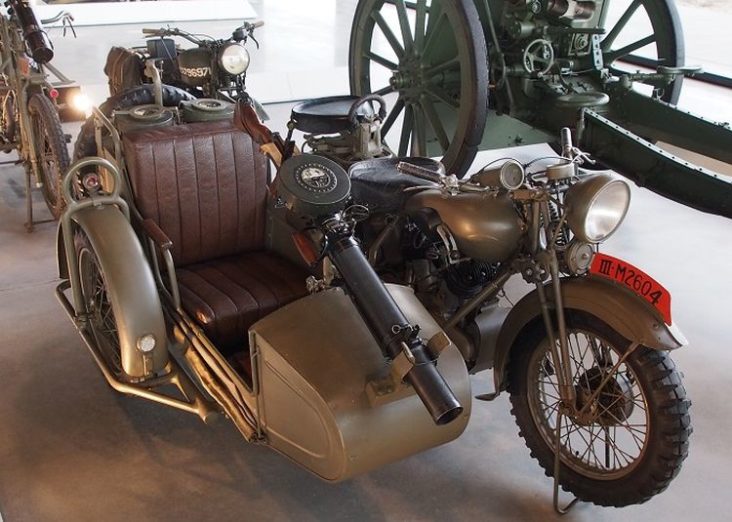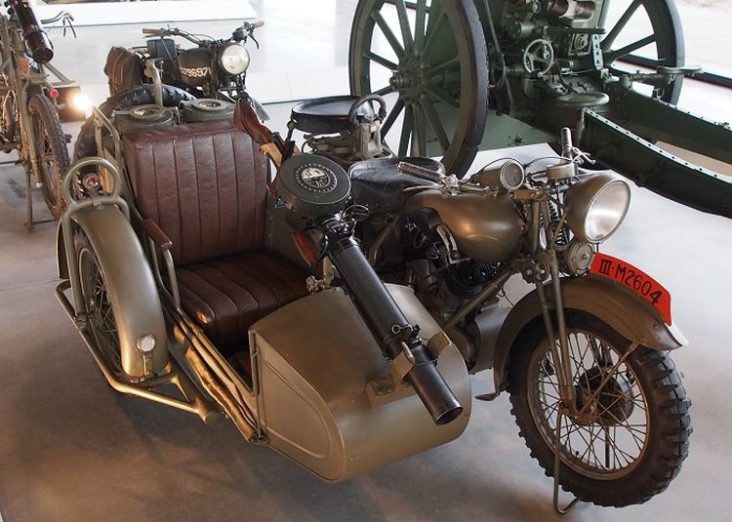 The motorcycle sidecars manufactured by BSA, from the G series have been mostly produced since 1942. But the G14 model was the most used in World War II and it has been produced since 1936 until 1940. It came in two variants, for solo drivers or as a motorcycle sidecar. What is certain is that this machine was excellent for the transport of soldiers and equipment. Interestingly, after the contract with BMW was terminated by the Dutch, they signed an agreement for supplying the BSA G14 model for their army, and until the occupation, in 1939, 1,750 units were delivered to them. In addition to the Netherlands, they were also popular in India, South Africa, Sweden and Ireland.
5. The BMW R75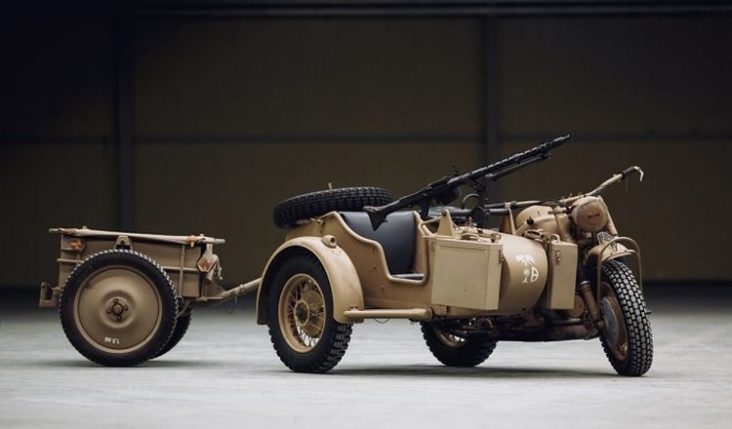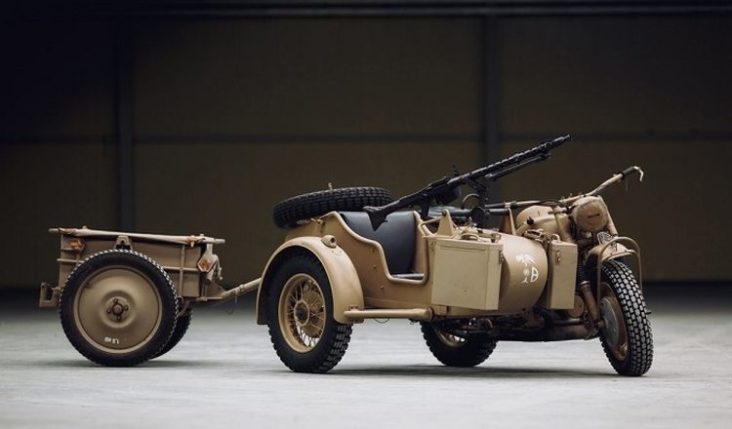 The BMW R75 is one of the most famous motorcycle sidecars of the World War II. Logically, it was produced for German military units. The BMW R75 was manufactured from 1940 until 1944, when production was stopped. At that time, 16,000 units were produced. When it comes to technical characteristics, the BMW R75 had a 750cc boxer engine that had a significant impact on some of the later BMW models. Also, the R75 was a very compact machine with the capability of transporting soldiers or equipment, as well as great usage during the battle. Because of its astonishing ability, this model was copied by the Russians and Harley-Davidson for some of their models.
4. The MMZ/IMZ/GAZ/Dnepr M-72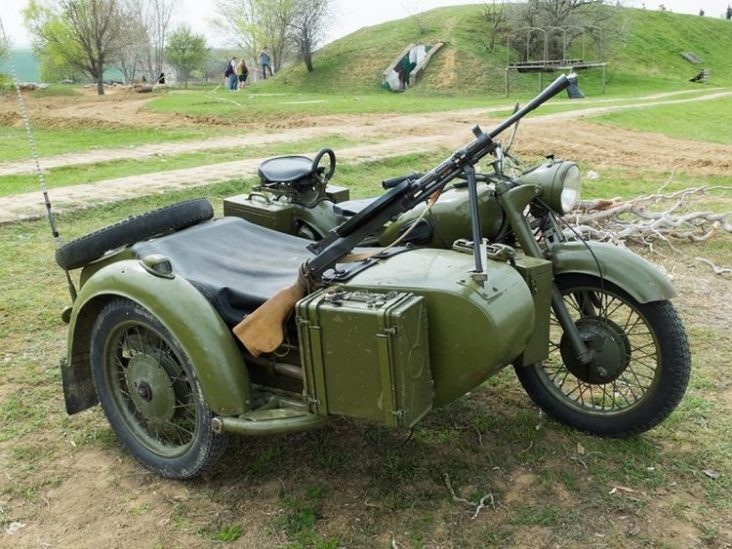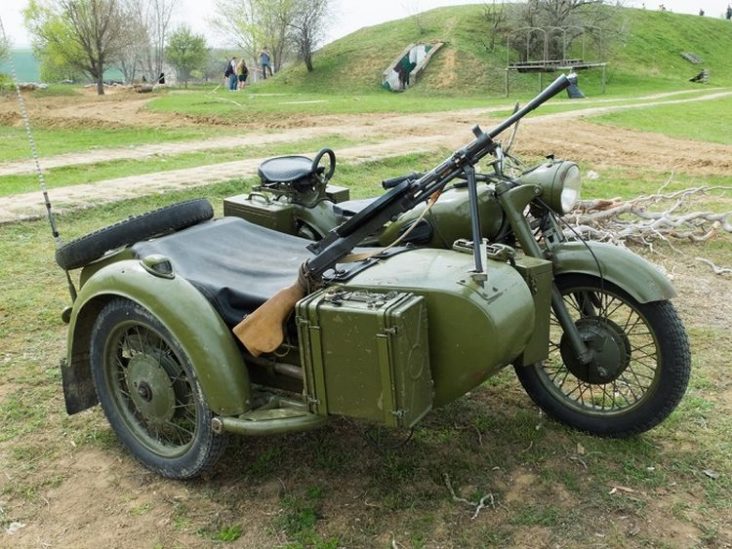 The M-72 is in some way a copy of the BMW R-71 model. Due to the strengthening of German military units, the Russians had to improve their equipment and weapons in order to keep Hitler's forces. They, according to characteristics BMW R-71 model, created the M-72 motorcycle sidecar. A lot of manufacturers produced this bike, but the IMZ Irbit factory was most prominent. The M-72 had a 746cc boxer engine fitted with 22 horsepower. In the years of production, from 1941 to 1956, more than 330,000 machines were produced. Also, the M-72 often came in combination with Degtyaryov machine guns.
3. The Moto Guzzi Trialce
As you've already seen, the Moto Guzzi Trialce is not a motorcycle sidecar. But we put him on the list as a war vehicle. Trialce is a motorcycle made by the famous Italian manufacturer Moto Guzzi in 1940. Its usage in battles was broad. Trialce was able to transport soldiers, weapons or any other load. It was equipped with an excellent anti-aircraft gun. It also had a 500cc single cylinder engine that produced 13.2 horsepower and allowed a maximum speed of 45 miles per hour. It is interesting that, only in the period of two years, from 1941 to 1943, 1741 units were produced.
2. The Rikuo Type 97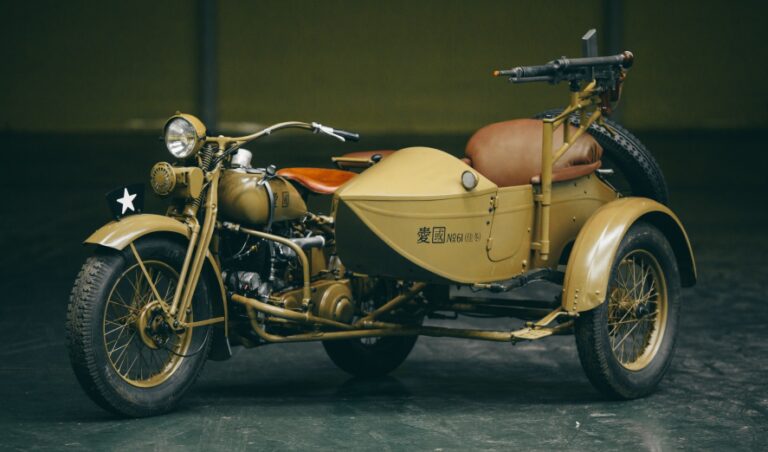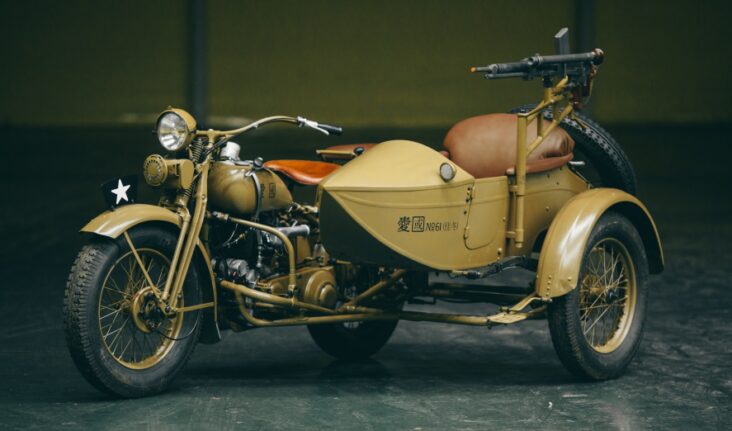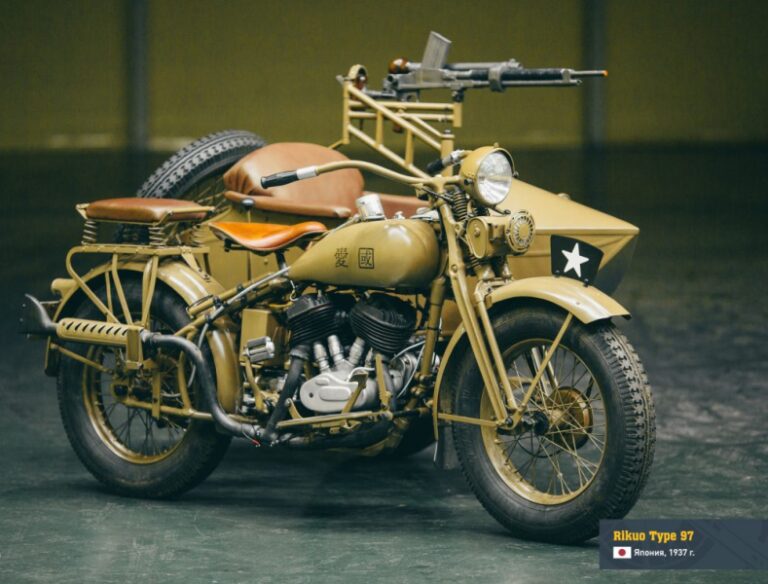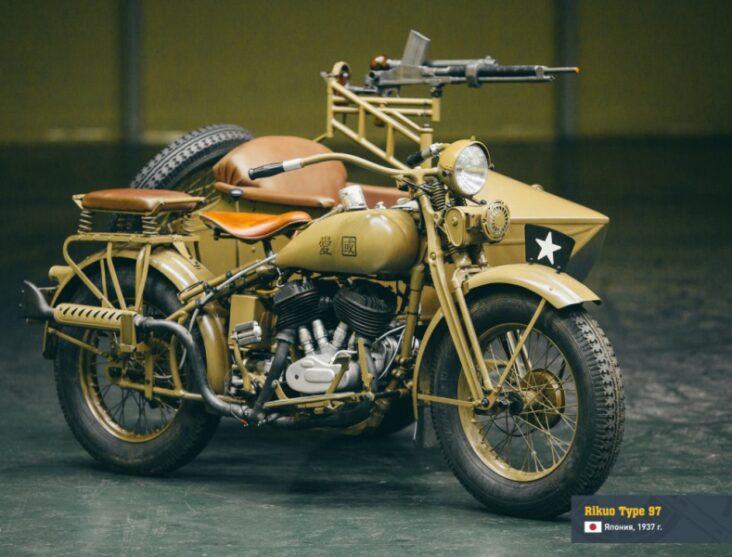 The Rikuo Type 97 is among the best and most recognizable military motorcycle sidecars in history. In the beginning, this model was produced at the Harley-Davidson factory in Japan, and these motorcycles were designed for the Japanese army. But, when Japan entered the war with the USA, it became a little complicated. Otherwise, the Rikuo Type 97 had a 1274cc v-twin engine that produced 22 horsepower. About 16,000 units were produced for war purposes, but despite such a number of motorcycles, today it is hard to find. It is interesting that, several years after the war ended, Showa, who is otherwise known as a producer of the suspension that collaborates with Harley-Davidson, bought Rikuo.
1. The Zündapp KS 750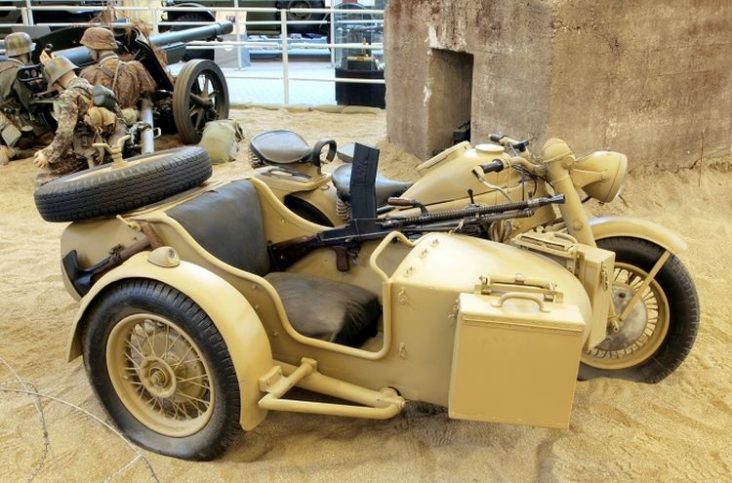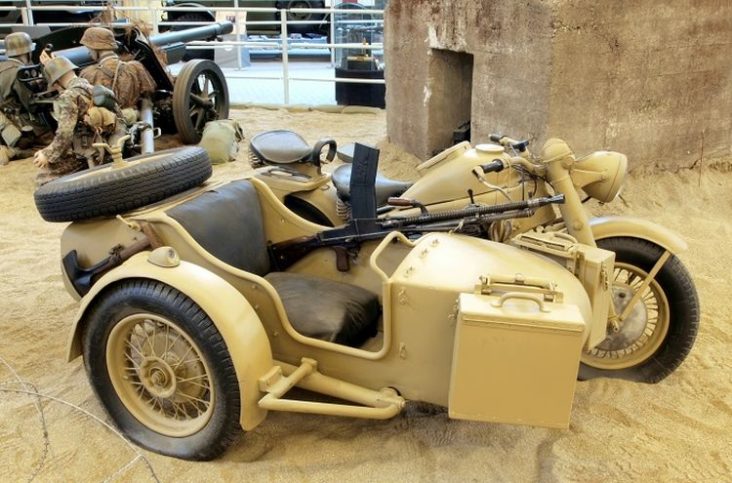 For the end, another German motorcycle manufacturer. It is about Zündapp, which along with BMW was a very important part of Axis forces equipment. In particular, this Zündapp KS 750 model was produced from 1940 to 1944. As far as its technical characteristics are concerned, this motorcycle sidecar was truly impressive. He had a 751cc four-stroke boxer twin engine that provided 26 horsepower and a maximum speed of 57 miles per hour. In addition, he also had a fuel saving system, a wheel suspension control system and more stunning features. It was even made in two colors, dark gray for Europe and dark yellow for Africa. While it was produced, over 18,600 units were made. Its production was completed in 1944, primarily because the production of this advanced motorcycle was too expensive.