Top Engine Features:
Advanced 3-Cylinder
Yamaha NIKEN has an 847cc liquid-cooled inline 3-cylinder motor, which comes packed with a range of advanced technologies. These include DOHC heads, an oversquare 78mm x 59.1mm bore and stroke, and an 11.5:1 compression ratio. NIKEN is full of exciting character that is refined with additional crankshaft inertia for even smoother starts.
Concept CP3
Thanks to the naturally smooth firing order as well as the power characteristics of the 3-cylinder motor, the CP3 engine produces linear torque along with a feeling of connection between the throttle grip and the engine. In an effort to boost the refinement and improve both the rider and passenger comfort, this motor has a geared counter balancer that minimizes engine vibration. Therefore, you get a responsive power plant that combines best things of 2- and 4-cylinder motors, and all that while remaining light, slim and compact.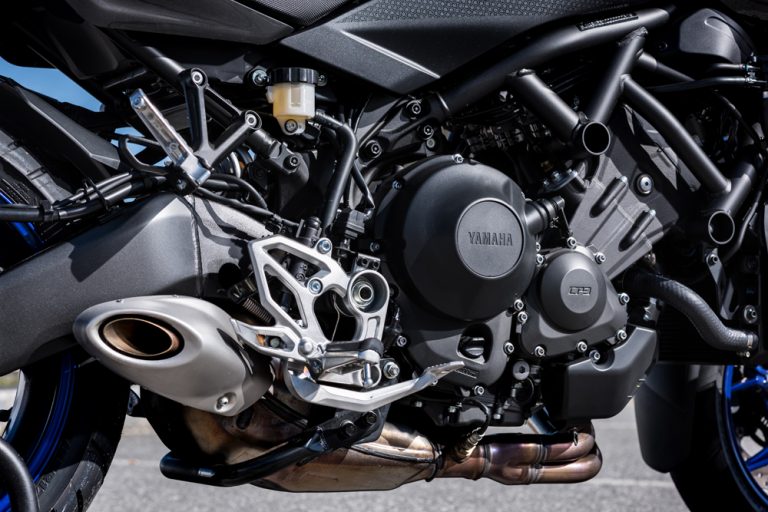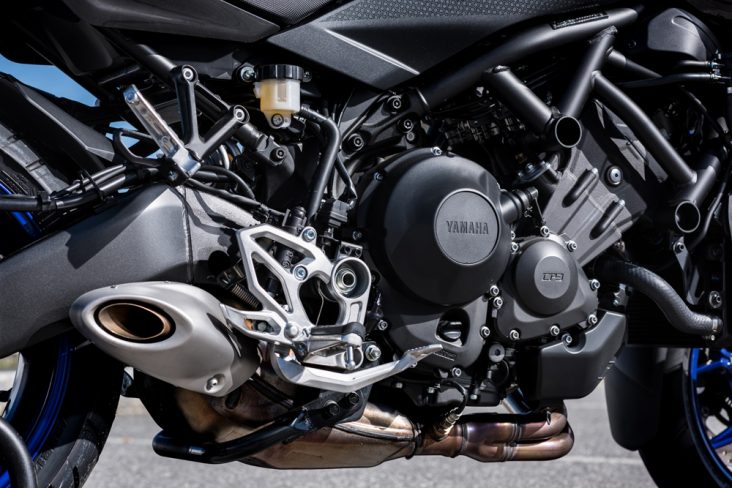 Advanced Yamaha Engine Technology
The engine uses forged 'fracture-split' connecting rods. The big-end ring of the connecting rod is split into two parts. This creates a more precise mating surface when these are bolted together around the crankshaft. In addition, the cylinder block is offset towards the front wheel, which then reduces piston force against the cylinder walls. What this does is improve efficiency. Lastly, the cylinder bores are covered with a ceramic composite that gives them excellent durability and a better heat transfer.
Unique Staggered Intake Funnels
In order to allow a broad spread of torque and a very unique sound of intake, the airbox intake funnels are designed in such a way to have three uneven lengths. This works together with the fuel injection system and the cylinder head design.
Assist and Slipper Clutch
The assist and slipper clutch by Yamaha gives the rider a smoother and more confident downshift when they are entering corners more aggressively, and a lighter pull effort at the lever during every day riding. All of this is available while easily handling the torque of the high-output motor.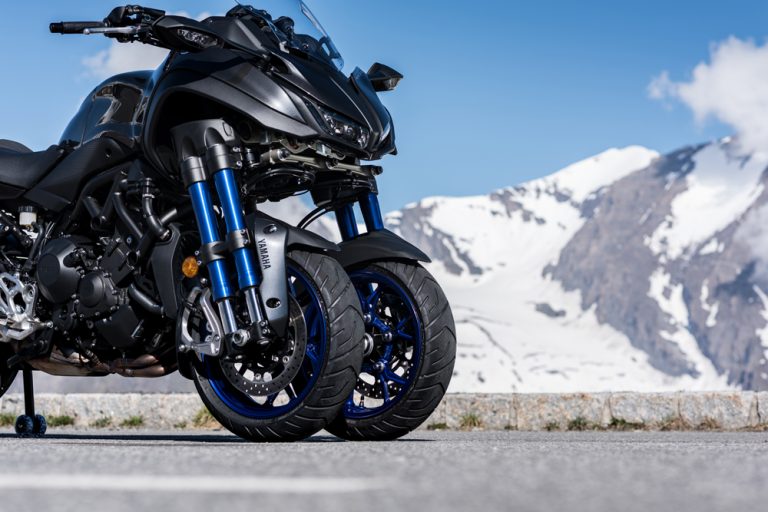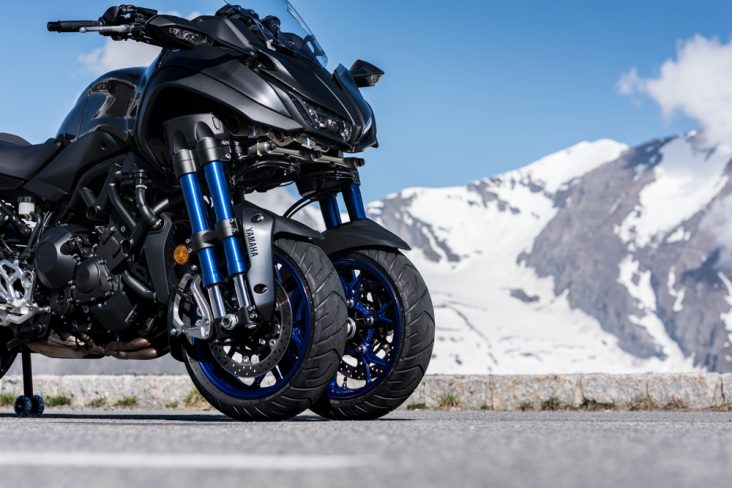 A compact 6-Speed Transmission
The transmission of the motorcycle harnesses the low-to-mid-range torque and excellent response characteristics of the engine. These give the riders the ideal gearing ratios during any riding type. The transmission has staggered input and output shafts in a triangular layout, which reduces the overall engine size.
Mass-Centralized 3 in 1 Exhaust System
2019 NIKEN uses a compact exhaust system with a mid-ship muffler. This layout centralizes the mass for sharper handling, while the headers feature a Saxony, which is a hard-wearing ceramic nano-film coating. This looks amazing while resisting exhaust heat and the elements. With a short, slash-cut exhaust outlet, this bike howls with a 3-cylinder exhaust note.
Chassis and Suspension:
Class-Defying Leaning Multi-Wheel Chassis
The advanced Leaning Multi-Wheel chassis is available thanks to the countless hours of engineering and testing that was needed to create a unique motorcycle control system. It provides unparalleled rider confidence no matter the road conditions. As the two front tires move in unison, the NIKEN gives you double the grip for amazing stopping power, riding comfort, and cornering confidence, especially over any uneven pavements and poor roads.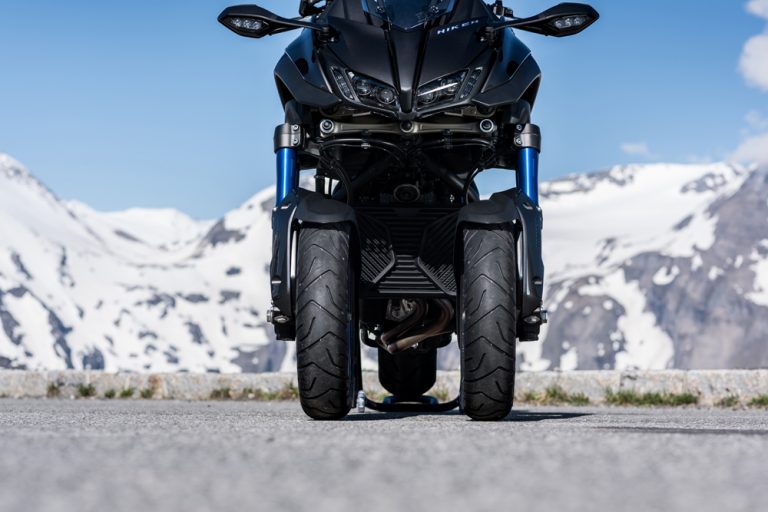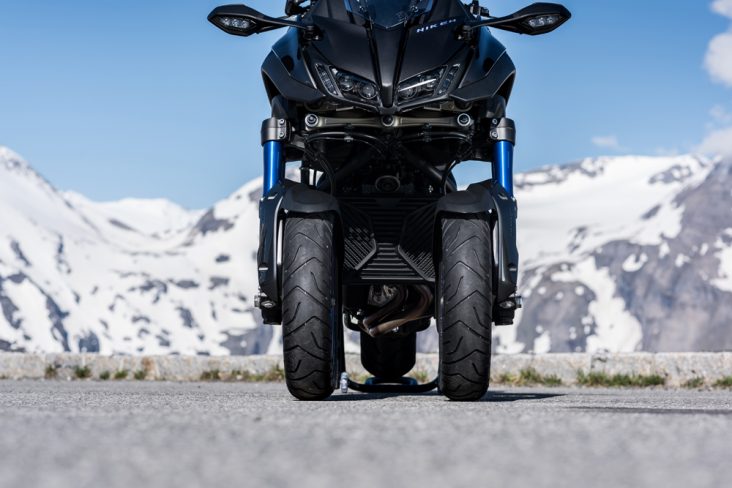 A Unique Double-Tube and Dual-Axis Steering Design
The front end uses paired fork tubes for each of the two front wheels, while the steering linkages provide ideal steering geometry and a natural steering feel. This system turns and leans like a conventional motorcycle does, but has twice the tire grip up front. As is the case with other Yamaha sport bikes, the system provides adjustable compression and rebound damping to give you a highly tunable ride.
A Compact and Sporty Design
The front wheel track is only 16.1 inches, which makes the NIKEN no wider than a traditional motorcycle, and ideal for tight and urban riding conditions. The maximum lean angle is 45 degrees. While a rider is on, NIKEN gives out a perfect 50/50 weight distribution for a neutral handling experience. Moreover, the seat design, fuel tank width, and other dimensions all work together with the 3-cylinder engine to achieve a sporty character, a true upright riding position, and a narrow body.
Hybrid Frame Design
A brand new hybrid frame connects the LMW system to the rear wheel, which uses steel castings and tubes along with a lightweight aluminum pivot area and swingarm. The bike is balanced for a rigidity and steering response, and the chassis provides natural steering and superb handling.
Adjustable Horizontal Monocross Shock
The rear suspension has a linkage-type Monocross shock, which is mounted below the seat in what is an almost horizontal alignment. This positioning is unique and contributes both to the mass centralization and the slim body. The rear suspension is fully adjustable as well, for spring preload, compression, and rebound damping.
High-Performance Tires
The 2019 Yamaha NIKEN uses paired 15-inch lightweight alloy wheels that have LMW-specific 120/70R15 tires. They are developed with the chassis in mind, as these tires feature a sport bike style profiles and construction that gives them a high level of grip, wear resistance, and awesome wet road capability. In the back, the alone rear wheel has a massive 190/55R17 tire that combines style and traction.
Triple Disc Brakes and ABS
Outside of each front wheel are discs with four-piston radial calipers. They are matched to a larger rear disc brake. In addition, the bike has Yamaha ABS. Thanks to these, NIKEN riders can brake with confidence on a wide range of road conditions.
Other Features:
Aggressive Mass-Forward Profile
The NIKEN sports a muscular and aggressive appearance, unique and not similar to anything else on the current roads of today. Front suspension systems are clearly and proudly displayed, and the whole body curves gracefully and ends in a sleek tail section.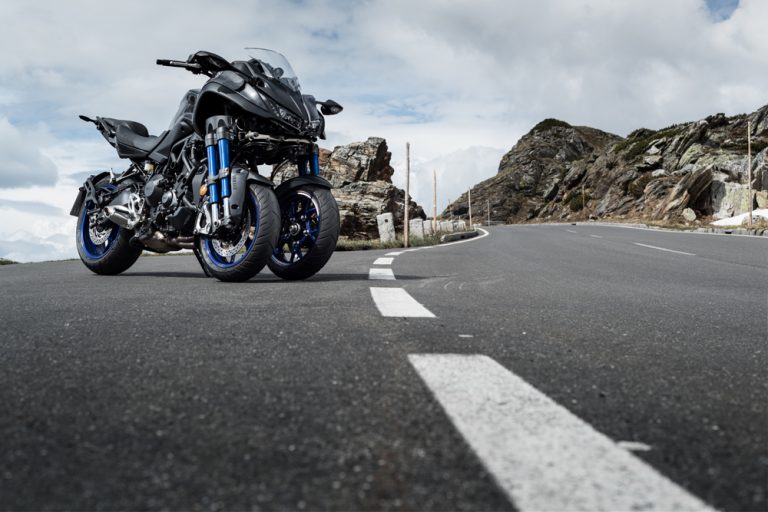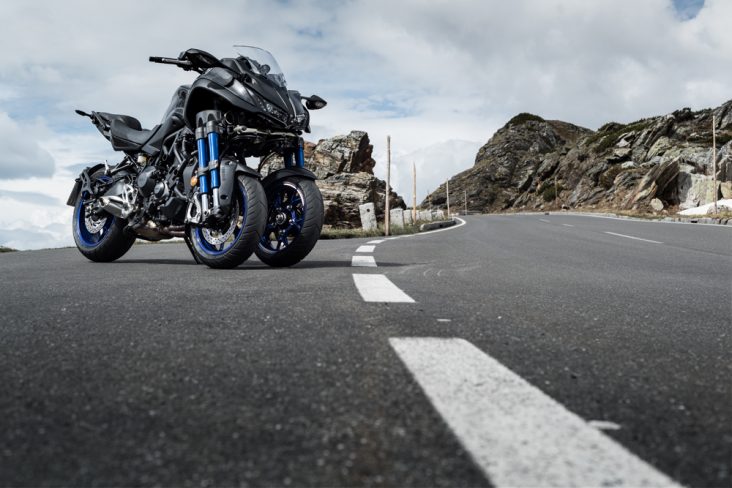 LED Lighting
The dual LED headlights on the bike present a furious view of the road ahead, and match the style with function. These lights provide a huge spread of illumination for excellent visibility at night. Also equipped with LED tech are the position lighting, mirror turn signals, and brake lights, all allowing the rider a bright and long-lasting performance and a modern style.
High-Quality Finish
The fuel tank is curved and provides a narrow midsection. It uses the same lightweight alloy that the YZF-R1 and R6 fuel tanks have, to achieve reduced weight. The paint and surface finishes highlight the technical nature of the chassis and allow longer durability.
Comfortable and Upright Ergonomics
The upright ergonomics and a slightly forward lean of this Yamaha give the rider everything they need to attack corners and cruise down the highway with immense comfort. In addition with the tapered aluminum handlebars, placement of the seat, foot pegs, and the narrow midsection, an excellent rider feel is created for maximum comfort. To finish it all off, a plush saddle boosts the rider and passenger comfort as well.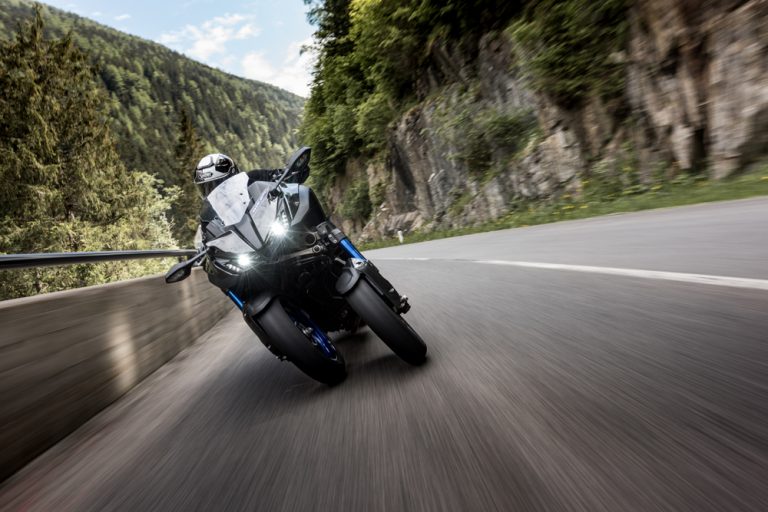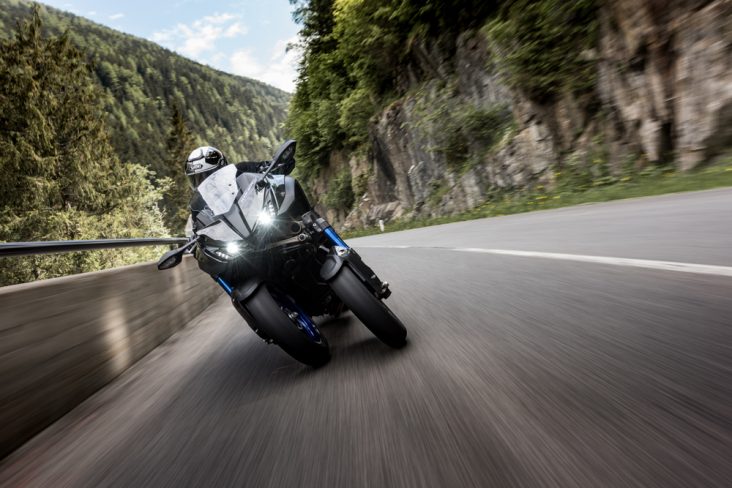 Electronics:
Advanced YCC-T Engine Control
Yamaha Chip Controlled Throttle (YCC-T) system works in such a way that it senses even the slightest throttle input. It then relays the data to the ECU and it calculates the ideal throttle valve opening. This is based on the engine rpm and throttle opening. Commands are then sent to a servo-motor actuator, which moves the throttle valve that actively controls airflow volume intake. This contributes to the feeling of torque and controllability.
Selectable D-MODE
Yamaha's D-Mode system allows the rider to choose optimum engine characteristics for their needed riding situations and preferences. Three throttle valve control maps are available, Standard Mode, "A" Mode, and "B" Mode. These response characteristics are only a push of a button away.
Adjustable Traction Control System
Traction Control System assists the rider in traction management on various road conditions. It quickly modulates throttle openings, ignition timings, and fuel volumes. It includes two modes in order to suit various conditions. In addition, it can be disabled if the rider wants.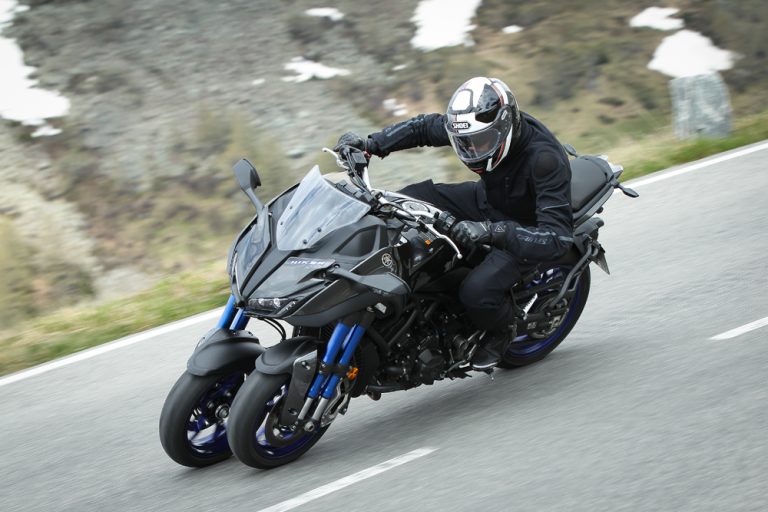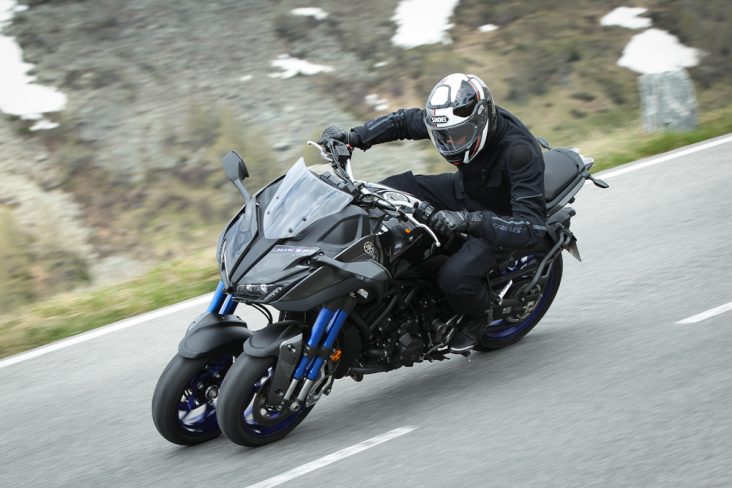 Cruise Control System
NIKEN includes cruise control systems powered by YCC-T. The left handlebar switchgear gives access to easily selectable or adjustable touring on the highway, improving the comfort.
Factory Quick Shifter
Standard Yamaha Quick Shift System allows on-throttle upshifting without the use of a clutch. This gives smooth and fast shifts with minimal drive loss.
High Tech Instrumentation
There is a high contrast LCD display that provides engine and road speed, electronic systems, fuel reserve trip meter, economy and much more.
Price:
The 2019 Yamaha NIKEN will have a starting price tag of $16,000.