Have you ever seen what a car that is exposed to different atmospheric influences looks like? Probably you have, and we can tell you one thing, the owner of that car doesn't take proper care of it. Just imagine, rain, sun, snow, etc., all this constantly damages the car.
Image
Amazon's Choice
Best Steel Shed
Best Waterproof Storage
TSA Code Lock
Name
The Bike Shield Standard (Medium) Motorcycle Cover Shelter Storage Tent Garage
ShelterLogic 6' x 6' Shed-in-a-Box All Season Steel Metal Frame Peak Roof Outdoor Storage Shed with...
Mophorn Motorcycle Shelter Shed Strong Frame Motorbike Garage Waterproof 106.3"x 41.3"x 61"...
Quictent Heavy Duty Motorcycle Shelter Shed Cover Storage Garage Tent with TSA Code Lock & Carry...
Material
600D Oxford waterproof, Powder Coated Steel
Amazon's Choice
Image
Name
The Bike Shield Standard (Medium) Motorcycle Cover Shelter Storage Tent Garage
Best Steel Shed
Image
Name
ShelterLogic 6' x 6' Shed-in-a-Box All Season Steel Metal Frame Peak Roof Outdoor Storage Shed with...
Best Waterproof Storage
Image
Name
Mophorn Motorcycle Shelter Shed Strong Frame Motorbike Garage Waterproof 106.3"x 41.3"x 61"...
Material
600D Oxford waterproof, Powder Coated Steel
TSA Code Lock
Image
Name
Quictent Heavy Duty Motorcycle Shelter Shed Cover Storage Garage Tent with TSA Code Lock & Carry...
This was just one reminder of what can happen to your motorcycle if you don't worry the right way.
But, knowing how passionate bikers are, there is no doubt that you would do anything to protect your machine. Is it true? Of course, it is. No matter what kind of bike it is, cheap, expensive, Harley-Davidson, Kawasaki, Honda, whatever, it is very important that you maintain your machine and protect it properly.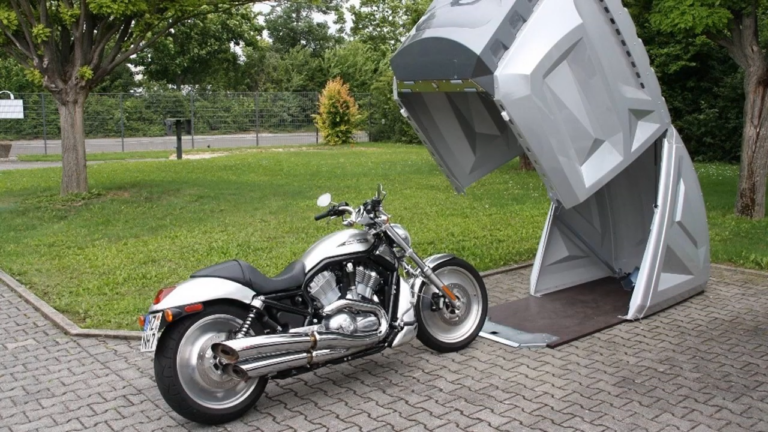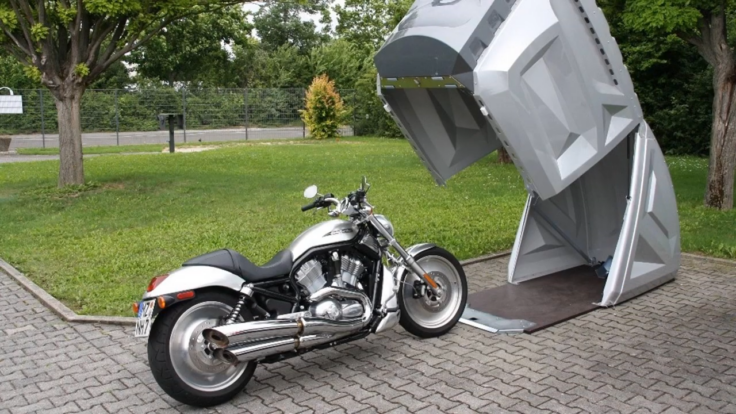 To help you with the latter, we've decided to create a list of the best motorcycle storage containers. Keep reading, and trust us, at a fairly reasonable price you can get more than quality protection for your bike. So, if you're ready, let's get started.
Top Picks for 2023
1. The Bike Shield Standard Motorcycle Storage – Best Motorbike Shed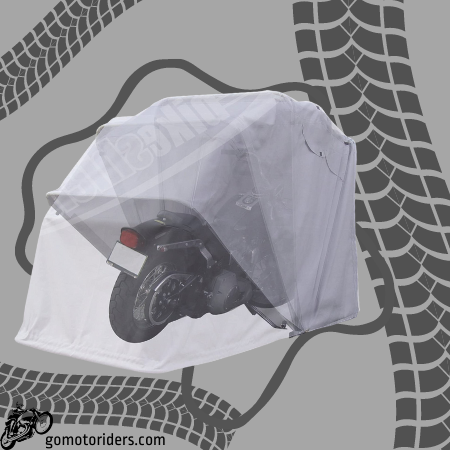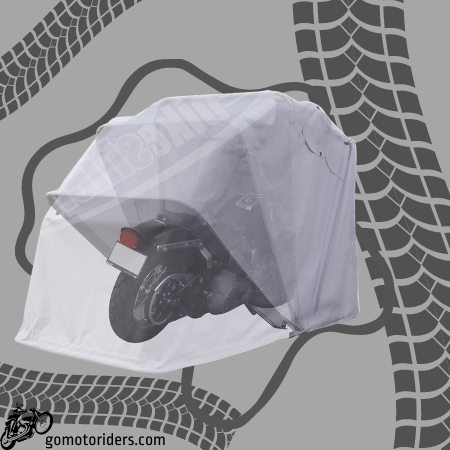 As we said, rain, sun and snow are the enemies of any vehicle. Therefore, machines must be stored in the garage, or in a similar place, just so that they aren't exposed directly. However, if you don't have a garage, then a motorcycle storage container is more than necessary.
This one by the Bike Shield will give you everything you need. According to the reviews of many satisfied users, this shed is among the best on the market. First feature to emphasize is that it is waterproof (made of polyurethane).
This means that rain will no longer cause problems. You don't want to ride in a wet seat, do you? In addition, it helps effectively against the sun and when it is hot outside, for example during summer days. Also, UV rays cannot penetrate the material, so your machine is safe underneath.
We would also like to point out a one-year warranty period, ease of installation, as well as a video and a paper manual if you have any difficulties. In the end, the price is about $350 on Amazon, which is pretty reasonable compared to what we get for this price.
2. Speed-Way MTS-GRY Sport Shelter – Fast Setup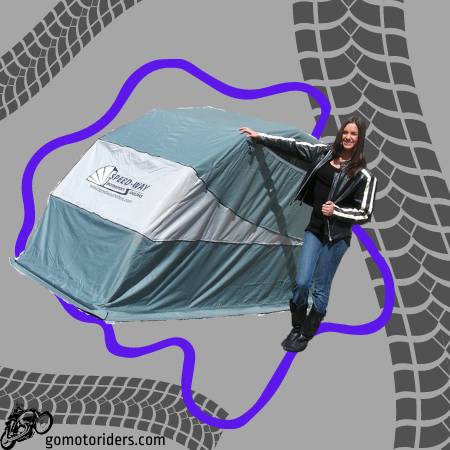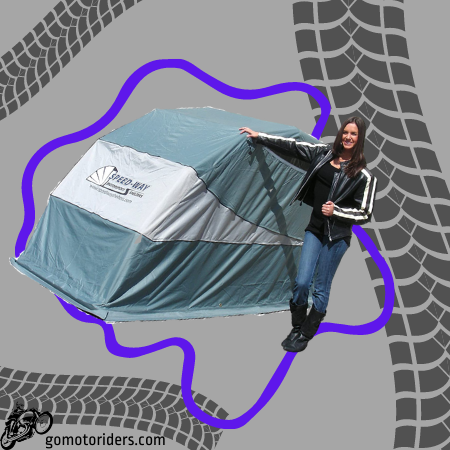 After a long ride, the fact is that the bike will warm up, especially parts such as exhaust pipes. If you do not have time to wait for it to cool down and want to put on the cover right away, it can be damaged. Of course, no one would destroy their new motorcycle storage container intentionally, however, you may inadvertently do so.
Luckily, designers at Speed-Way thought about their fast users. Their MTS-GRY Sport Shelter is just perfect for situations like these, allowing you to quickly pull on the cover as it will certainly not come in contact with hot exhaust pipes.
In addition, setup is very simple and fast so you won't waste your time on these things. If you still have problems, there is a completely understandable guide here, so we believe it takes no more than 15-20 minutes to fully install this shed.
The waterproofing of this cover is another essential feature that will protect your motorcycle from rain and snow for many years to come. This motorcycle storage container is just made for you to use it for a long time. The price for that durability and great features is $340, which is good.
3. Mophorn Motorcycle Shelter Shed – High-Quality Cover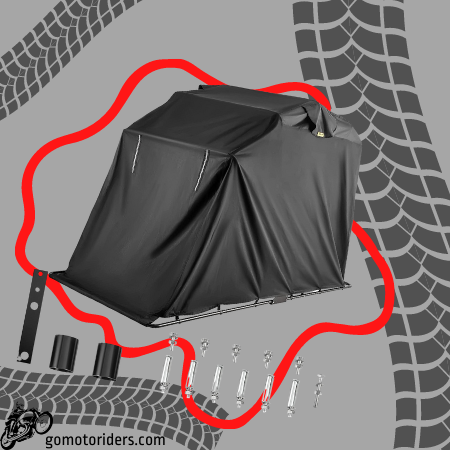 Anyway, if you are looking for a universal and high-quality solution, then our pick is this motorcycle shed by Mophorn. If these previous covers seem expensive for you, don't worry, we thought of riders tight on budget. This budget-friendly cover is available on Amazon for around $170, which is definitely the cheapest solution on our list.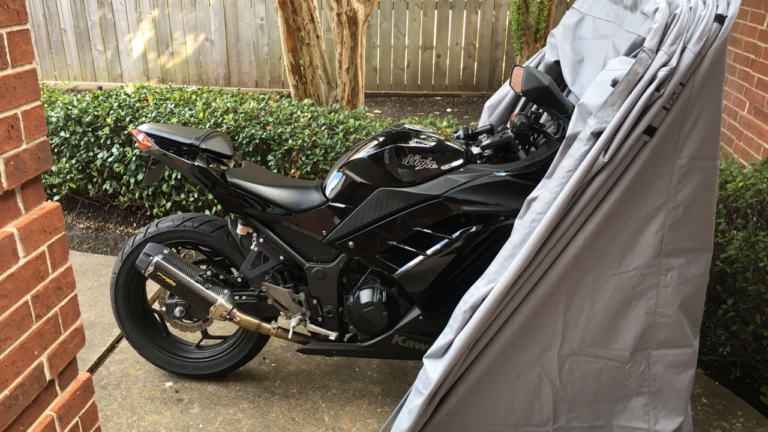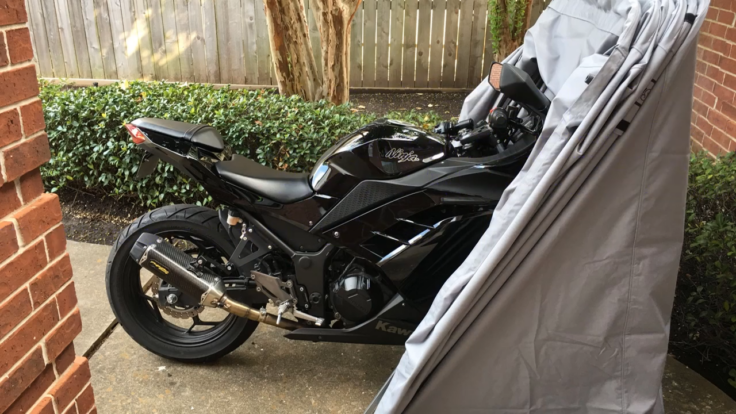 Like all other bike covers you can find here, this one is also waterproof. It is made of Black Oxford 600D material that is also UV- and wear-resistant, which guarantees long-term use. Still, that's not all. This one has soft ground anchors so it is possible to attach it to the ground if you don't want to move it.
Besides material, construction is also well-designed and sturdy. Another great thing is 1-year warranty. Considering all previously mentioned features, it's easy to conclude this shed has best money-value ratio.
4. ShelterLogic Shed-in-a-Box Storage Shed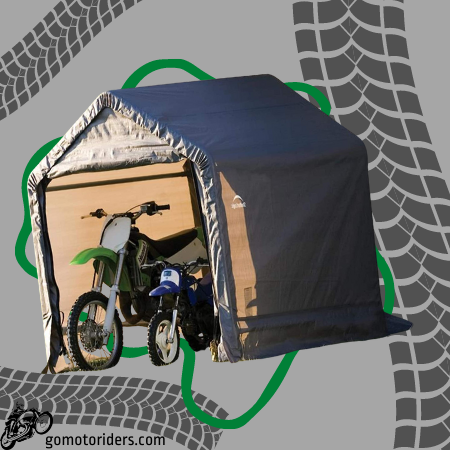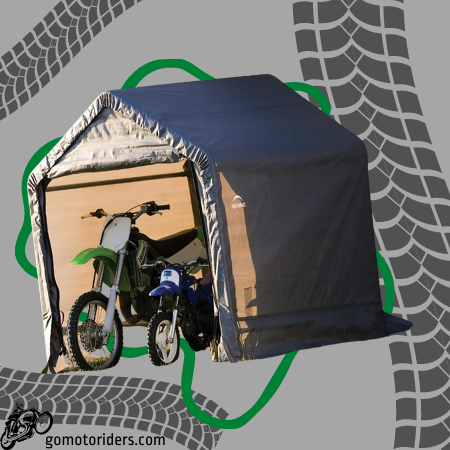 If you need a motorcycle storage container that has enough space for you to comfortably fit inside, then our choice is definitely shed-in-a-box storage shed by ShelterLogic. Literally, this cover can also serve as a garage as it covers even 98-foot surfaces.
This means you can store whatever you want beside your motorcycle. For example, accessories, spare parts, etc. However, this is not the main point. Like all other protective covers on the list, this one is also weatherproof (three layers), so it prevents all the effects of UV rays, dust, rain, snow, etc.
Compared to all others, this one offers a huge storage space, but also quite different steel construction. This enables durability throughout the season and resistance to all external influences. When setting up, it is very easy to notice that the cover tensioning system is very convenient and effective.
As for the price, you can find this cover for about $400 on Amazon.
5. Quictent Heavy-Duty Motorcycle Shelter Shed – Best Waterproof Pick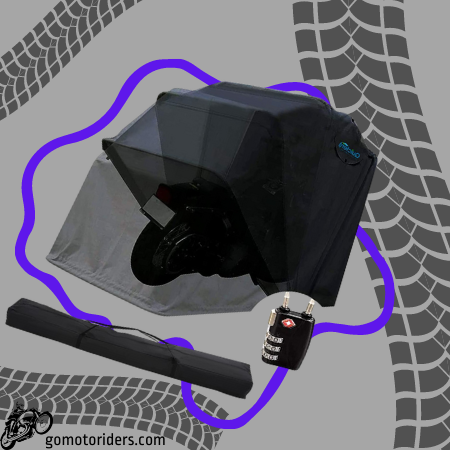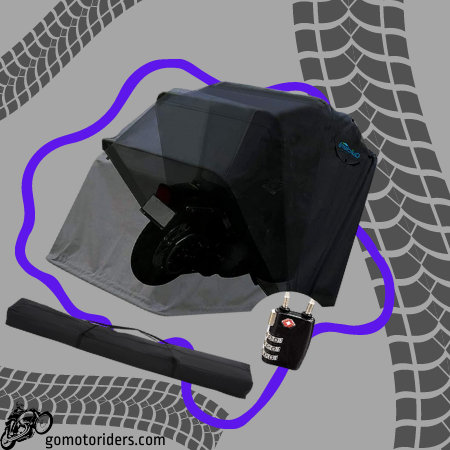 Another motorcycle storage container slightly cheaper than previously mentioned products is this one by Quictent. Of course, saving money doesn't mean that you buy a lower-quality product. Quictent has introduced a product that is very durable, well-crafted and fully protective for your motorcycle.
So, this heavy-duty motorcycle shelter is 100% waterproof. It's made of 600D Oxford Fabric PU which is also UV-resistant. However, we especially liked the mesh ventilation windows as well as the TSA code lock.
Although it may seem inconvenient to assemble, it is actually very simple to do that. The best part is that disposal is very easy when you no longer need a storage container. Just fold it up and put it in your bag.
Now, you are probably wondering how it is possible that this product is budget-friendly? Well, believe it or not, it's just like that. For just $250, you can get this motorcycle shelter with a one-year warranty. Pretty good deal, right?
How to Choose the Appropriate Motorcycle Storage Shed?
If you are a proud owner of the new motorcycle and want to keep it clean and protected, finding a suitable storage shed is very important. This will ensure the bike's longevity and keep it away from different weather conditions and external factors that can damage it.
The containers we have listed are all excellent solutions, but there are some tiny details you should pay attention to in order to get the best value for your money. With that in mind, we have put together a list of brief guidelines to follow in the section below.
Storage Area Size
When picking the right motorcycle storage shed, it is essential to measure it first to ensure your bike will fit inside. The first thing is to measure is your bike and, afterward, compare it to the container you plan to buy.
Weather Resistance
One of the most important things to consider when purchasing a motorcycle storage container is whether it can withstand weather conditions in the location you are planning to place it. Depending on the region you live in, you should look for a shed that is highly resistant to heavy rains or strong winds.
In case you live in a warm climate area, ensure that the container has a high UV resistance rating to minimize or completely prevent the risk of sun damage.
Lockable
You do not want anyone to steal your bike, and the best way to prevent the theft is to buy a storage container that can be locked. Look for the storage sheds with built-in locks or the ones that can be locked with an external padlock.
Floor/Base
Since motorcycles are very heavy, you should pick the shed that has a sturdy floor; otherwise, it will deteriorate in time. This will weaken the whole construction of the container and weaken walls leaving your bike as a much more vulnerable target to burglars.
Frequently Asked Questions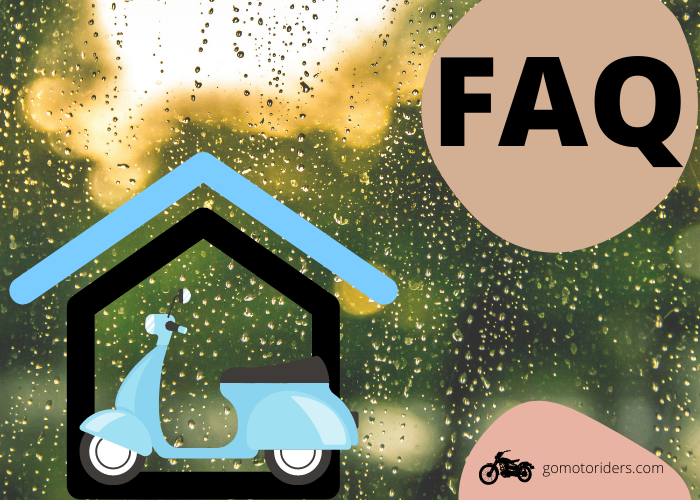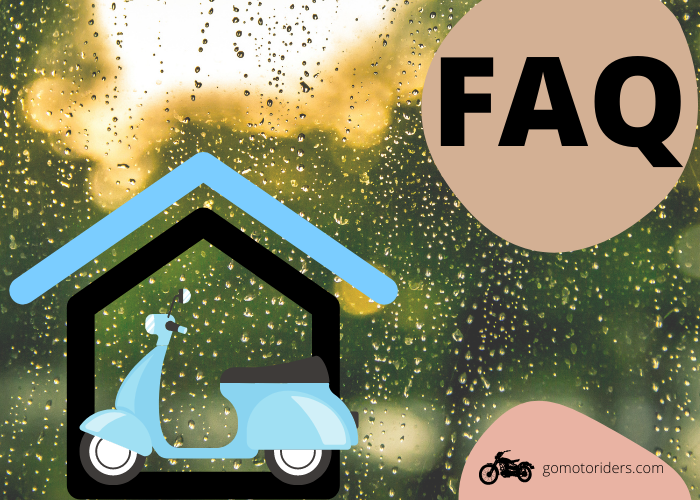 Is motorcycle storage shed expensive?
The price of these storage containers varies depending on their size, construction materials, brand, and some unique features such as lockability. The simpler and cheaper models can be bought for as low as $200, and the price goes higher as you look for some more advanced features and materials.
Can my bike rust if I keep it in the storage shed for too long?
No, it will not, at least if the storage shed you bought is well-made. A quality storage container can protect your bike from the elements such as moisture, thus protecting it from the formation of corrosion and rust.
Is a motorcycle storage container necessary?
Yes, it is, especially if you do not own a garage. Parking your bike outdoors exposes it to various elements that can damage it and also makes it a vulnerable target for thieves.
Is plastic shed effective for motorcycle storage?
The plastic storage shed is a decent solution, and it is an intermediary pick between the wood and metal sheds. It is a much cheaper solution than metal but offers significantly less protection for your bike.
How big should the storage shed for the motorcycle be?
This depends on the size of your bike. To get the appropriate fit, make sure to measure the dimension of your bike first, then compare it to the shed you plan to purchase.
Final Words
This concludes our buying guide for bike storage containers. We covered some of the best products you can find on today's market and listed important features every quality shed should possess. If you have the budget and enough space for them, look to purchase some of our top picks.
The basic features to look for are water resistance and lockability and, at the same time, the most important ones. Look for customer ratings second opinions, arm yourself with knowledge, and you will, without any doubt, find the perfect storage container for your two-wheeler.
Here are some other notable mentions when it comes to the motorcycle storage sheds: