The importance of wearing safety gear while riding a motorcycle can't be overstated. Riders are far more vulnerable in accidents than any other group of people in traffic. Serious injuries and death are often the results of even the smallest collision. Head, legs, and arms are usually the areas that suffer the most damage. Consequently, these areas get the most attention from safety gear manufacturers. A good helmet is a must and, in many countries, it is against the law to ride a motorcycle without one. Jackets with protective pads are also highly recommended. But boots, on the other hand, often get neglected.
How often do you see someone riding a bike in their sneakers, or even worse, in flip-flops? This dangerous practice can lead to horrible injuries even in the case of a simple fall, let alone a collision. Many beginners make a mistake of buying the bike first and saving up for protective gear later. This means that they spend their first months riding without proper protection.
Considering that this is the period when they are most vulnerable due to a lack of skill and experience, it is highly recommended to buy gear together with a bike. It may be a more expensive option and it may delay the purchase of the motorcycle for a month or two while you save up enough money, but the risk is just too great to justify otherways.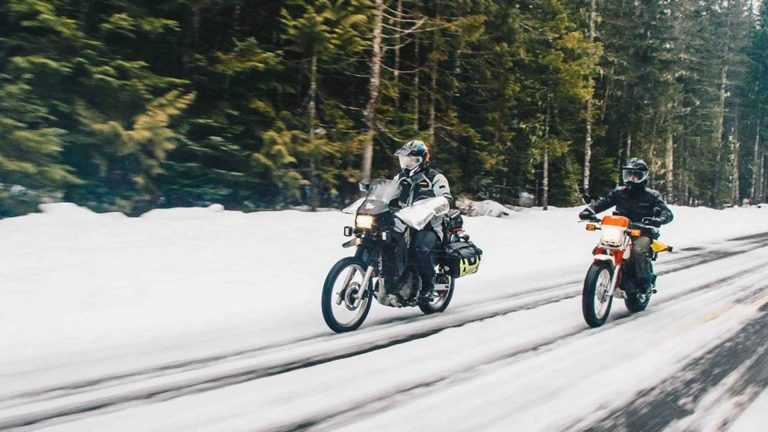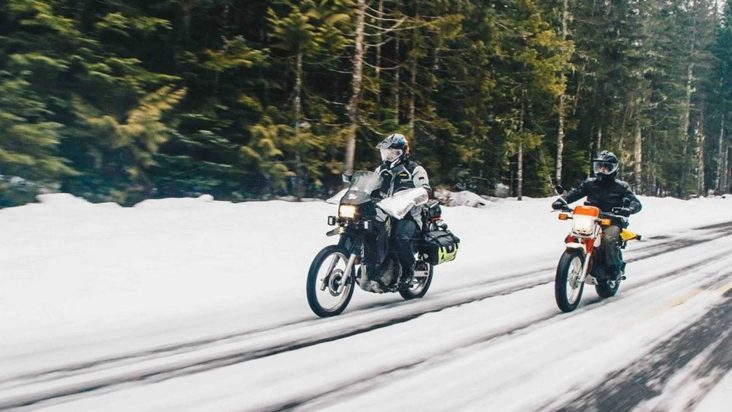 Even some experienced riders sometimes forego boots. They are big, bulky, and a hustle to put on and take off. For people who use their bikes to commute to work, that means putting them on in the morning, then taking them off when they get to work to put on work shoes. Then, once their shift is over, they have to repeat the process. But as much trouble they are, riding without them is even more. Your feet are very vulnerable while riding a motorcycle and you should do everything you can to protect them. One thing is for sure, you will wish you did, in case of an accident.
Quality winter boots are an essential piece of safety gear during colder days. Just like ordinary boots, they should cover the ankle, foot, and lower portion of the leg. They should also be comfortable to wear. In addition to all that, winter motorcycle boots should keep your legs dry and warm even during winter rides. And let's not forget about comfort. If your boots aren't comfortable, it will only lead to fatigue and distract you, especially on longer rides.
Make sure that the boots you choose to have adequate protection and ankle support. It works in a similar way to high-top basketball snickers. This can save you in the case of a crash when your foot can get twisted. A good boot will prevent that, thanks to its built-in ankle support system. Always check the sole of the boot. Often, you will need to stabilize the motorcycle by putting your feet on the ground. If the soles are slippery, it won't end nice. The sole must provide you with enough traction to be able to stabilize the bike.
Top Picks for 2023
Now let's see what models of winter motorcycle boots provide all of these benefits.
1. TCX SP-Master Gore-Tex Boots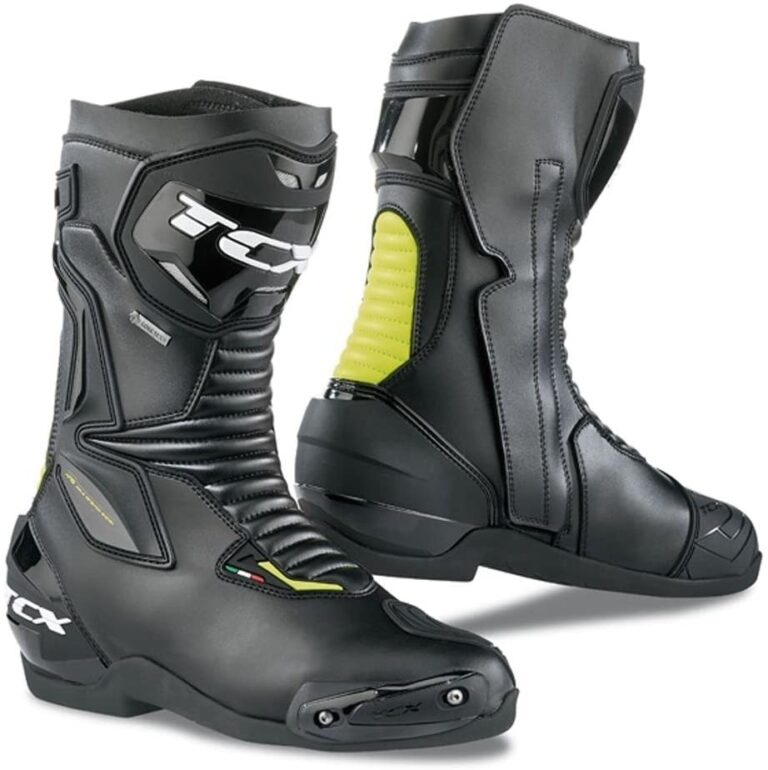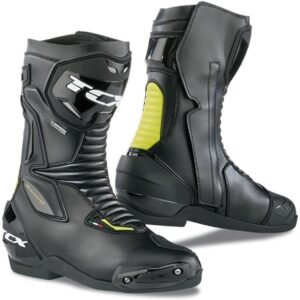 If you are looking for comfortable boots that will keep your feet dry and warm throughout the winter, the TCX SP-Master Gore-Tex Boots model is perfect for you. Made with Gore-Tex lining, they are entirely water-proof. Ankle retention system, PU shift pad, heel guards, and ergonomic shin plates all come with a CE certificate for maximum safety. Light rubber sole and anatomic bed are both interchangeable, ensuring durability. Once they are torn or worn out, you can simply buy new ones and replace them. Elastic zipper ensures personalized fit, and Velcro straps will keep the boots firmly closed.
2. Alpinestars Web Gore-Tex Boots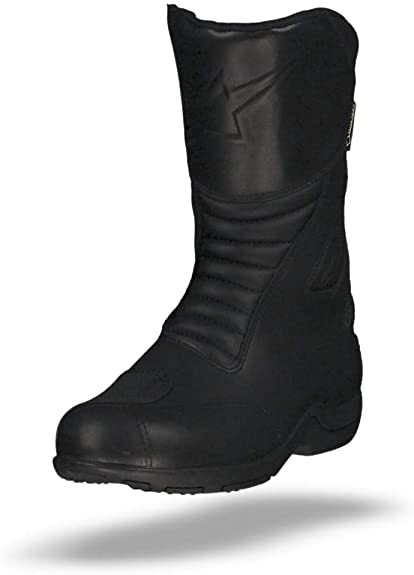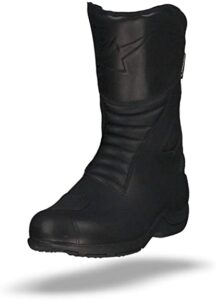 Whether you want boots for touring or commuting, Alpinestars Web Gore-Tex Boots are a great choice for winter boots. The outside is made from water-resistant full-grain leather, while the inside is lined with Gore-Tex. This double barrier ensures dryness while allowing your feet to breathe. The shin plate is made from molded plastic, providing safety for your shins. Shifter area is reinforced, so you don't wear it out while changing gears.
Boots also come with injection-molded ankle protection and internal heel and toe counter. Both of these devices provide sufficient abrasion and offer protection. The comfort is provided by anatomic injection-molded footbed. It can be easily removed for cleaning. There are also a soft-leather instep flex zone, multi-density EVA padding, and zipper to ensure that the boots can be easily taken off or put on.
3. Sidi Adventure 2 Gore-Tex Boots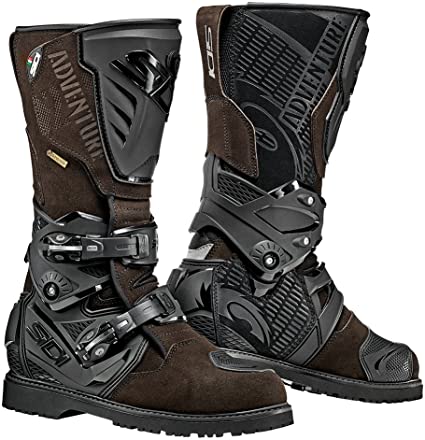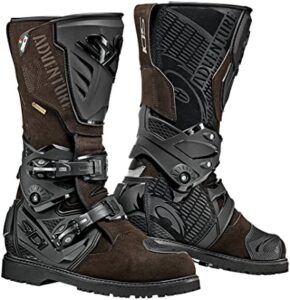 Sidi Adventure 2 Gore-Tex Boots are made for the most extreme road and off-road conditions you can imagine. The outside is made from weather-resisting microfiber and Cordura fabric, paired with Gore-Tex lining. You can probably wade a small river in them and keep your feet dry. A little snow or rain won't bother them at all. They are also very durable, so they will last you many seasons, even with everyday use. Boots come with a single flex system that prevents any squeaking, which can be very annoying with leather boots.
4. Spada Icon CE Boots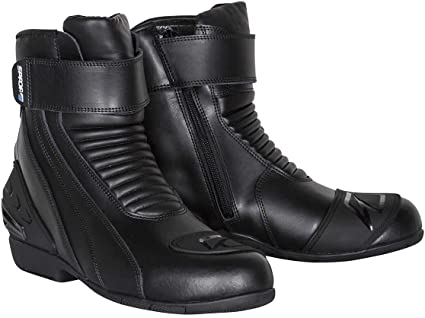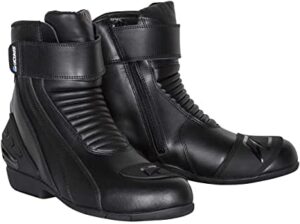 Spada Icon CE Boots are among the shortest models on our list. Still, they provide enough protection for daily commutes. Made from PU coated leather, Spada Icon CE Boots are waterproof and durable. They come with all the usual safety bells and whistles, like molded ankle support, strengthened toe, and heel, and reinforced shift pad. They come with a single sipper and Velcro strap, ensuring a perfect fit regardless of your feet size.
5. Falco Dany 2 Waterproof Boots (For Ladies)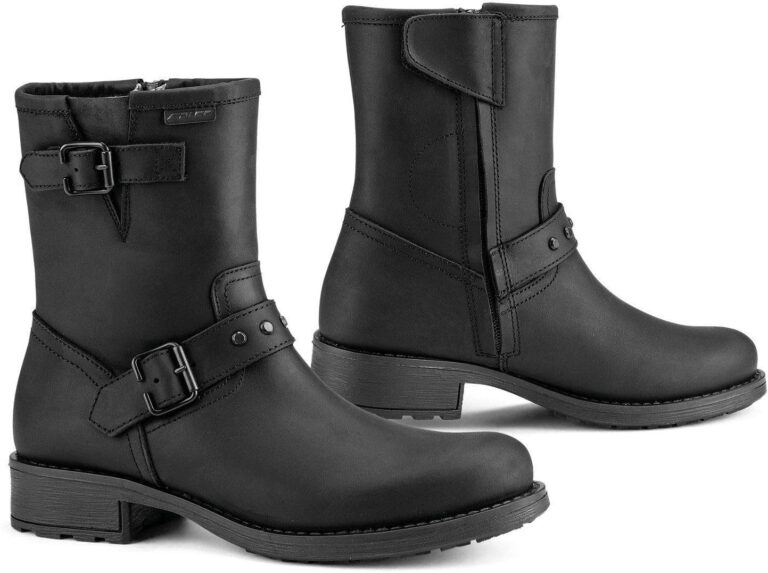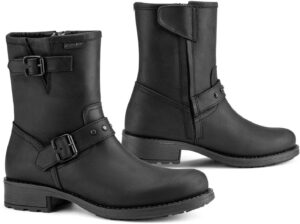 In the end, we have something for more classic-oriented riders. Falco Dany 2 Waterproof Boots are made of waterproof leather. They sport traditional biker boots look, yet have all the modern safety features. The inside of the boot has a High-Tex waterproof membrane, so you can use them in any weather conditions.